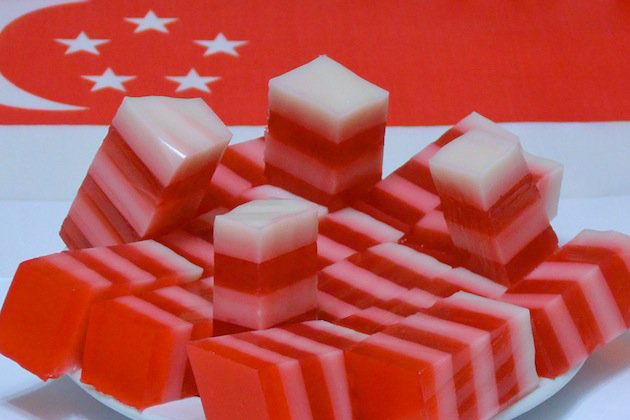 Red, White and Patriotic
By The Feiloh - Friday, Aug 09, 2013
Happy National Day. Today, true-blue Singaporeans will turn red-and-white. The usual things to do would be to deck themselves out in red tops and white bottoms for their outfits and hang a flag either over their balconies or front gates.
Besides the usual, we thought that we should try to make some Singapore flag inspired dishes to celebrate National Day at home. The Roti John being a uniquely Singaporean dish with influences from the Malay and British (with our special reddish dipping sauce), represents the red colour of the flag, a unity of brotherhood and equality of man. And representing the purity and virtue of white colour is a homemade agar-agar (jelly), a no brainer recipe that the children will love.
We managed to coax Ms Amy Mah, who is known as an agar-agar expert amongst her friends and family, to share an easy-to-prepare recipe with our readers. Also a milder version Roti John by my Better Half (also known as "She Who Must be Obeyed") using white pepper and dried parsley flakes, but you can substitute with other spices as you like (fennel and cumin are good alternatives).
Here are our tributes to Singapore!
Red and White Agar Dessert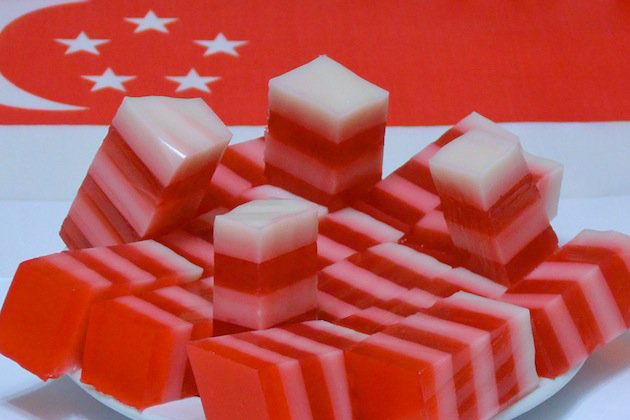 Ingredients:
For the white layer
1 packet (12g) of agar-agar powder
250g packet of fresh or chilled coconut milk
150g of fine (caster) sugar
175ml of fresh full-cream milk
500ml of water
2 fresh pandan leaves, knotted
1 pinch of salt
For the red layer
1 packet (12g) of agar-agar powder
225g of fine (caster) sugar
1000ml (1L) of water
2 fresh pandan leaves, knotted
red liquid food coloring
Methods:
For the white layer
1) In a medium sized pot, add the water, sugar, salt and pandan leaves. Sprinkle the agar into the water and bring to a gentle boil while stirring.
2) Add the coconut milk and fresh milk, stir, and turn off the heat and remove the pandan leaves. Allow to cool.
For the red layer
3) As in step 1, in a separate pot, boil all the ingredients together except for the red colouring. After the pot has boiled, remove the pandan leaves, allow to cool and add a few drops of the red liquid food colouring while stirring until the same shade of red as that of the flag is achieved.
To assemble
4) Use a jelly mould that can hold about 2L of agar mix. A mould with vertical walls will allow evenly thick layers to form.
5) Pour 200ml of one of the red coloured agar mix into the mould; allow to cool for a few minutes.
6) When the first red layer has set, pour 200ml of the white agar mix and allow to cool.
7) Repeat steps 5 and 6 until all the agar mixes are used up.
8) Allow to cool and set, place into the fridge. Cut up and serve the agar dessert cold.
9) Sing the national anthem (optional).
Special Roti John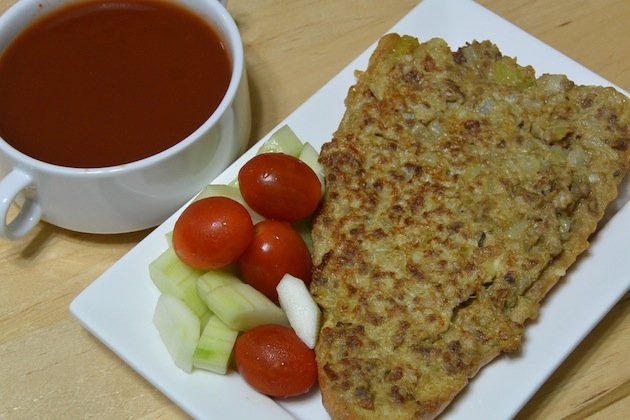 Ingredients:
For the sandwich
1 French loaf (baguette) from a local bakery (softer than the original chewy version)
300g minced beef or mutton, frozen is fine
6 large or 7 medium eggs, beaten
1 large onion, finely chopped
2 teaspoons light soy sauce
½ teaspoon dried parsley flakes
¼ teaspoons white pepper
1 pinch of salt
1 cucumber
2 tomatoes or a small punnet of cherry tomatoes
Oil for frying
For the dipping sauce
250ml water (1 cup)
250ml stock (meat or veggie stock is fine)
2 teaspoons sugar
6 tablespoons ketchup
2 tablespoons chilli sauce
1 teaspoon dark soy sauce
1 tablespoon corn starch
Methods:
1) Thaw the frozen minced meat safely, for example overnight in the refrigerator.
2) Pre-heat your oven to 180 degrees Celsius (if you want to use this final step to crisp the bread).
3) Slice the loaf in half with a serrated knife lengthwise and then slice each half into thirds to get six slices of bread.
4) In a mixing bowl large enough to hold each slice of bread, add the remaining sandwich ingredients and mix well.
5) Using a fork, rough up the cut surface of a piece of bread for better absorption of the egg mixture. Place cut surface down into the egg mixture to soak up the beaten egg for a minute.
6) In the meantime, heat up the frying pan and add a little oil. When the oil starts to smoke, set the flame to low.
7) Pick up the piece of bread in the mixing bowl and spoon a generous amount of the meat and onion mixture on the cut surface. Place the bread cut surface down onto the pan and cook over low heat for about 3 minutes. During this time, do not press down on the bread with your spatula – this is not a steak. Pressing on it will squish the filling out from under it.
8) After 3 minutes, remove the bread from the pan and place it with sandwich filling side up on your oven tray. When tray is full, place in oven and heat at 180 degrees Celsius for 5 to 8 minutes to give the sandwich filling a nice brown color.
9) In the meantime, whisk the ingredients for the dipping sauce in a small pot until they are well mixed and heat until it just starts to boil. Mix the cornstarch with a little water and add to the dipping sauce to thicken it. Turn off the heat.
10) Serve sandwiches piping hot with sliced cucumber and tomato, and, if you can "pull" it off, teh tarik.
Notes
1) What makes this technique special is that roughing up the cut surface of the bread allows the egg mixture to really soak in. This in turn requires slow cooking at low heat to make sure the copious quantity of minced meat you have slathered on top gets fully cooked.
2) While being cooked slowly, steam released by the ingredients will dampen the bread, making it soggy, hence the need for finishing it in the oven.
3) Make the egg mixture and dipping sauce as spicy or mild as you want by varying the portions of the ingredients and by adding heat or spices of your choice.