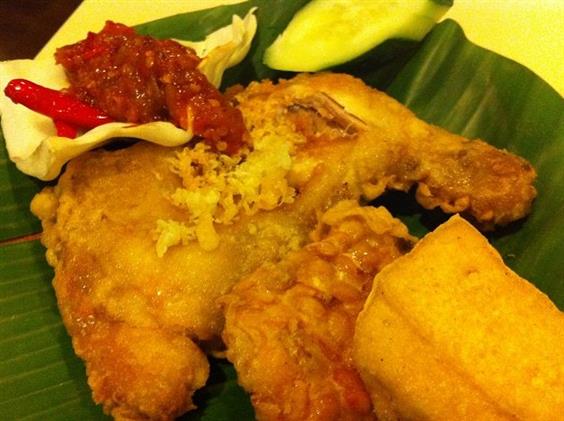 Smashing Chicken Rice
By Gregory Low - Monday, Jul 30, 2012
If you haven't noticed by now, Orchard Road's Lucky Plaza has become such a major gathering place for Filipinos and Indonesians that almost every alternate shop here caters to their presence whether it is a provisions store, hairdresser, pub or eatery.
Excluding the two food courts in the mall, there are 26 other eateries in the shopping mall of which a whopping 20 of them are Indonesian and Filipino.
Quite naturally, a dish to come here for is Indonesian style ayam penyet (smashed chicken). The fried chicken dish with a fiery chilli concoction, tempeh (fermented soybeans), tau kwa (soybean cake) and vegetables, eaten with rice – has proven popular over the years. Given the high number of Indonesians that frequent Lucky Plaza over the weekend, the versions here are likely to be reasonably authentic.
If you've never come here for the popular dish, the choices on offer can be mind-boggling as many Indonesian restaurants in the mall will at least sell a variation of it in their menu.
But head for the three restaurants that specialise in the dish and you'll get more than the above-average standard (at the very least). But which one is the best? We dissect each one for your reading pleasure.
If you have that affinity for all things spicy with chilli, and have never tried nasi ayam penyet, then this is one dish you should tick on your to-eat list. The sambal-chiili is done Indonesian style – a concoction of chilli, belachan, onions, tomato and lime, and it forms a large part of the total sensation. The other ingredients like the chicken, tau kwa and tempeh are usually lightly seasoned and nicely fried.
While it is not always specified on the menu, you can choose between chicken breast (larger but drier) or thigh (smaller but more moist).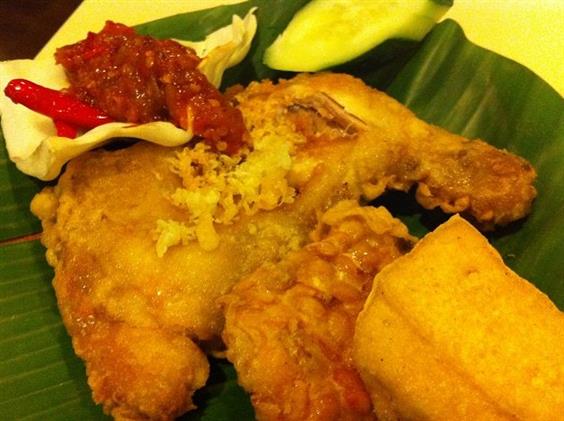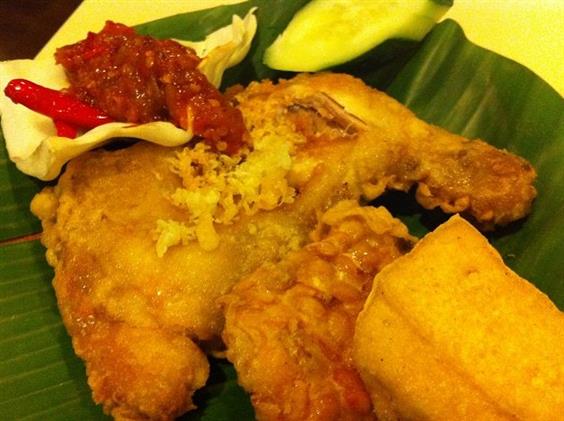 Resto Surabaya #02-63. Open daily from 12pm to 9pm
The second oldest ayam penyet joint at Lucky Plaza, Resto Surabaya has been here since 2007 and it has since expanded to Far East Plaza and Junction 10 shopping mall at Bukit Panjang.
The highlight here is the chicken which is almost falling off the bone. Bite into it and you get a gentle crispness from the light batter and a full chicken flavour.
We also liked the blazingly hot chilli but the kicker is that soft onions are mixed in as well, providing a gentle sweetness and onion aroma.
While the tempeh is nice and soft with a gentle flavour and a light crispness, some might prefer a stronger fermented soya bean flavour with more bitterness.
The tau kwa is also well fried but the day we had it, we detected a slight sourness, which meant that it was kept for too long.
The crisp batter crumbs which come sprinkled on top of the dish, used to be generous but the quantity has lessened over the years.
$8.80 inclusive of one drink.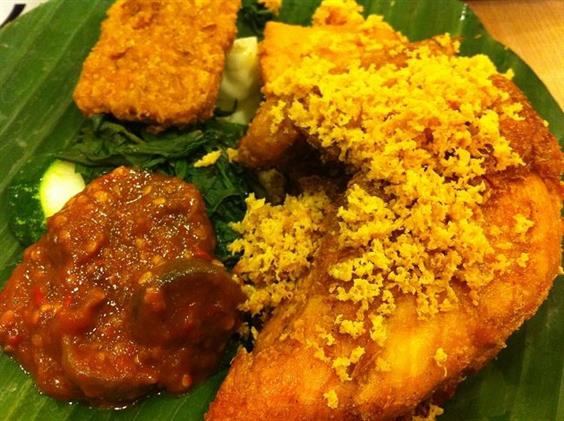 Ayam Penyet Ria #01-45-47, #04-25-27. Open daily from 11am to 10pm
The oldest of the ayam penyet specialist restaurants in Singapore, they have been around since 2004 and they have since expanded to Bedok Point and Jurong Point.
They are the most popular of the three and tables fill out fast with a queue forming for dinner but the turnover is quick due to the large seating capacity they have.
Unlike the other two restaurants which have a similar flavour, Ria's fried items – which are a little more salty – have a distinct and pleasant turmeric flavour- satisfying to tuck into, even without the sambal. (Good news for non-chilli eaters.)
The other highlight is their sambal sauce – which has sweet overtones unlike the other two mentioned here – has the strongest belachan flavour of the three. A nice touch is a generous addition of boiled kangkong which comes with the dish.
The downside is that the chicken is not as moist as we once knew it to be.
$9.30 inclusive of a drink.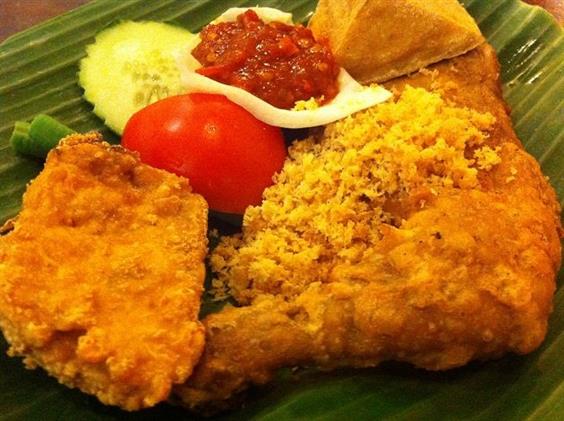 Ayam Penyet President #03-36/37. Open daily from 11am to 9pm
The newest of the three with only a single outlet, the three-year old restaurant has similar flavours to Resto Surabaya's offering, even down to the soft caramelised, onion-rich sambal. The differences are a slightly stronger flavoured tempeh with a firmer bite, and a softer, fresher tau kwa, crispier batter bits and more vegetable offerings.
However, the chicken offered is drier but not excessively so and Surabaya's offerings come with a nicer crispness.
$8.60 inclusive of a drink.
So which one to choose? It seems like they all have their strengths and weaknesses but if you prefer your ayam penyet on the sweeter side, you and many others will love Ayam Penyet Ria. Hands down, Resto Surabaya's chicken is the best of the three and would be better if it had the turmeric flavouring that Ria employs. Ayam Penyet President still offers a more than decent ayam penyet but could do with an edge to draw in the punters besides being a whiff cheaper than the rest.