Restoran Nasi Padang Minang at Transfer Road, Penang
By CK Lam - Monday, Oct 29, 2012
Family-run business, Restoran Nasi Padang Minang is managed by Alias Rahman and his family. Located in Transfer Road in Penang, the restaurant has been serving up delectable Sumatran delights in Penang for decades!
Nasi Padang is actually referring to the style of cooking from Western Sumatra, Indonesia. Though Padang cooking is characterized by lots of chilies, lemongrass and turmeric, surprisingly, most of the dishes are not very spicy. It emphasises a great deal on the taste and flavours rather than outright spiciness.
The array of dishes displayed at Nasi Padang Minang during lunch hour is extremely inviting, where you can sample from a list of fish, meat and fresh vegetables dishes. Popular dishes include fried catfish, ikan bakar (grilled fish marinated in tamarind), ayam bakar (grilled chicken) and fried cincaru sambal (mackerel stuffed with sambal).
A few of us were riveted to the range of dishes during a lunch outing. The Dendeng Daging (beef) comes with a riot of flavours and chewy bite. The meat together with the accompaniment of mild chili and onion is great along with rice.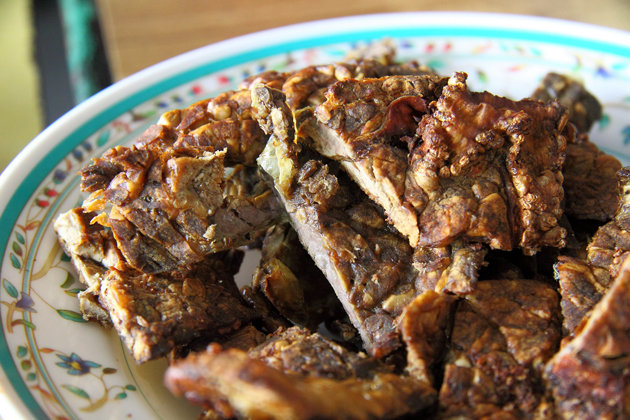 For the very adventurous there is the paru goreng (deep-fried beef lung). With a spongy texture, the paru goreng can be eaten with rice or eaten alone as a snack.
Another dish highly recommended is the deep-fried cincaru sambal (mackerel stuffed with sambal). Encrusted with filling of pounded red chillies and onions, the deep-fried fish is a scrumptious dish.
Tempeh-based dishes (fermented soybean cake) are definitely a must try. One such dish is stir-fried tempeh with French beans. The tempeh with an acquired taste is not a favourite for many of us, but I find its chewy firm texture pretty unique.
There are various types of vegetable dishes to go with the spicy dishes. Choices include sayur lodeh (vegetable cooked in coconut milk), bean sprouts, long beans fried with shrimps, jack fruit curry and also brinjal. The sayur lodeh stood out flavorful with scent of daun kaduk (wild pepper leaf).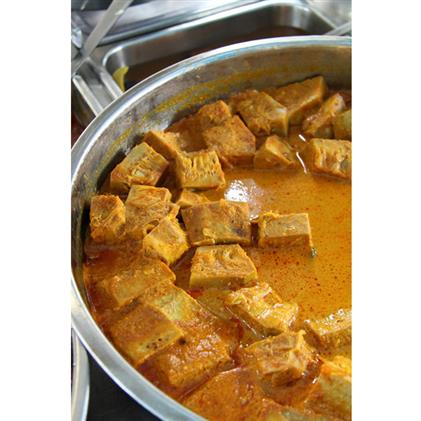 Restoran Nasi Padang Minang is known in Penang for serving delicious Padang food. Located on the ground floor in the quaint corner coffee shop of International Hotel, this eatery is open daily.
Nasi Padang Minang
International Hotel 92 Transfer Road 10050 Penang
Business Hour: 11am till 8pm