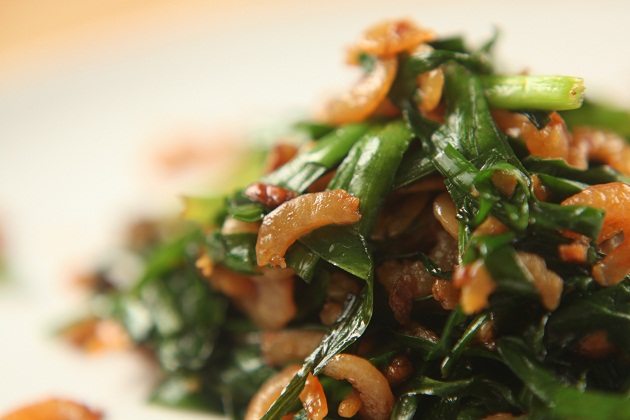 Resurrecting Delicious
By KF Seetoh - Sunday, Sep 11, 2011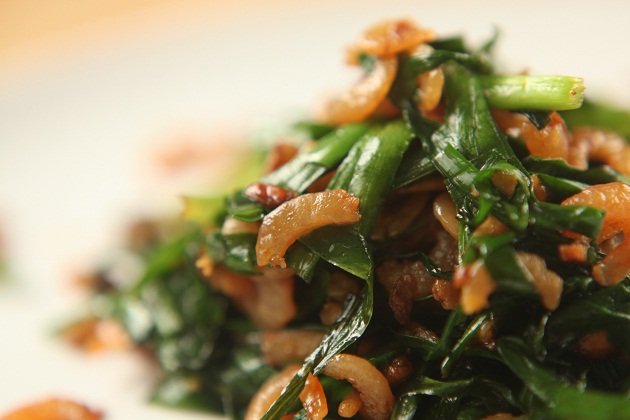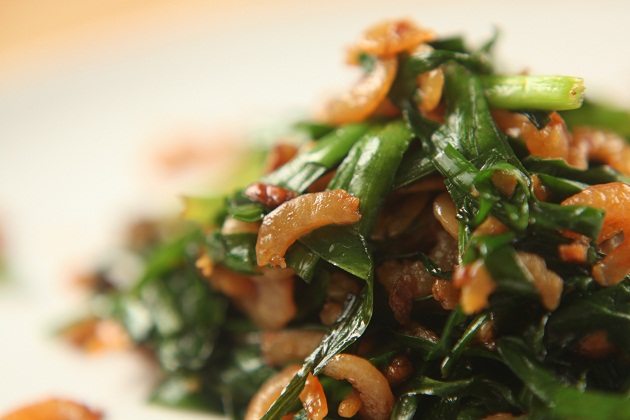 A dish which was once lost, has been resurrected in the Makansutra kitchen. "Shrimp Bilis and Scallion" is a recipe found in Cookery Book On Local Food, penned by Theresa Lois Kao in 1946. Previously, I introduced this cookbook on MakaNation, and it's a library discovery can be likened to a historical document on local home cooking. Now we zoom into one of the recipes that are hardly made these days, but are definitely worth a second look.
Garlic scallion (or Ku-chai) is a flavouring ingredient that has a slight pungent taste, like onions. But here the cookbook's author uses it as the main ingredient and adds dried shrimps for their sweet and slight umami flavour. The two turned out to combine perfectly to make a hearty vegetable dish. Think ku-chai filling found in Soon Kueh.
The original recipe calls for "1 katty" of shrimp bilis, which works out to be about 600g – a colossal amount considering that it is just for flavouring. I've reduced the portion to only 20g, enough to give the scallion some flavour and not too salty. As people in the old days have a penchant for salty food, I also took out the salt and cut down on the light soy sauce for this recipe.
Shrimp Bilis and Scallion
Ingredients:
20g of shrimp bilis (dried shrimp)
200g of scallion
3 cloves of garlic
Pinch of sugar
½ tbsp light soy sauce
3 tbsp cooking oil
Method:
1. Chop the garlic. Clean the scallion and cut it into 1-inch lengths.
2. Heat the oil in the frying pan and throw in the shrimp bilis. Stir fry over medium low heat for 3 minutes.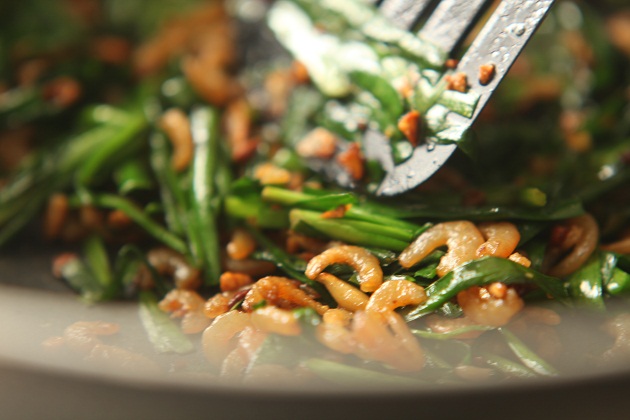 3. Add the garlic and stir for another 2 minutes.
4. Throw in the scallion, sugar and light soy sauce. Stir and cook until the scallion becomes limp. Serve hot.