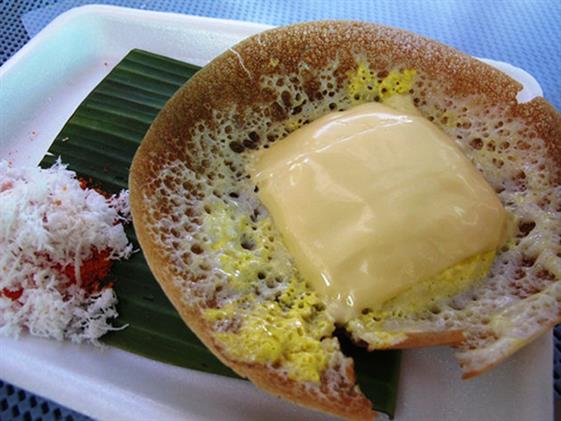 Resurrecting Putu Mayam
By KF Seetoh - Thursday, Jan 17, 2013
Change is permanent. Sometimes for the better, sometimes for the worse. We mentioned some time back in a story that griped about how putu mayam – that bee hoon string hopper dish of Indian/Sri Lanka origins, has gone to the robots, churned out in food factories. We do not have folks making this once old breakfast favourite anymore. Sigh. Then, history was to be rewritten.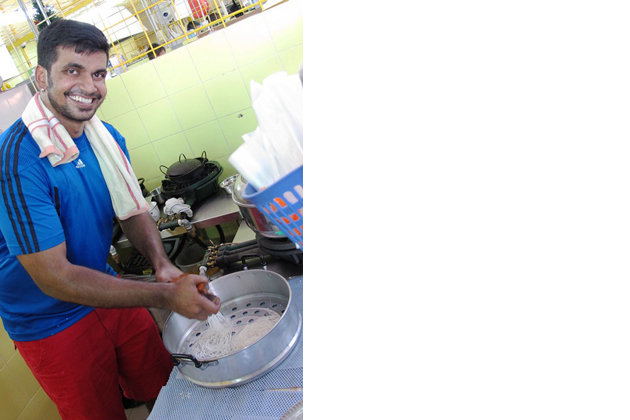 Surendran was helping his mother at her very famous appam and dosai stall at Ghim Moh Food Centre in between his regular day job. He was invited by Makansutra to share his views to the government appointed hawker centre committee last year from the angle of a new generation street food professional. He spoke about having larger spaces so as to incorporate more new and convenient equipments plus operation space. But something had always bugged him, that his mother was not offering her very comforting homemade putu mayam recipe at the stall. This 25-year-old, filled with gumption and stubbornness (despite suspecting that these items have lost its appeal to a new generation of feeders who have an attachment to these factory made snacks), decided to reintroduce this handmade version back to the makan culture here. He chanced upon a this opportunity to strike it out away from mummy's cradle.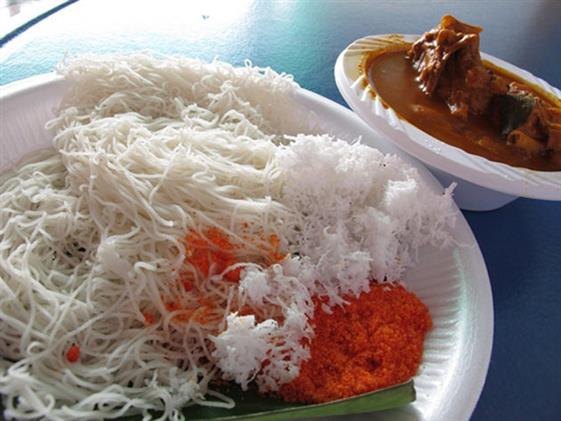 His stall here looks almost desperate and temporary – just a couple of pots of curry, a multi layer aluminum steamer decks and a wooden contraction which looks like a 17th century wooden knuckle and finger torture contraption. "I bought a few of these from Sri Lanka… cheap like anything," says Surendran, who has his sweet and able fiancé Jessie for an assistant. He takes a ball of rice flour dough ball, stuffs it into the contraption, presses it through the tiny holes below as he twirls it, over the steamer tray and 30 seconds later viola, a fresh piece of fluffy moist and hot putu mayam is all ready to be doused with either dhal, mutton and chicken curry ($5) or orange sugar with fresh desiccated coconut ($2.20) and devoured. There was nary any hint of rancid sourness, which is a sign that the rice flour dough was made with warm water and sat for too long (the fermentation process facilitates that uncomfortable tinge). It was fragrant and soft.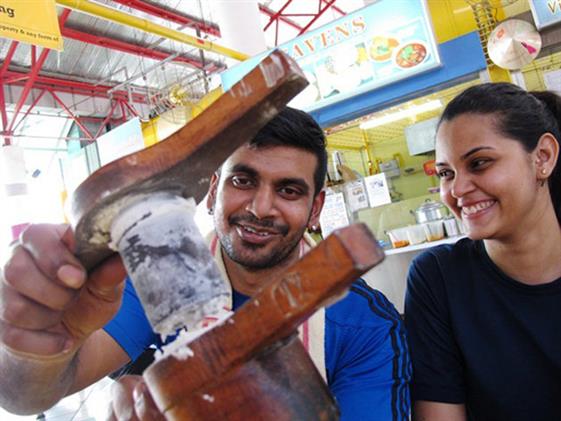 Business, he says, is bad and I reckon is because of a couple of reasons. The older generation which once adored this humble versatile snack had given up on ever finding fresh made ones since it went off our food radar. They did not have the chance to pass this love down the bloodline and they frown on machine made ones (which is commonly available today). A newer generation, not quite familiar to this, would consider it a gimmick or perhaps like some newfangled snack like the silk tau huay, attempting to make inroads to our food culture.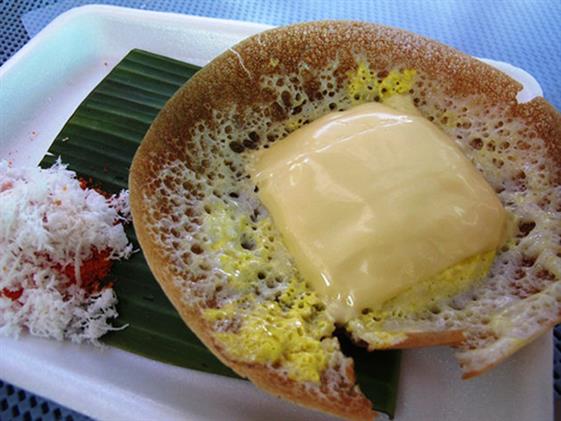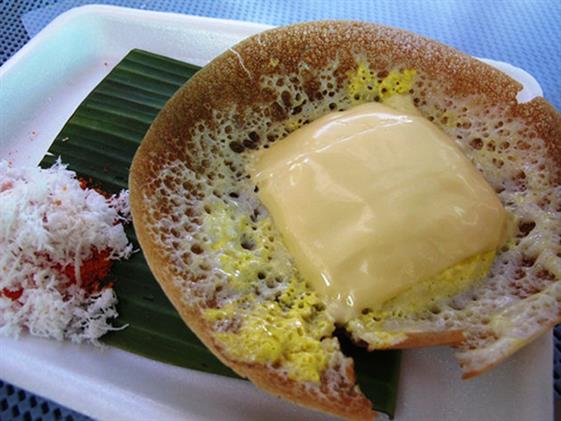 But for me, I now know where to get fresh made putu mayam, and better still, from a young and exciting street food professional hell bent at making things better than his hawker parents ever did (his runny sunny side up egg appam is delicious, noise also going round the internet now).
Bravo.
Heavens Curry Kampong at Simpang Bedok 348 Bedok Road, Bedok Market Place #02-08 8am-9pm, Closed on Sunday