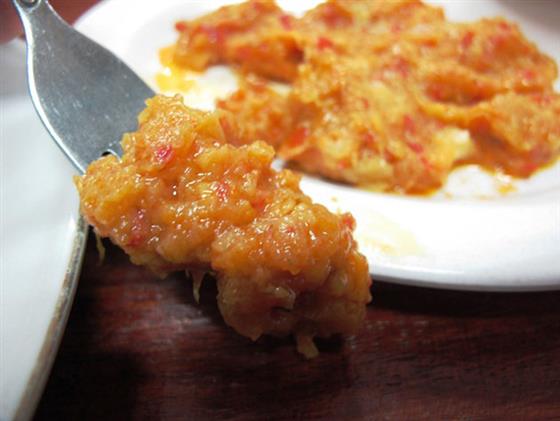 Revisiting Durian Sambal Tempoyak
By KF Seetoh - Friday, Sep 28, 2012
It's more like o-my-gosh of the week. A meal with Indonesian leading makan maven and advocate plus good buddy, William Wongso is like fishing – there's a bite, someone's hungry but you never know what's going to land on your plate. This place specialise in Palembang chow and Pempek (a Indonesian rendition of Hakka style fish cake, done with tapioca flour) and…Tempoyak, that fermented durian sambal that you swirl into your plate of steamed rice. This native southeast Asian dish is popular in Malaysia and especially so in Indonesia, which Palembang is famous for.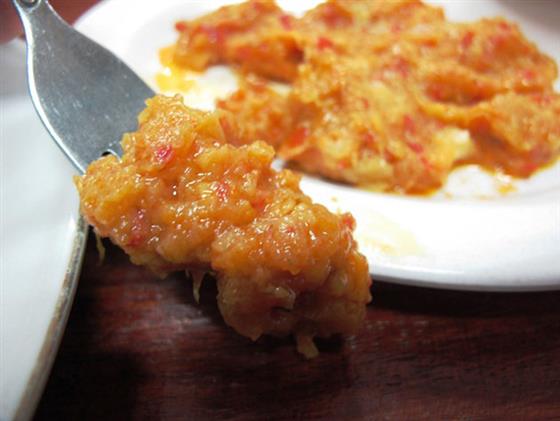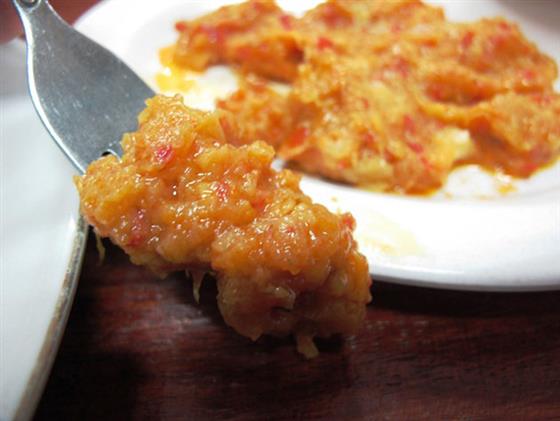 Fermented and durian are not two words a durian fan would normally put side by side, let alone have it for a meal. But, truth be told, it's not as bad as it sounds, and really depends on the fermentation process. The last time I had it, a couple of years back in Jakarta, the folks at a stall let the durian ferment, sit and "rot" longer than mere mortals can handle. You can reason why I don't remember exactly where I had it. It was putrid with faint traces of sour durian clouded by a symphony of spices to hide the crime.
So this time , it was off to Sarisanjaya Restaurant, after a casual and careless mention to William about "who eats Tempoyak these days". This Palembang restaurant offer a wide range of another of their speciality – Pempek, in as many forms as there are cooking methods – grilled, boiled, deep fried, stir fried etc. Nice to start things off with, basically a fish and tapioca paste much like the Hakka Jian Ng Piang. It is believed that a Hakka Chinese first sold this in Palembang a few centuries back.
Then they laid down a plate of tempoyak with steamed rice. I tried slowing my heartbeat so I need not breathe so heavily as I ate it. It didn't work. The piercing pungency of the fermented durians came to revisit me through my pores. But that plate of golden orange mush was not as bad , "they don't ferment as heavily here..easier to eat", says William, "thank you" says me. Indeed, the durian was scantly fermented and was pot stirred with a pleasantly savoury, lightly spicy sambal.
It's almost impossible to get this dish in Singapore but if anyone ever offer a not overly fermented version, done with a sambal rempah, I say dig in and slather it over rice – it has the allure of Thai style durian with coconut sticky rice, but Tempoyak comes with lightly spicy overtones.