Revolution Coffee: Heritage Food Revolution
By KF Seetoh - Friday, Dec 16, 2016
Hainanese curry duck, pork nasi briyani, laksa risotto, kway teow soup kambing- if you are getting an idea of what I am onto here, then this below will float your boat. It is about evolving that makan spirit of ours. Like age and culture, food must also amble along otherwise we will still be eating roast meat found after a forest fire like they did back in the ape-man age. Many of the so called "traditional" fare we adore in our midst today, are considered modern and fusion once ago. The Michelin Star winner Tai Wah Bak Chor Mee came up with a Teochew noodle dish decades ago that incorporated sambal with the distinct black vinegar accent that we now call our own.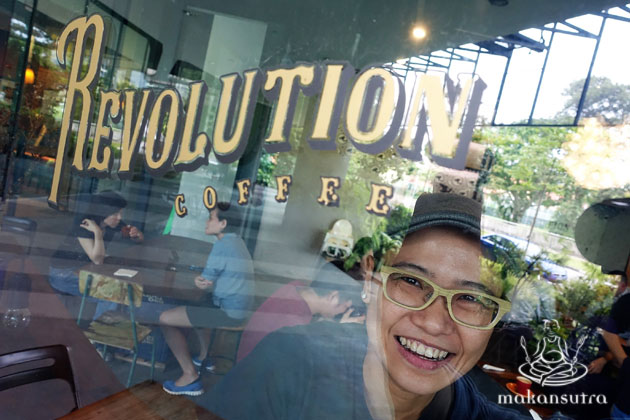 So you get the tune, and so does Shen Tan, that ex-corporate raider turned hawker, café entrepreneur, consultant, restaurauter and now café maven again. In a nutshell, she flout the rules of our heritage makan without breaking any sacred gastronomic laws. Since her first foray into the food business with her Madam Tan Nasi Lemak (now defunct) at Maxwell Hawker Centre 7 years ago, she knew that "It's all things we are comfortable with and cleverly combining them keeps the palate excited yet happy and familiar.", and it's what guides her creations at her new gig at Revolution Coffee, where she co-owns and heads up the kitchen.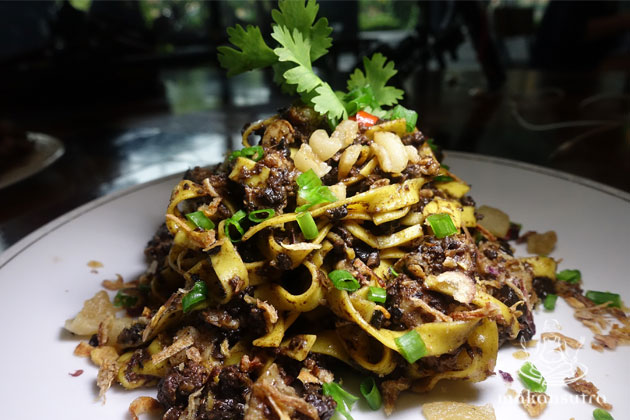 The Buah Keluak Pasta ($19.90), which I was particularly looking out for, came looking high and dry (stacked up and generous). But looks was deceiving- she added slivers of sin in the form of pork belly fat that smoothened every bite and the bits of minced pork was coated with that savory, spicy and earthy black buah keluak paste that coloured the pasta too. Great for two and very easy to like, especially for Nonya folks.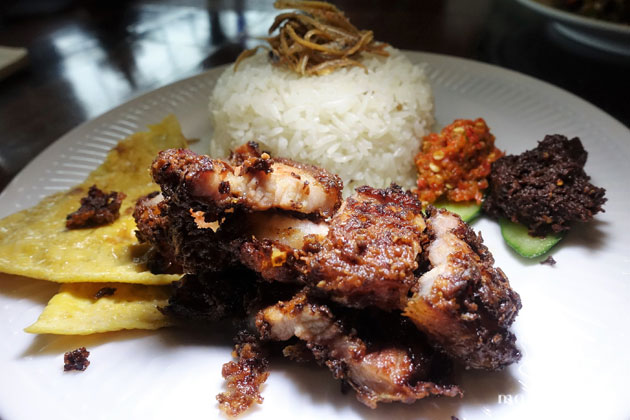 Up next was a signature that never left her hawker days- Nasi Lemak Crispy Pork ($7.90). Of course the star was the crispy pork, twice fried and double happiness to me. The rice was lightly lemak and the sambal- two is offered her, a regular sambal and a, get this, coffee sambal belacan. And why not, it's a coffee joint after all and the idea is like how the Mexicans do mole sauce and paste. You have to give this one a try- very unlike having kopi-o splashed over sambal.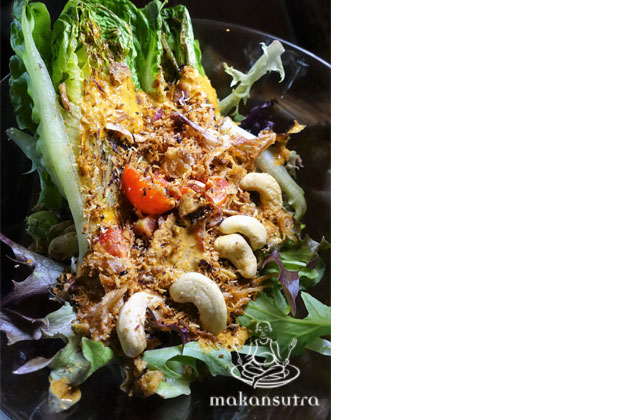 The Grilled Laksa Salad ($9.90) piqued my interest- "something healthy that had flavour so the mind will not perceive it as just healthy, which often mean tasteless" Shen says. And the roasted greens, with cherry tomatoes, cashews, pesto, laksa leaves and a lime coconut dressing, was strange yet comfortably familiar. It came warm and that was a winner for me too. For the budget eaters, their decadent Nasi Lemak Fried Chicken version rings the till at an affordable $4.90.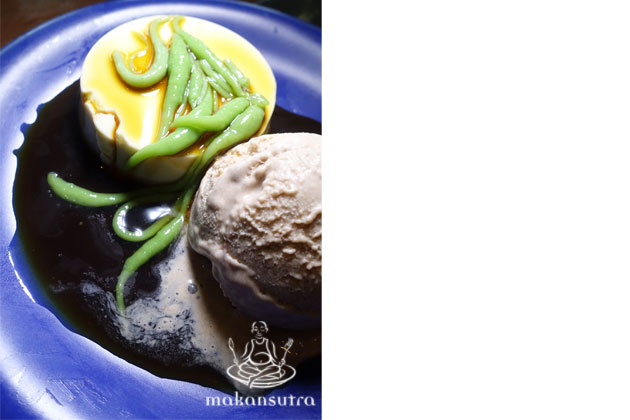 The sweets are stories to behold here. Her signature Shendol Delights ($10, a take on Chendol) is back- wobbly coconut pannacotta with chendol, gula Melaka syrup and own made red bean ice cream. I think you can taste what I just wrote. I"ll say no more. If you like Pulot Hitam, think of how she turned it into a Pulot Hitam Pudding ($10), slathered with Gula Melaka butterscotch and coconut ice cream. I kid you not.
Revolution Coffee
01-03A, Infinite Studio , Media Circle
(Portsdown area)
Tel: 67772110
10am-6pm daily