Rice is Nice
By Victoria Lim - Friday, Jan 15, 2016
 "Chi Fan"," Yao Sam Chan Fan Sik" and "Sik Pao Fan Mei?", the various Chinese language terms  the denote more than just about having a rice meal. It means well-being and that having the ability to eat rice is a blessing in so many ways. Rice is important to us, even as Singaporean. Step into a Chinese restaurant, and a bowl of fragrant jasmine rice is placed on the table; ordering long slender aromatic basmati rice in an Indian restaurant is a given; and people are willing to pay top dollar for a tiny bowl of sticky plum Japanese rice.
This humble ingredient is even more highly regarded during Lunar New Year, a period of festive drinking, eating and well wishes. So of course, with the propitious meaning behind this ingredient, it is no surprise that it is one of the must-haves on the offering table.
Here are three rice and rice-related dishes you must eat during Chinese New Year for a huat-huat year.
1/ Omelet Wrapped Rice
If you want to have an in-depth connection with the gods in heaven, eat rice. It is known as a symbol for fertility, luck, wealth and the link between heaven (gods) and earth (men).
Skip the plain rice and go for something new, Hong Kong Street Old Chun Kee's Home Special Fried Rice ($8/$10/$12). It is a combination of preserved vegetable, pork floss, Chinese sausages, wrapped in a layer of egg, a la omurice.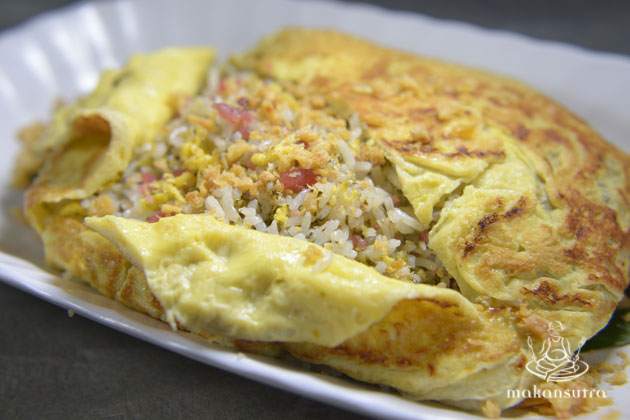 Where to eat:
 Hong Kong Street Old Chun Kee
 8 Raffles Ave #01-15 Makansutra Gluttons Bay
 Daily, 5pm-2am
2/ Nian Gao Tarts
Nian Gao is also known as the Chinese New Year's cake, it brings fortune to whoever who consumes the rice cake. Due to the sticky nature, the Chinese often associate it with the cohering of the family – family who eats together, sticks together. Apart from that, the New Year greeting 'Nian Nian Gao Sheng' is to wish relatives and friends a higher position and prosperity for the year. It is also offered to the celestial observers and eaten auspiciously during CNY as it is meant to keep the Gods happy with the sweet sticky cakes so they won't bad mouth you in their reports to the higher powers that be.
For something funky and trendy, pop by The Fullerton Hotel Singapore for their Nian Gao Tarts (a box of eight for $32). Sweet, sticky and has the perfect fit for a one-bite snack, it is a crowd-pleaser with the young and old.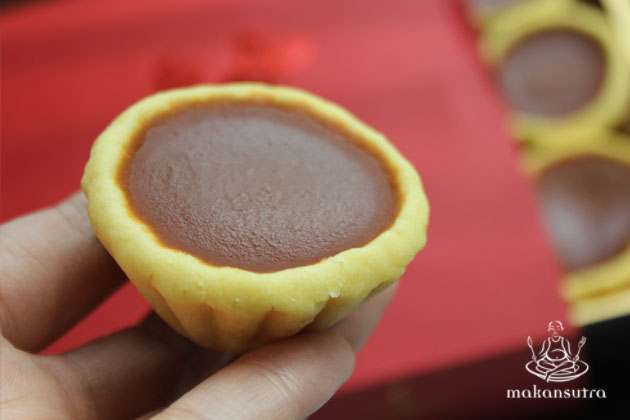 Where to buy:
The Fullerton Hotel Singapore
1 Fullerton Square
3/ Glutinous rice ball
These sweet rice balls are typically consumed on the 15th (the last day) of the Lunar New Year. It was noticed that on that day, a full moon is apparent. A reflection of the full moon, the roundness of the rice ball signifies a complete circle of harmony and unity within the family. A typical bowl of glutinous rice flour ball dumplings are served in a soup and with traditional fillings include sesame paste, red bean or peanuts.
The glutinous rice balls from 75 AH Balling Peanut Soup ($2.50 per bowl) are soft and chewy with flavours (peanut, sesame paste, red bean and green tea paste) that ooze out with every bite. You may choose to have it in either the traditional ginger broth or the peanut soup.
Where to eat:
75 Ah Balling Peanut Soup
505 Beach Road, #01-75 Golden Mile Food Centre
Daily, 9.30am-9.30pm