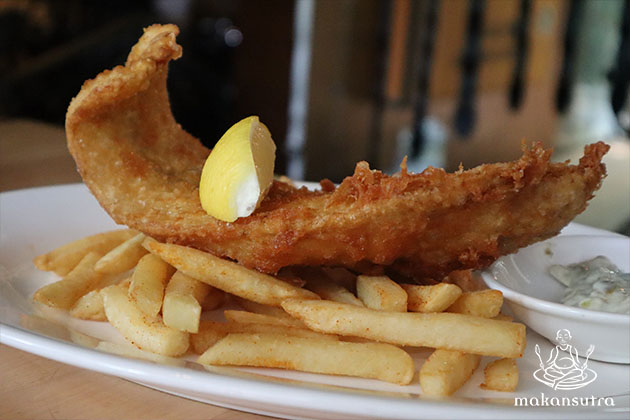 Roaring Good Biker Food
By KF Seetoh - Friday, Jul 12, 2019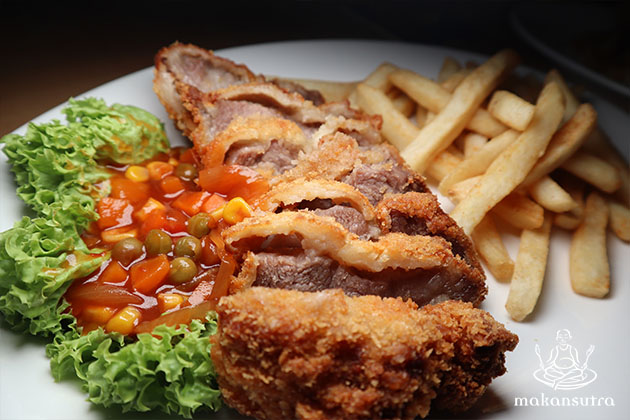 The Pork Chops was soft inside

Six out of ten new eateries close by the end of the first term in business, according to an "old bird" contractor and "cleaner", who restores and reinstate shops and restaurants here. It is very competitive. So, what makes an eatery brand last for over a decade, some up to a century. Brands like the Zam Zam murtabak and Indian Muslim food people have been at it for over a century. The Red Star Chinese restaurant and the Peranakan Inn folks at East Coast Road has been around for over 50 years. Is it fame? No, a blitz in the current on and offline media climate will only give you a week of crowds, at most, before another one blitzes over them and the fickle diners here have a very short term memory.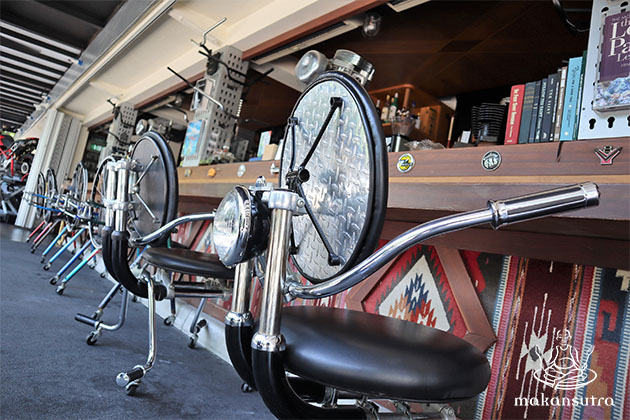 The handle bar seat..very creative and honest

Then, there is Handlebar, among a list of casual eateries that have stood the test to time for two decades. Their concept may seem like a dead end idea- to have a place to call home for the few and far between Harley Davidson roadies. A place to makan and park those monster machines after they woke the neighbourhood roaring and throttling around. I had not visited them since they moved here and when Makansutra listed them in our food guides some years back. But it all came back when I quietly drove there for a meal twice, a few weeks ago. And this is what I think their mojo for longevity is. The stubborn believe in the concept, the painstaking details in design- proud, loud and very creative. The whole air-con and al-fresco vibe which all adds to the attitude of the joint. You'll find a handlebar turned in a bar seat (go figure), bench seats on wheels so the bigly build would have no trouble wriggling out from the centre spot. They use old bike helmets as lamps plus Janis Joplin, BB King and the likes of Eagles or Metallica will be blasting off their curated playlist. Location wise, they are sited in this "far flung" yet not so, area near town. Of course, you'll want to come back for the third time, because of the food. Their menu is simple yet tries to stretch the palate somewhat.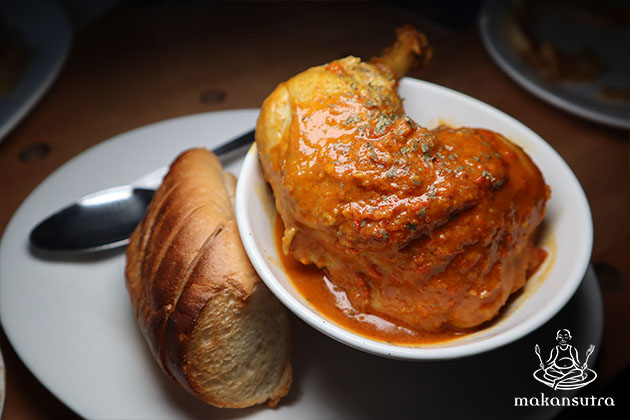 Part of their "new" menu- Chicken Curry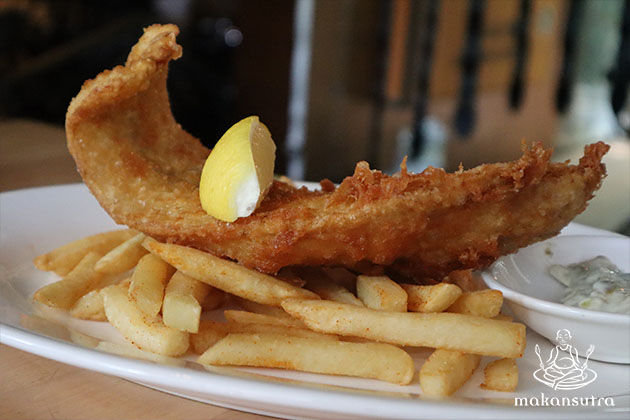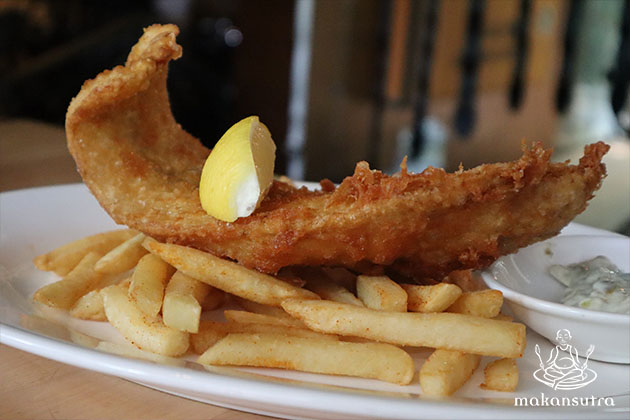 One of the best Fish and Chips around

Their Fish and Chips ($17), by far is one of the better ones I've had in Singapore. They use the flaky pacific dory fish and it comes huge, like a surf board sitting over little planks, with fries and tartar dip. The batter had the kind of crunch and crisp that made you remember and the fish was juicy inside. I needed vegetables so I ordered the most sinful on the menu, Cauliflower Frito ($7) or fries with some cheese shavings- lovingly battered and not overly oily and great with the BBQ sauce dip, just add beer to complete the picture thus far. The Old School Fried Pork Chops ($15) came battered and chopped into bite sized pieces- saved us from the trouble, and a tomato relish. It was soft, like they were sous-vide or cooked partially then battered and fried. Hard to dislike this one. They are looking to up the tempo with the menu and have introduced "new" stuff like Curry Chicken ($15), but I'll stick to the bikers original sin as it completes the act here.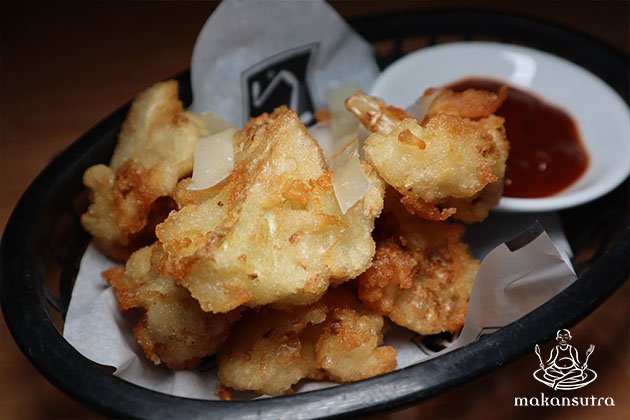 The moreish Cauliflower Fries

Handle Bar Restaurant
10, Lock Road (Gilman Barracks)
12pm-12am daily (close at 1am on Fridays)
Tel: 6286 5500