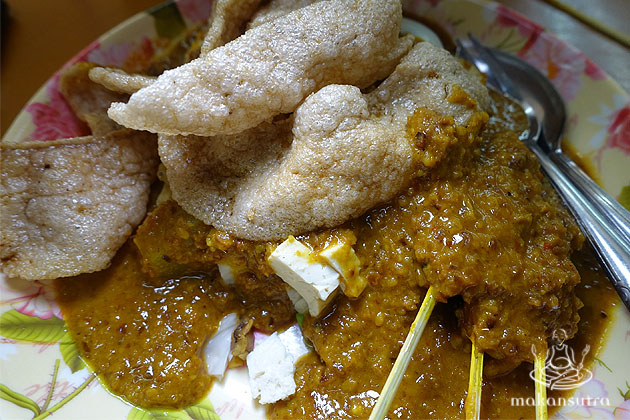 Rosraihanna: Bone Shaking Good
By KF Seetoh - Monday, Jun 15, 2015
I have more than a few Muslim foodie friends who's always lamenting about the lack of variety in their food here. Let's see- mee rebus, lontong, satay, gado gado, nasi lemak, mee soto ayam, nasi padang, nasi biryani (which is more Indian than Malay), roti John, mee siam, nasi ayam penyet, nasi goreng, epok epok plus those few predictable snacks and sweet laced with coconut and gula Melaka like lopez and putu piring. Nice list, but imagine what if…that's all! I will go berserk and consider being a serious vegan if that's all I can have each year! I have always wondered why it's not evolving. There's a very long list of stuff from Indonesia we haven't even seen in local halal menus yet…let alone from the Middle East (and we're not talking just about falafel and kacang phool). There's Konro (beef soto), Ayam Tangkap (fried pandan chicken), satay padang and even nasi uduk, to name this is just a very short list from Indonesia.
But that's not the headache. It a nice problem for me as competition for quality among the hawkers offering these is very high. There are a few names that stand out and this 40 year old stall is one of them. I had consistently ranked them highly in our Makansutra food guides and musings and they never fail.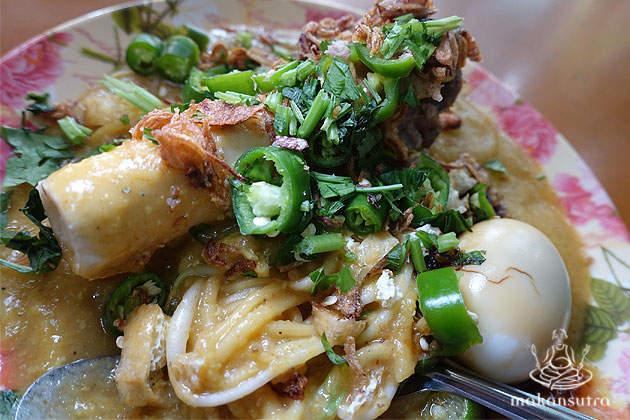 For starters, their mee rebus (from $3) is still made with mashed sweet potatoes and some flour- like how they did so back in the day. The sauce comes looking rough and mushy but it clings so well to the noodles and they enhance it with a splash of dark soy sauce, just to lift the umami and salt quotient a notch up. And of late, they inserted a tulang (lamb shank bone marrow) into the works and oh, the heavens opened and sang song of praises. That wistful gaminess in this mee rebus separated the boys from the pros in my palate. "I used to offer this only on Fridays, but now, hari hari (every day)" says second generation boss and partner Mohamad Eizam, 40. His auntie Mdm Rosidah helmed the stall for almost 40 years now and since her husband passed on 2 years back, Mohamad found it his calling to help take over the reins. "I had been cooking part time at hawker stalls for over 10 years and when this opportunity came up to my auntie, I jumped at it", so he left his security service job and went headlong "with no regrets".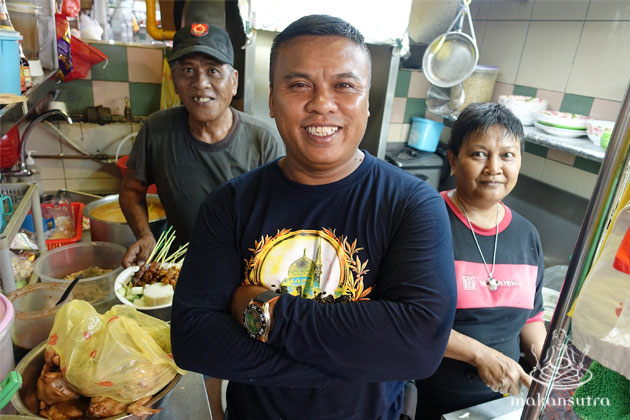 You can tell their satay is a tad different from the usual suspects- it's hand-made and skewered plus the softness in texture is another giveaway. I love the chunkiness and the nuttiness of the peanut sauce dip. If you notice, it's the food picture and names that will attract you. They have a Soto Engine ($4)- soto ayam showered with bits of offal like beef tripe and heart, lung etc (whatever they have that day), sort of like car engine parts in a soup.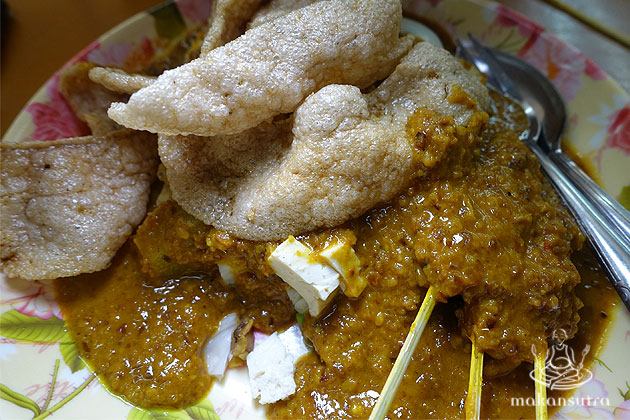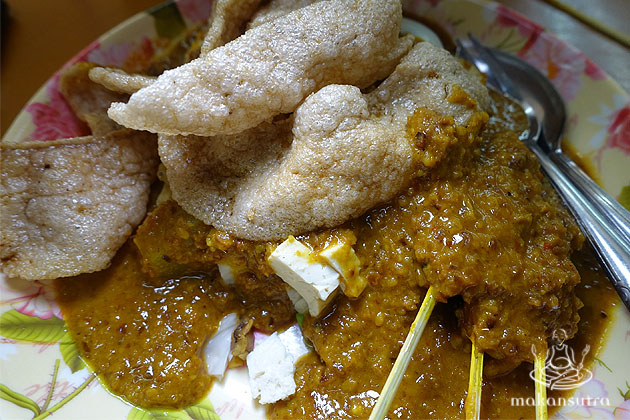 When their Satay Gado ($4.50) came, with three sticks of roasty satay stuck into that little mount of peanut sauce, topped with fish crackers, I knew it was going to be pleasing. It was so unapologetic in presentation because it was all about quality and no explanation needed. Indeed, it's not apologies needed. It was crunchy and soft yet crispy with greens, nuts, tofu and crackers. The peanut sauce was rich, nutty yet smooth.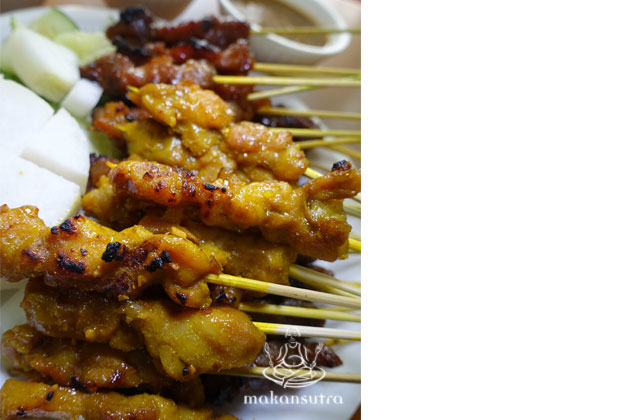 So I asked Eizam what new stuff he would come up with to attract a newer breed of customers, "Beef ball soto" was his reply. I know I have to go back again once it's up on the menu.
Rosraihanna
B1-19, Golden Mile Food Centre,
Beach Road
11.30am-10pm
Close Mondays