Royal Pavilion: Dim Sum "Just Like Hong Kong"
By TianTianChi - Tuesday, May 13, 2014
After returning from a holiday in Hong Kong recently, you'd understand why dim sum is the last thing on my mind. Yum cha (tea) culture is deeply rooted in Hong Kong and it is not difficult to get good dim sum there.
Sometime ago, I was invited for lunch at the just-opened Royal Pavilion. It did not move me. Teething problems were obvious and even the snow mountain baked bun they were so proud of was burnt at the bottom. I felt it would be some time yet before I return. So this time, with my discerning mum-in-law in tow, we were back, with trepidations.
But things were looking up this time. Friendly and attentive service is something I would expect in a hotel restaurant but it was the knowledge of the waiting staff that impressed me most. They could describe the dishes and make good recommendations.
Most dim sum items can come in various forms of dumplings, pastries and bao (bun). The chef is an expert with the various kinds of wrappers for these items. I am particularly impressed with the steamed crystal dumpling and the vegetarian dumpling, both skins were made with wheat starch. The skin was translucent, nicely resilient, soft yet a little chewy and they reminded me of mochi. They are pregnant with flavourful ingredients too. I also liked the single salmon caviar crowned har gow (prawn dumplings), even if the filling was similar to the crystal dumpling. I love eating it whole, bursting the roe's membrane in the mouth and letting the flavours flow with the sweet shrimp juice. It felt like a bubble wrap popping sensation and I only wish there were more roes.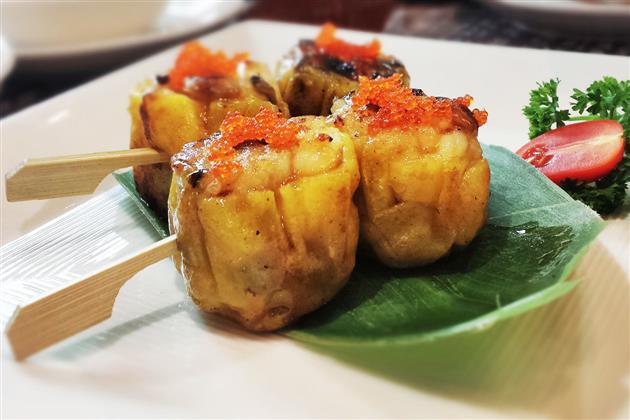 We were intrigued by the skewered siew mai too.The concept of steaming then grilling seems redundant yet the caramelized teriyaki sauce and slightly charred surface made this interesting and tasty. It's a great idea for a BBQ party.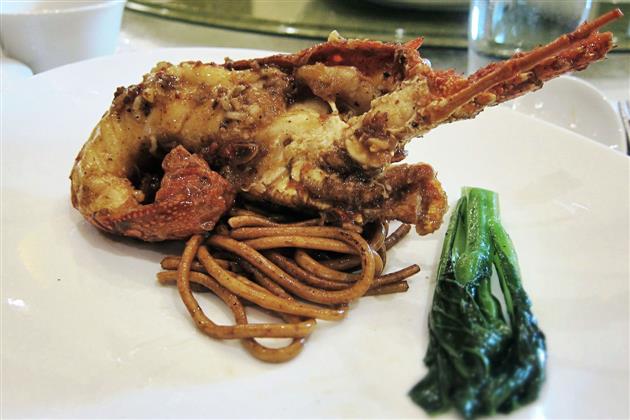 Royal Pavilion's answer to the well-loved hae bee hiam (dried shrimps sambal) is Lao Gan Die chilli paste. White baits were used with dried shrimps for more crispiness and texture. I felt the paste could be better used as a cooking ingredient than as a condiment. The pedestrian fried carrot cake was flavoured and spiced up with the paste, which coated every wobbly cube, and the crispy gritty texture helps make each bite enjoyable. I will love it even more if the carrot cake was chopped up in smaller cubes, hawker style, taking in more flavour of the paste. The same paste is also used to flavour the wok fried handmade mashed fish noodle with lobster (in ala carte menu). The noodle, made from mashed fish meat, is nothing new but tossing in the Lao Gan Die sauce is, and made the taste-o-meter shoot northward.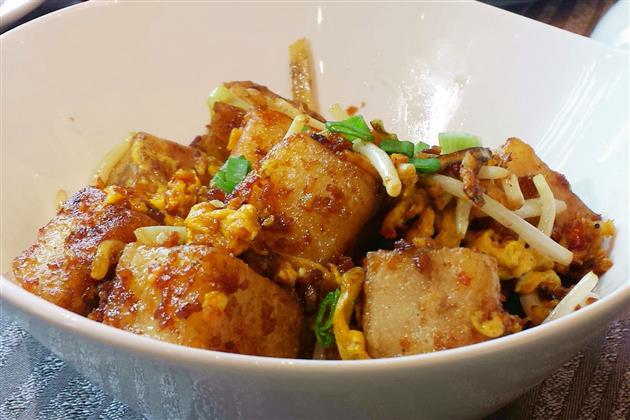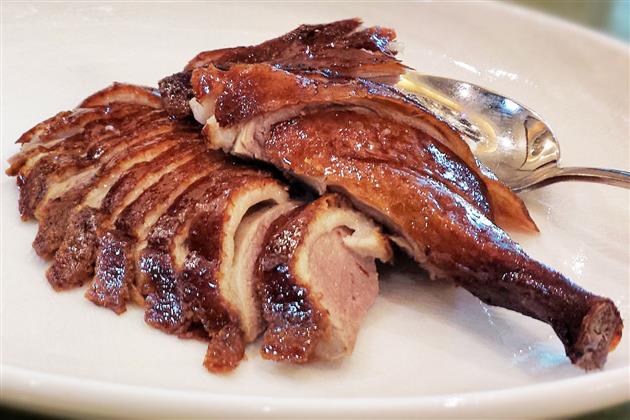 The one item alone that can make me come back again and again is the lychee wood smoked roast duck. I have tasted more than my fair share of smoked duck and nothing have impressed me before. The skin is paper crisp and the flesh juicy. Even after a while, the sweet smokey flavour lingered in my mouth. They serve their duck boneless for ease of eating but I can imagine how much more aromatic it can be if they are served bone-in.
Overall, most of the dim sum items we had were well executed, safe for a few. It was a great idea to incorporate mui choy (preserved mustard green) in their char siew bao but there was so little of it and was overwhelmed by the sweet char siew sauce. It did not show up also in the shredded beef with preserved vegetable rice roll (but the beef was yummy). Both congees (pumpkin and century eggs) could be smoother – it was too grainy for my liking. Deep fried items such as the crispy prawn roll with mango came up dry.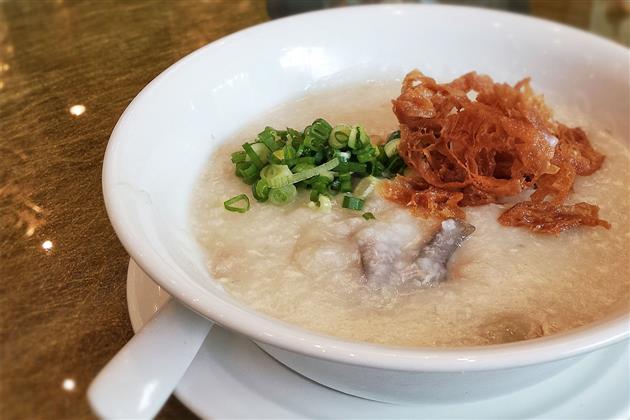 They have a good selection of chilled and warm desserts to end the meal. The or nee (yam paste) with pumpkin puree served in young coconut is one of the best I have tried. It is thick and not too sweet. The young coconut does not merely serve as a receptacle; you can sense the sweet refreshing aroma. The restrained use of sugar is also apparent in other desserts. I noticed crushed walnut was added to give the walnut cream more dimension. The fragrant almond tea was silky and made even more irresistible with soft spongy egg white sheet. For chilled desserts, although the aloe vera with lemon grass jelly as well as the avocado with ice cream was refreshing and tasty, they didn't resonate with me.
Chef Chung Ho Shi, who helmed Golden Peony (Conrad Centennial Hotel) previously, is well known for his innovative take on traditional Cantonese cuisine. I did not get to try many dishes on the ala carte menu but the dim sum here gave a glimpse of his capabilities. The menu looked interesting and price seemed reasonable. I will want to come back for these. Knowing that he is also one of the owners of the restaurant gives confidence that he is unlikely to disappoint.
I asked my mother in law what she thinks about the food after the meal. "Just like in Hong Kong!"
Royal Pavilion
Level 1, Park Regis Singapore
23 Merchant Road
Tel: 6818-8888
Open for lunch and dinner daily: 11.30am to 2.30pm; 6pm to 10pm.
Dim sum items priced from $4.60++ to $8.80++