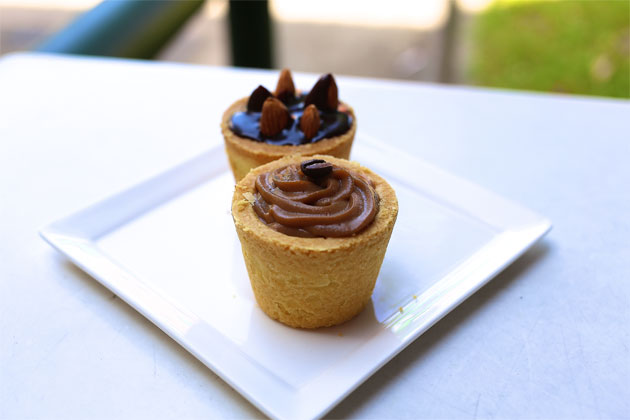 Salut Kopitam, the atas kopitiam future?
By Cecilia Joven Ong - Tuesday, Jul 08, 2014
And yet another hip kopitam rises…Salut (Hi in French) though, is not your usual Kopitiam (like many of the others), they do not serve traditional hawker fares but affordable gourmet foods. The stalls include Seasalt, Immanuel French Kitchen, Two Wings, Mi à n by The Travelling C.OW., Brown Sugar by Eskimo, Jollybell and Stew K üc he, operated by the Kopitiam owner serving German and Italian Cuisine. Those closest to local hawker fare is the old Corona chicken wing rice inspired fried wings. The place packs them in each day and they happily down craft beers and German lagers on tap over their meals.
Is this likely to be the emerging set to slowly replace our traditional Kopitiams or is this but a trend, like the old Tamagotchi toy of the 80s.
Immanuel French Kitchen
Chef Immanuel Tee, the Head Chef of already de-functioned Keystone Restaurant and his assistant Nate Yip helm this French stall.
I was told Duck Confit, their number 1 best seller has already been sold out the night before so I went for the Kakuni style perfectly braised Pork Belly for $15.40, their next popular item. It consists of 3 pieces of the pork belly with onsen egg and potato foam together with sautéed mushroom. The texture of gelatinous braised pork belly was just right with the fat soft enough to melt in the mouth. The dish has restaurant quality standard with heartland prices.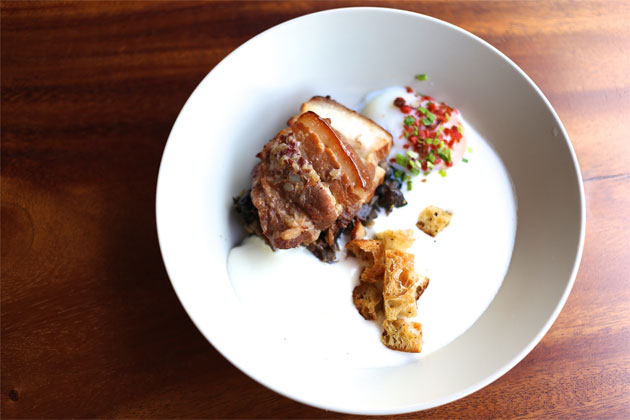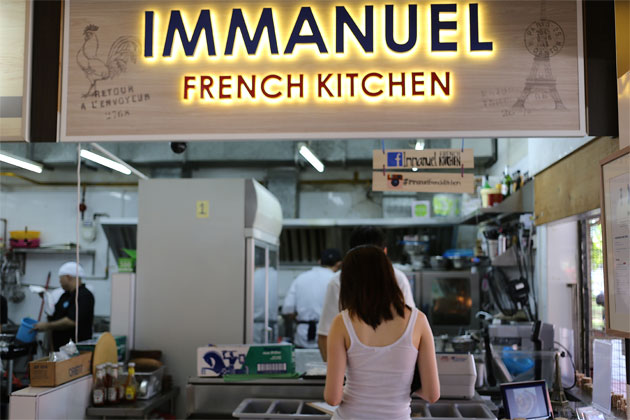 Two Wings
Jeremy Loh and his partner Samantha Lim operate the stall, which successfully revived the family recipe passed down by Jermey's granduncle. This is the same recipe used by the famous Carona Chicken started by the granduncle's brother-in-law.
I ordered the fried chicken cutlet that is served with 2 side dishes for $8. I opted for the chilled potato as recommended by Samantha and paid $1.50 extra for the cheese fries. The chicken cutlet was moist, tender and well fried but not greasy. It tasted good but not particularly outstanding. The chilled potato was much better than the cheese fries that failed to impress. A sample of homemade achar was given to their customers to solicit feedback. I felt this would be a better side dish compared to the usual coleslaw.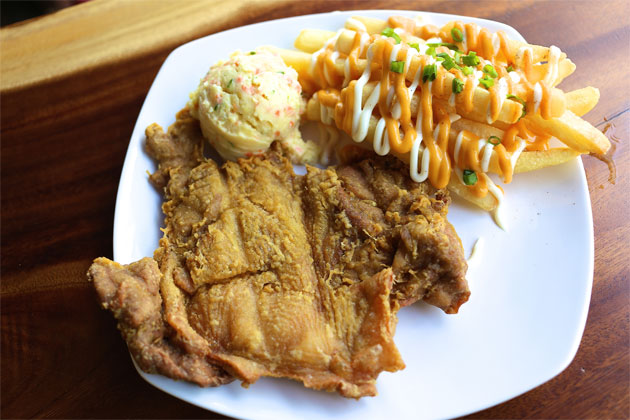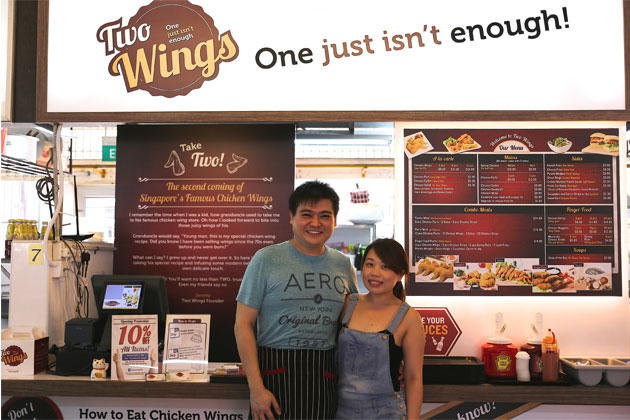 Mi à n by The Travelling C.OW.
The same people who operate the Travelling C.O.W food truck run this stall. Fans who have been chasing the COW for their famous Ramen Burger will be glad to know that the COW has found a permanent home and they can easily order their burgers here. The variety of Ramen Burger includes Beef Bulgolgi, Teriyaki Chicken and Crab Salad at $12 with soup of the day.
I tried the Ramen Burger with Beef Bulgolgi that is served with a bowl of Miso Pumpkin Soup. An option is given to change the soup to Truffle Fries or Salad at an extra cost. The burger is crunchy with tender beef slices smother in their sauce but I did not like the soup. I tried the Cheesy Ramen Bites (3 pieces) for $6. These bites are a crusted dumpling made of ramen filled with emmenthal cheese, then deep-fried. I simply adored the delightful crunchiness with its cheesy filling.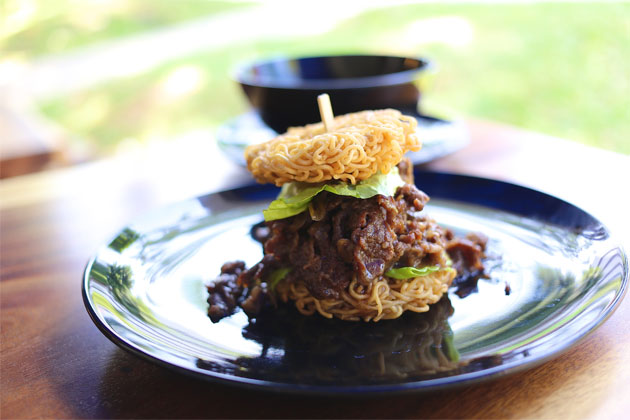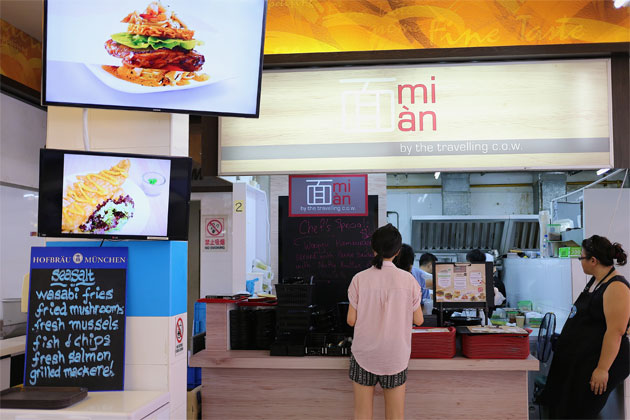 Brown Sugar by Eskimo
They serve bubble tea style drinks and also gourmet coffee brewed using Italian beans and a La Pavoni machine. I went for Orange Green Tea (Large) at $4.20. A refreshing drink with a pronounced orange taste coupled with a hint of green tea.
I would definitely come back for their coffee.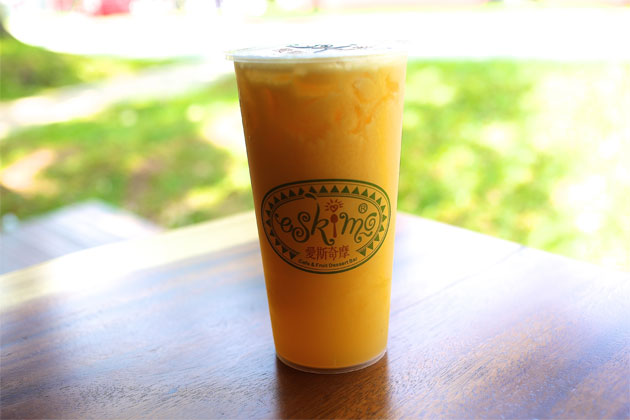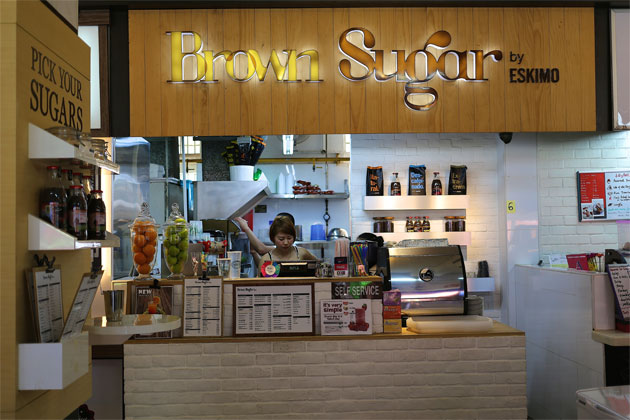 Jollybell
A perfect stall to round out your meal, they have a good selection of desserts that includes tarts, pastries, ice-cream and chocolate. I tried the Chocolate Almond Tart and Coffee Tart for $1.90 each. The Chocolate Almond Tart fared much better compared to the Coffee one even though it was slightly on the sweet side.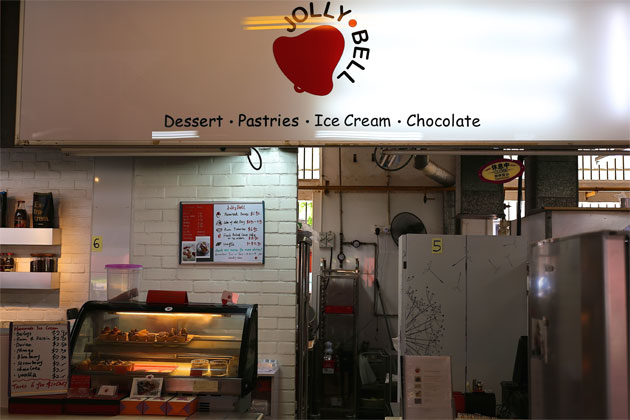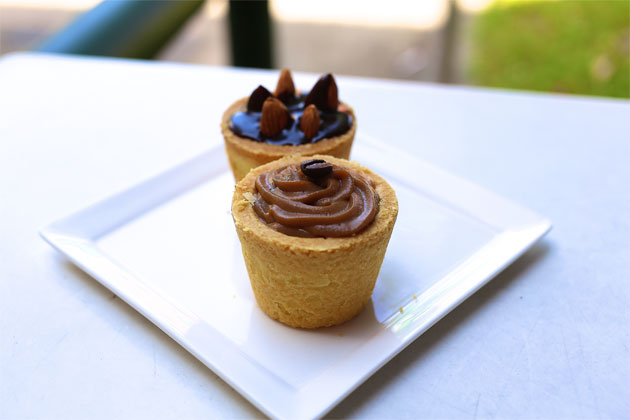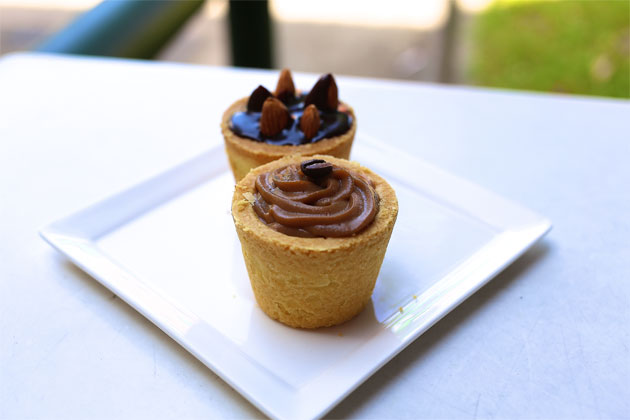 Salut Coffeeshop
Block 119 Bukit Merah Lane #01-40 Singapore 151119
Operating Hours: 11am to 10 pm (Closed on Monday)