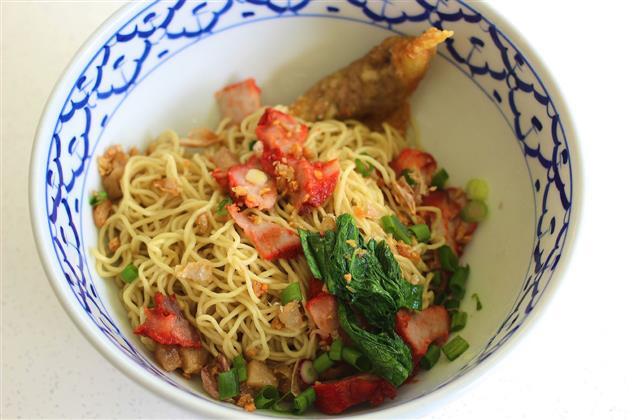 Same Same But Different Soi 19 Wanton Mee Here
By Cecilia Joven Ong - Thursday, Jun 19, 2014
Do you know that there is a Soi 19 Thai Wanton Mee in Singapore though not related to that famous wanton mee at the Soi 19 in Bangkok, Thailand?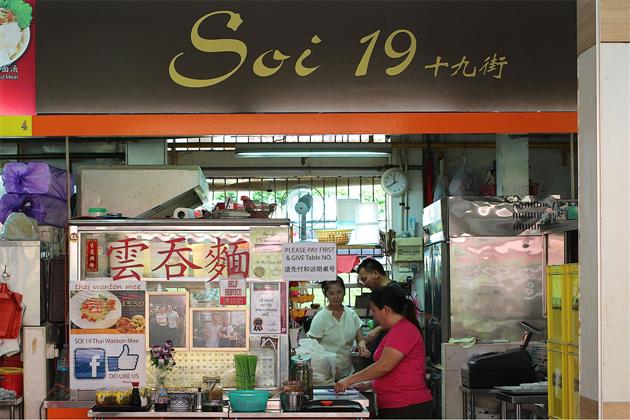 This stall located in a coffee shop along Ang Mo Kio Avenue 5 has being around for 2 years now. The chef cum owner of this stall is none other than Singaporean, Mr Ng Sing Chow, 59, who runs this stall together with his wife and their assistant.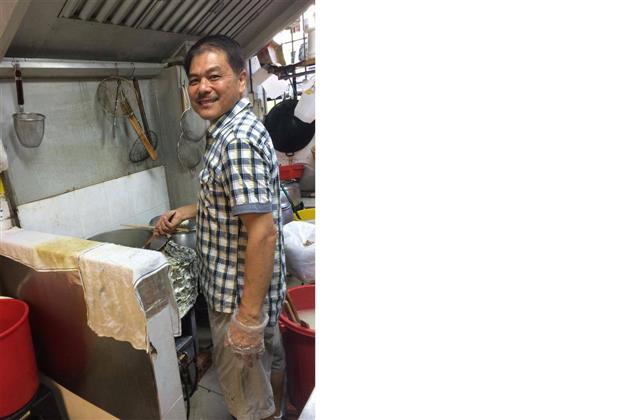 When Chef Ng travelled to Bangkok to visit his god brother about 4 years ago, he went exploring for local foods in the northern part of Thailand. He chanced upon a humble looking stall selling just wanton mee in a small village. He was smitten by how uniquely different the taste of Thai Wanton Mee compared to the local one. After much persuasion, Chef Ng managed to convince the owner to impart the recipe to him. Armed with the secret recipe, he decided to open a stall and to bring the unique tasting wanton mee to Singapore.
Compared to the typical wanton mee, the main difference of the Thai style Wanton mee is that it is served with no sauce. The taste itself is derived from the noodle and the different seasoning used. The final piece of the puzzle is the noodle itself; Chef Ng tried at least 20 types of noodles before deciding on the final one, which is similar to Kolo Mee.
Being a new stall with a "new" wanton mee in the quiet part of the heartlandish Ang Mo Kio, has a down side – the crowd was initially slow in responding to the food.  Business improved gradually when more people got to know about their Thai style wanton mee through word of mouth and from their Facebook pages. They now have a pool of regular customers that usually go for their $5 bowl of noodles. Now, they shift up to 400 bowls of noodles on good day.
There are 3 different sizes available: the regular ($3.50), medium ($4.00) and the big ($5.00) portion. The regular one consists of a serving of noodles that is topped with a fried wanton, char siew, crispy pork lard, blanched vegetables and chopped spring onions. A bowl of soup with 2 wantons accompanies it. The medium portion has more noodles and the big one has more ingredients including slices of Chinese sausage.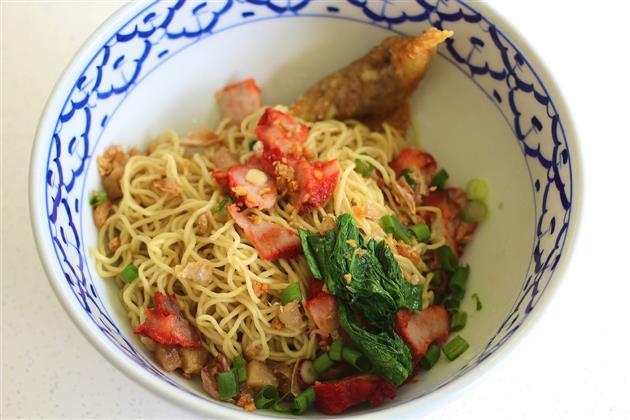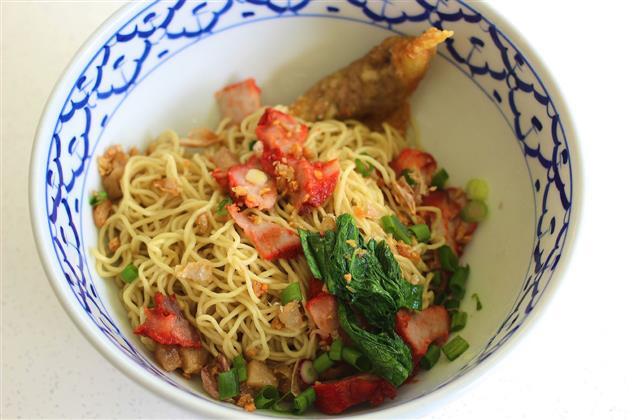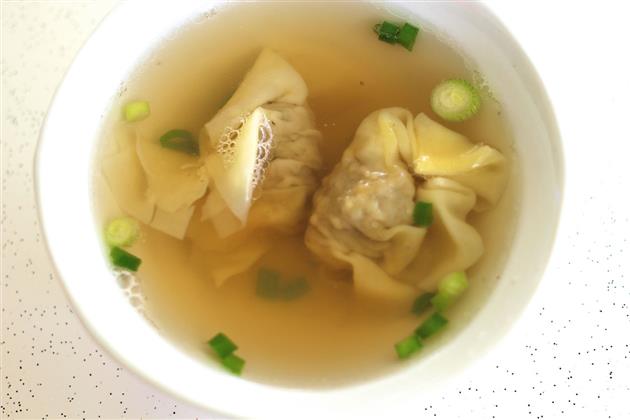 I tried their regular bowl, which is served with just enough portion of noodle for a light lunch. The crispy pork lard and seasoning impart a fragrant flavor to the noodle. For those that can handle the heat, spoon more of their dried chilli flakes in- it'll elevate the heat level.  The texture of the noodle was cooked al dente to give it a delightful springiness together with a desirable chewiness. Though it did not have a sauce, it tasted unexpectedly flavorful nevertheless. The fried wanton had seasoned minced pork filling that added a nice savory contrast to the flavor. The wantons in the flavorsome soup tasted rather good though the fried one fared slightly better. Although the texture of the char siew has its tenderness and juiciness retained, it was not as charred as I liked it to be.
Whether Thai style or not, their wanton mee is overall good that will warrant a repeat visit.
SOI 19 THAI WANTON MEE
Block 151 Ang Mo Kio Avenue 5 Singapore 560151