Sari Ratu Restaurant: Nasi Padang fit for a Queen
By TianTianChi - Friday, Jan 09, 2015
My first experience with Nasi Padang was in the 70s at the Rendezvous Restaurant. For a long time, my impression of Nasi Padang was limited to dining experiences at a few different places where I later realized were not representative of authentic Nasi Padang as compared to what it is like in Padang, Sumatra. I noticed the version in Singapore too, in general, tends to lean towards a stronger and fiery flavor. Many times the line between Nasi Padang and Nasi Melayu is blurred. This remains one of my favourite cuisines and I am always on a look out for new Nasi Padang eateries.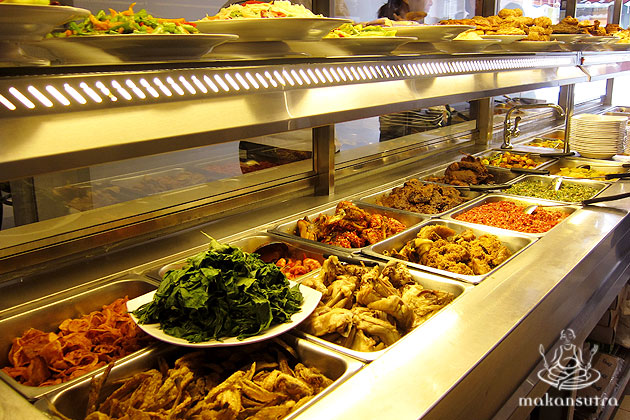 The whiff of mouthwatering spices aroma could be captured even as I approached the Sari Ratu (loosely translated to Essence of a Queen) from the nearby car park lot. This usually means good news but I was agonized by the attractive and colourful range available; I was stumped for choice and I wanted a taste of everything. While there are the usual gulai chicken (done in a spicy curry like sauce), rendang beef, gulai mutton and ikan panggang (grilled fish), I was really excited to see the raregulai telurikan (fish roe curry) and beef tendon that were available at the stall.
It was a real treat biting into a clump of fish roe, bursting each and every tiny bead where the sensation is similar to the bursting of bubble wraps (if you can imagine). The slightly tangy and spicy gravy had a distinctive flavor of nutmeg , lending a citrusy sweetness that masked any potential fishiness. This is so dangerously addictive (read: cholesterol) and there were more dishes to try. I never had much of a chance to try the beef tendon curry outside of Indonesia and the last time I had it here was at the Garuda Restaurant. At $5, the portion was generous. The tendon was cooked perfectly, just gelatinous enough, without any hints of sliminess and covered well by a thick coat of gravy. So collagenous it is almost better than botox.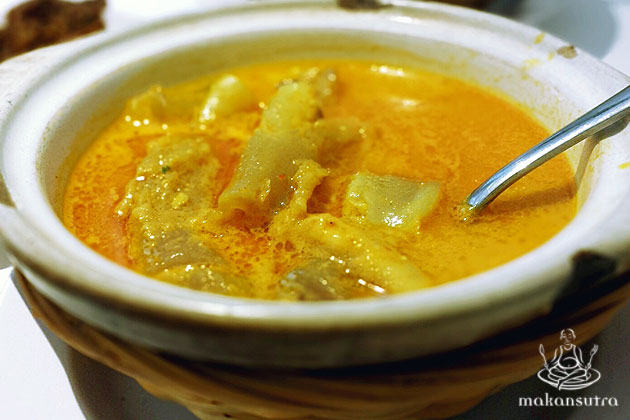 We love the kampong chicken panggang (grilled chicken) here much more than the deep fried version (a little too dry we felt). It is well marinated with a mixture of coconut cream and spice but we felt the magic was in the char-grill method. It intensifies the flavor and releases that attractive smoky aroma that made us went for thirds despite the price ($5 a portion for the smallish chicken).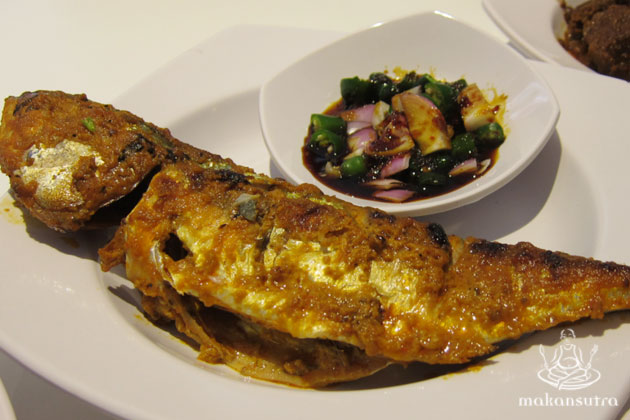 It went very well with their red and green sambal which costs $1.50, but is justified when you notice that petai (stink beans) is used in the sambal. It is a dish on its own! The same charcoal grill treatment is applied also on the Ikan panggang ($4.50) and is as well liked by my dining companions.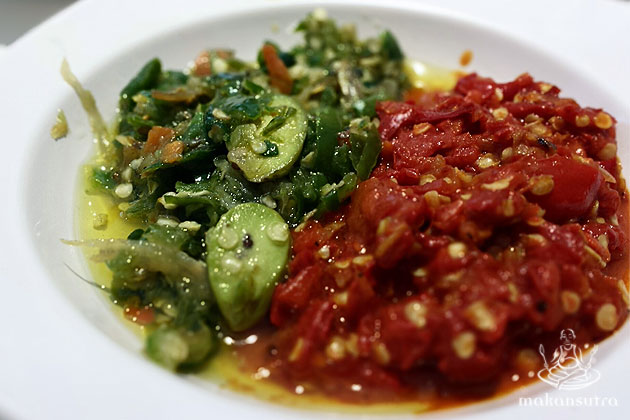 Rendang is a must for me whenever I go for Nasi Padang and theirs did not disappoint. It was admittedly dry and fibrous the first time I had this, but now, the improved version is fork tender and comes with layers of complex flavors. While I find most of their gulai's dishes a little mild, the gulai mutton is intensively robust and moreish but I like it that the milky gaminess of the meat was still intact.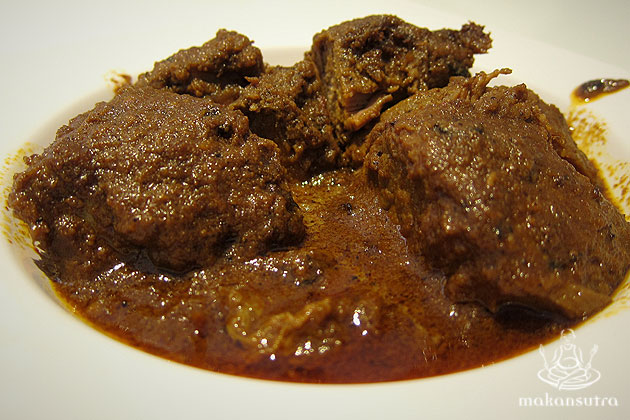 While we like almost all the dishes here, there are misses too. We didn't enjoy the IkanTalapia; the meat is too dry, pretty tasteless on its own and the accompanying dark sauce was a tad salty. They are also pretty weak on desserts.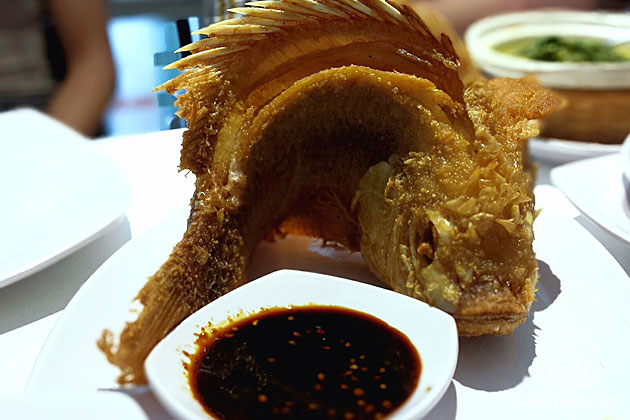 One of the annoyances eating at a Nasi Padang place is that food is usually served cold. Over here most of the dishes are served in heated bainmarie and claypot that ensured the warmth of their dishes. We like that the food is reasonably priced, the restaurant comfortably air-conditioned and the staff friendly. Many customers came ordering only a plate meal topping the rice with ingredients and are given the same friendly service.
I got a chance to chit chat with the Founder, Mr. Auwines who is a Padang native and started the restaurant 13 years ago in Indonesia. He has since expanded to 18 branches in Indonesia, Malaysia and Singapore. The choice of ingredients is important he said, and insisted upon using only the freshest ingredients. Even the coconut cream has to be freshly squeezed instead of using factory supplies. Truly the essence of a queen, one who will not accept anything lesser.
Sari Ratu Restaurant
20 Pahang Street
10am-10pm
Branches:
1) 304 Orchard Road #02-107 Lucky Plaza, 10am-10pm
2) #01-43/44 Lau Pa Sat Festival Market, 10am-10pm