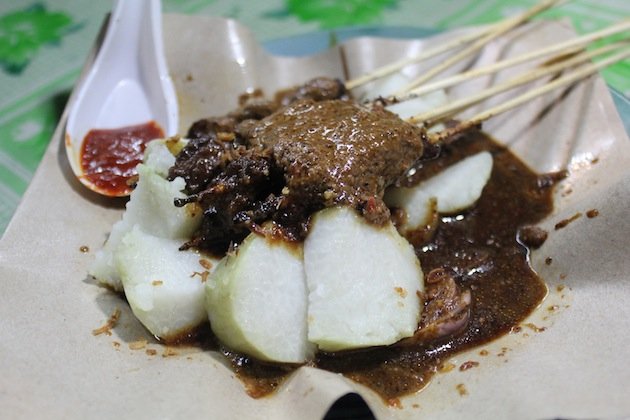 Satay Club in Batam
By Tris Marlis - Monday, Feb 25, 2013
If you miss the Old Satay Club at Esplanade, or if you have never had a chance to experience that ultimate satay feast, fret not, you may indulge in a very similar satay fiesta, at another old satay club just an hour ferry ride away at Batam Island.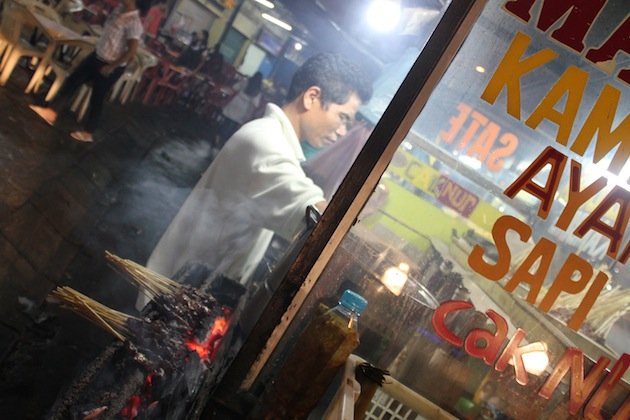 Located in front of the largest mall in Batam, Nagoya Hill, this line of colourful pushcarts will catch your attention, the smoke and smell of grilled satay in the air will draw you even closer. As you walk in, these abang-abang (brothers) will greet you, hoping to win your attention over seven other vendors. Yes, it's basically touting, but that was how it was back in the day in Singapore. "Sate Padang madam…" offers one vendor, "Sate Madura ya…" says another.

Satay pushcarts have been gathering at this spot since the late 80s. Today, there are more young satay hawkers manning these stalls. They come from the smaller towns across Java and Sumatra seeking a better tomorrow.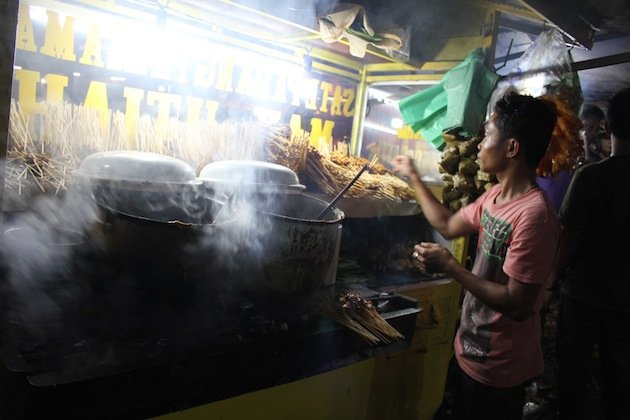 Customers here do not sit on stools like what it was at Esplanade. They have proper tables and chairs set up, like an outdoor cze char, so you don't have to stand or squad while you eat.

Most specialise in Sate Padang, from the town of Pariaman of West Sumatra. With Sate Padang, the meat is usually boiled first in the rich and smooth, thickened, turmeric and stock flavoured sauce, before it is grilled for texture. At every pushcart, there are two pots of satay sauce: peanut and Padang style. Sate Kacang (with peanut sauce) is similar to the ones we have in Singapore. It tastes sweet and slightly spicy with coarse texture from the grounded peanuts.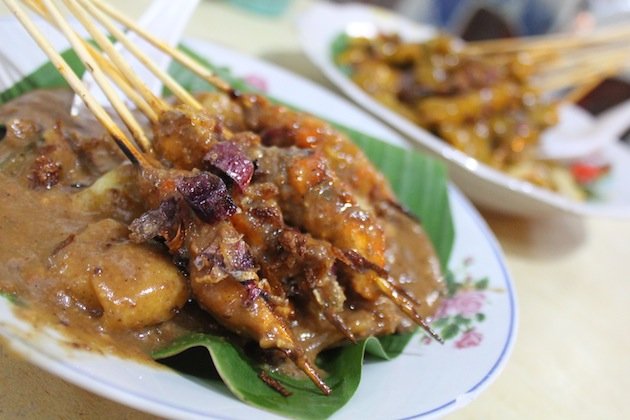 Another version, an exquisite one, is the original Padang sauce made with a mix of 19 spices, including turmeric, coriander, ginger, cloves, cumin, pepper and chillies. It is fragrant yet not overpowering, somehow reminding us of Japanese curry. They also add flour to smoothen and thicken the sauce. The fried onion topping is a must, as it adds crunch and sweetness to the sauce, and complements the dish perfectly.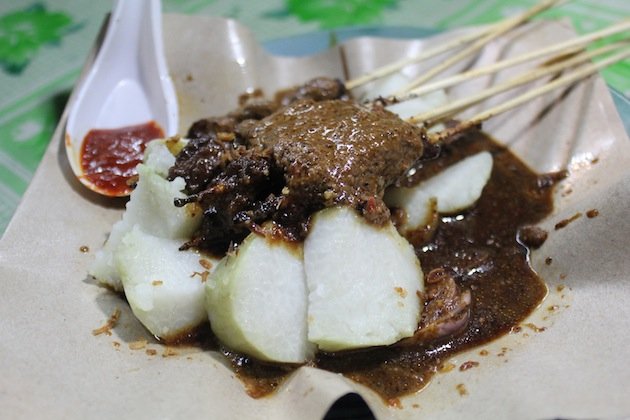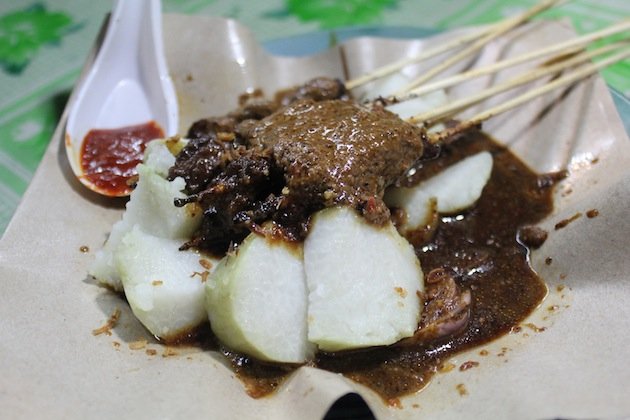 If you are not a big fan of spicy food, try Sate Madura from Madura, East Java. The sauce is characterised by the generous use of kicap manis (sweet soy sauce). Its peanut sauce is mixed with palm sugar and petis (a type of shrimp paste) which gives the sauce both sweet and savoury flavours. Besides the usual fried onion, Sate Madura also comes with raw thinly slice shallots. Sambal is usually added separately or served on the side as a condiment.

For about $2 (Rp. 15,000) you get a portion with 10 skewers and two ketupat (rice dumpling). Besides satay, there are other street stalls selling murtabak, rojak and seafood dishes.

To get there, look for Hotel Nagoya Plasa (Jl. Imlam Bonjol, Lubuk Baja, Batam 29432, Indonesia), you will find this gem in front of the hotel.

Operating hours: 3pm to 2am, or until sold out.