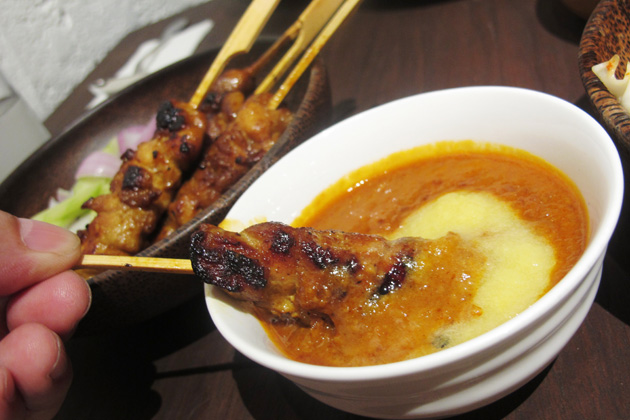 Satay Daze
By KF Seetoh - Monday, Nov 25, 2013
A local food museum here declared that the word satay has Indian origins, and that "sathai" has to do with skin or surface meat in that language. This is befuddling. We don't quite get Indian satay hawkers – they are not known or associated with this snack, yet, it has an Indian inspired name. It's like Singapore Noodles. We can't find it here, yet the rest of the world named one after us.
Then, there is another theory – that it is an ancient Sankrit word (some websites actually profess it). So, by now, there should be some archaeological find of some ancient wooden skewers with preserved bits of charred meat at its edges, dug out by some intrepid food historian in, say, Nepal, perhaps. But, no. There's no such find thus far. So this theory is off my books.
But the warmest theory I have come across, is from Haji Samuri. He owns one of the biggest satay chains in Malaysia. While filming him for our Makansutra show, he revealed, in his shiny and swanky black Mercedes, that satay has Hokkien origins. His Indonesian pals tell him the meaning of the word is "three pieces" or satay in Hokkien. Two pieces of meat and a piece of fat – skewer them, grill it and you get satay. Plausible on many counts. I took that word to my expert makan peers in Indonesia and his reply was: "actually, I never thought of its origins but the word has no Bahasa Indonesian connections."
So, it was the old migrant Hokkien and Hakkas who roosted in Indonesia that came up with this "three pieces" snack, utilising the ingredients and rich spices available in that land of abundance. Fast forward to today. Satay has many versions – from Malaysian Kajang style (very similar to the Malay version we get here, with spicy peanut sauce), Sate Gai – that Thai version which some back packer travel sites believe is the original version and even the Nonya version, done with pork and a sour fruity sauce (like pineapple or wild starfruit) with the spicy peanut dip.
What cooks and hawkers today do with the concept of satay is evolving, and it steers not far from its original heritage.
Satay here, there, everywhere
For starters, there's no such thing as an Indian satay. At most you'll find an Indian grilling local style satay, or making some kebabs (that's another story). On its own, satay is a snack. Do stuff with the sauce and combine or top it with other dishes, and it's another dish altogether. Create a banana leaf cone, pour the sauce down below, stick six skewers of satay in with cucumbers and onions with rice cakes (ketupat), and you have satay on the go-go. Stick them vertically into a tall juice glass over 5 cm of peanut sauce with a side plate of zucchini lime salad, and it's chi-chi café satay for you. Here are a few versions of how satay is delivered to our tummies.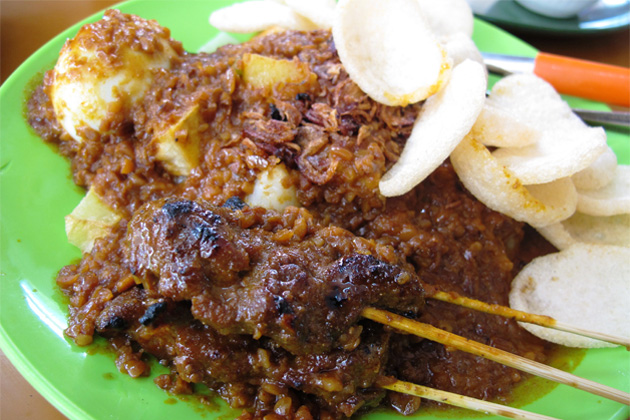 1. Satay Gado Gado (Rosraihanna Soto and Satay, B1-19, Golden Mile Food Centre, 505 Beach Road, 11am-10pm daily. Only satay sold on Sundays)
To begin with, they are already highly rated by Makansutra for their satay, which, can be limiting and boring even (how many times and how often can you eat satay anyway). So they also offer a rare manifestation of it. They take three pieces of their patiently grilled soft and smokey satay (chicken, beef or mutton) and top it over gado gado, then slather the whole chaos with their thick, nutty and spicy peanut sauce. The greens retain some soft crunch and goes so well with the satay, soft ketupat pieces, tofu and egg. Very hearty and it's no wonder, that this is one of their best sellers at lunch.
2. Old School Satay (Warong Sudi Mampir, 01-19 Haig Road Hawker Centre, 14, Haig Road,
Fridays, Mondays and Tuedays: 10:30am – 7pm,Sat & Sun: 10:30am – 5pm, Closed: Wed, Thur
It is no secret that many of the satay hawkers get their supply from the same few suppliers. Now you know why satay at some satay street tastes suspiciously similar. Perhaps the sauce differs and helps distract you somewhat. These folks here, three brothers, inherited their late father's Indonesian recipe and have kept the faith for over two decades now. They still hand skewer it each day. They used to skewer up to 600 sticks a day but, their fame caught up and now, they can't get away without making over 1000 sticks daily. It comes chunky, juicy, soft yet roast outside and their peanut sauce has a rich balance of sweet and salty, between the spices.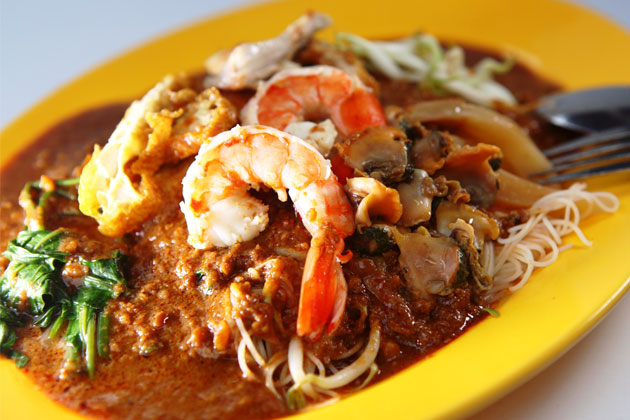 3. Satay Beehoon (Alhambra Padang Satay, stall 15C, Makansutra Gluttons Bay, 8 Raffles Ave, Esplanade Mall, 5pm-2am daily)
I believe this is the only halal version of our dear satay beehoon currently here. Sam softly blanches beehoon, tops it with seafood and "no cockles as our Malay customers don't like it". But when available, his Chinese regulars can ask for it. He pours the satay sauce over it and voila, a dish that makes sense for a satay and BBQ seafood hawker to offer. Unlike the Chinese version that uses a smooth peanut sauce, this version has a nutty texture, something he says his customers prefer. He tops it with prawns, taupok, kangkong, cuttlefish and chicken slices.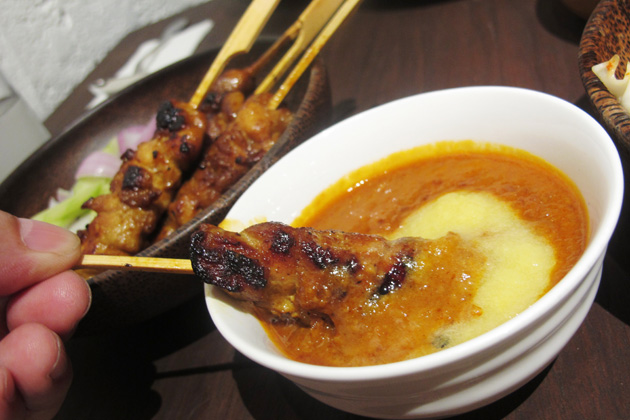 4. Nonya Pork Satay with Pineapple sauce (Candlenut Restaurant, 01-03, Dorsett Residences, 331 New Bridge Road, 6pm-10pm daily)
When chef Malcolm Lee reopened his Candlenut restaurant after an almost two year hiatus, one of the new dishes he yearned to offer was "old school Nonya pork satay". It comes with a big soft chunk of meat with some fat. The marinade is light, not quite Kajang style. The smooth peanut sauce is enlivened with fresh pineapple puree to cut through the heaviness. His pineapple blend has a clean taste, not tampered with sugar or five spice powder, which many hawkers add, and it lends a distinctly pronounced tang to the dip