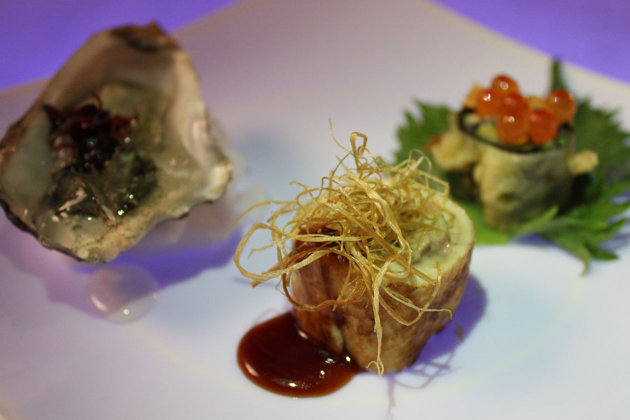 Savouring Gourmet Street Food
By Jade Hu (Images by Joanna Goh @ Makansutra) - Tuesday, Mar 11, 2014
At SAVOUR 2014 gourmet food festival, diners were treated to a gastronomical extravaganza, made special by the chefs, some Michelin-starred, mingling and taking pictures with the crowd. So what's to savour at SAVOUR this year? I spy many dishes that look and felt like street food, hawker food or even fast food. We sniff further, even ask these star studded chefs – if they are really gourmet or just street food given a classy twist.
This Singapore Chilli Crab may have the same name as our national dish, but it is something completely different. People who ordered this Singapore Chilli Crab would find a picture of a crab on the beach on their plate. Chef Han Liguang of Restaurant Labyrinth wants to "retain the original DNA of a dish" by recreating the crab's natural habitat. The 'sand' is made of mantou baked and crushed into grit, the 'seashell' a dollop of chilli crab gravy-flavoured ice cream, the 'sea foam' is crab bisque, the 'sand mound' is fresh crab meat mousse, and the very crab itself is a deep-fried soft shell crab tempura. A hardcore chilli crab fan would no doubt decry this incarnation but if you can ignore the misnomer, the taste, texture and creativity that go into this dish would win most over.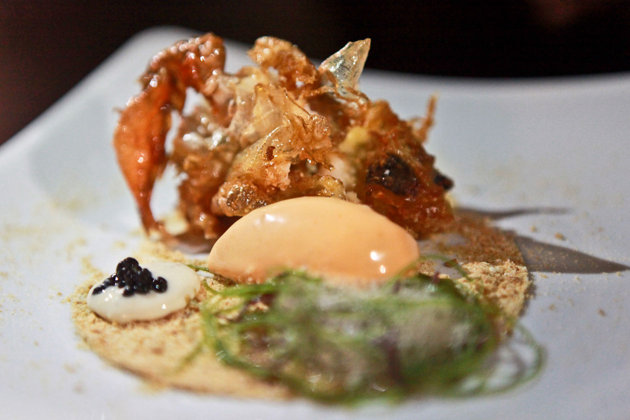 A burger is a burger. Adding anything new inside does not change that fact. The Triple Cheese Truffle Toastie created by Chef Claudio Sandri of Spathe Public House is exactly that, a burger. It was inspired from his younger days where he raided his fridge to put together a simple brie and salami baguette sandwich. It doesn't matter that he now uses three types of cheese, bacon, sambal and truffle in it. It looks and tastes like fast, greasy food, except with a strong truffle flavour. Chef Claudio said of his philosophy, "Don't complicate too much, just keep it simple." There's nothing wrong with being simple, but just because you add truffle or oil doesn't make it any more gourmet.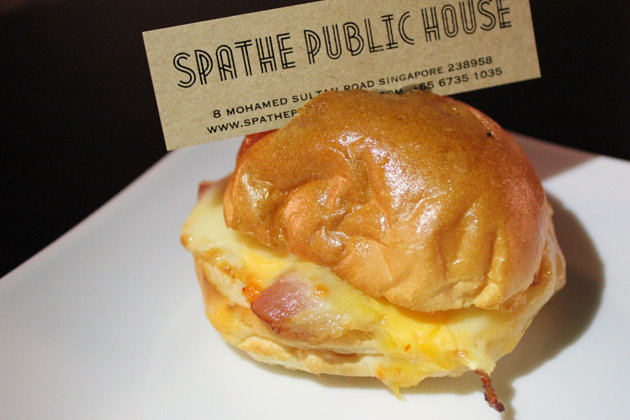 As I spotted a 
Japonaise truffled Oyster Omelette 
on the SAVOUR menu crafted by Chef Christopher Millar of Stellar@1-ALTITUDE, a thought crossed my mind. Does simply adding truffle make something gourmet? Could it be basically orh chien with a truffle touch? "No, not at all!" Chef Christopher Millar said. Having been in Singapore for 11 years, you'd at least expect him to create something inspired by local cuisine. Instead the omelette is done in a French-Japanese fusion way to a light and fluffy consistency, using Fines de Claire oysters from France and a drizzle of truffle. So how is this not orh chien with fancy ingredients?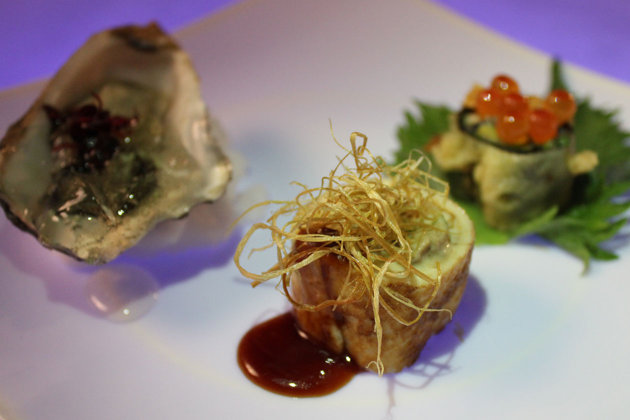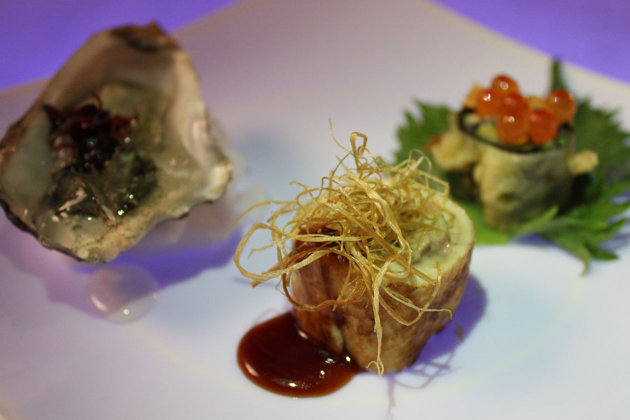 Hotdogs belong to the street food category through and through, but Chef James Knappett of Bubbledogs in the UK wanted to change our minds about that. He gained success earlier in London by pairing gourmet hotdogs with champagne at his restaurant Bubbledogs, so he was confident that Singaporeans will like his hotdogs. "Anything that's new, Singaporeans have seen it, but they haven't had a really good hotdog here." While the bun and sausages are handmade with all-natural ingredients and no preservatives, the toppings (fresh tomato salsa, guacamole, sour cream plus pickled jalapenos) in the Jose hotdog seemed to be added as an afterthought. The most critical ingredient in his attempt to upsell his hotdogs – plus, the champagne, is also missing. Clearly, we are not sold on this one; this concept of using fine hotdogs between buns, is not new either.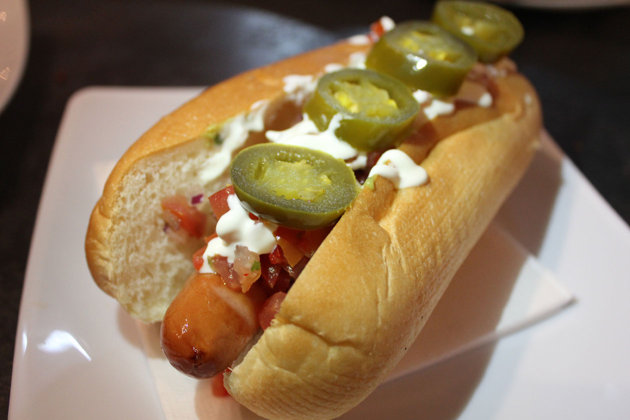 Making gourmet food is a class of its own with no simple formula. Adding fancy or all-natural ingredients to a street food dish does not make it "gourmet". While we appreciate an exquisite meal, most of us still like our comfort foods, be it kaya toast, wanton mee or carrot cake, in its purest form. We doubt topping char hae mee with lobsters, equals gourmet too.
SAVOUR 2014 was held between 5 to 9 March 2014 at The Promontory @ Marina Bay, featuring a chef line-up consisting Bruno Menard, Emmanuel Stroobant, Michael Caines, Henrik Yde, Mark Sargeant and Alvin Leung, among many others.