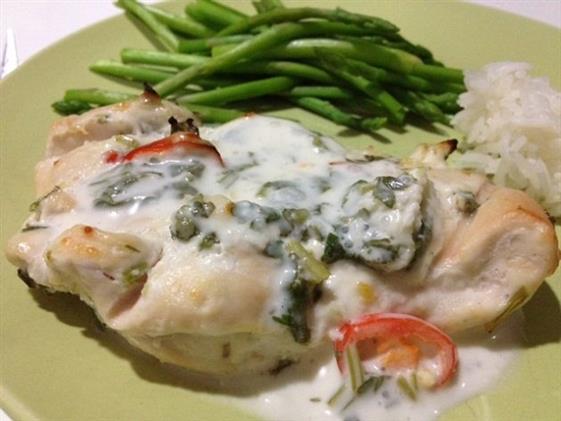 Say Sawadeeka to Coconut Thai Chicken
By Vicky Henniker-Anandraj - Friday, Apr 13, 2012
This is a Thai flavoured family meal that is easy to prepare, great to eat and is one that can also be adapted to your own families' taste. The quantity of chilli that used here does not make the dish excruciatingly hot, it just adds warmth and can be increased if you prefer something more spicy.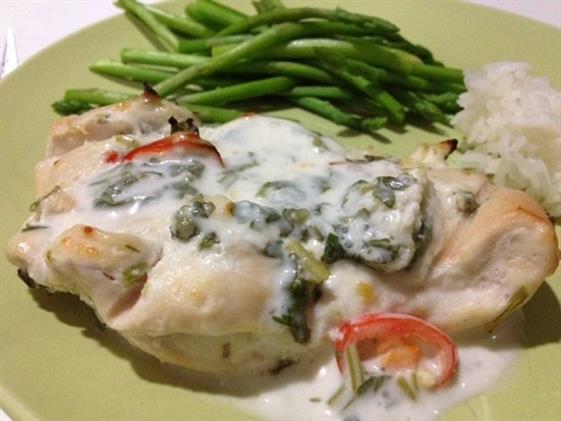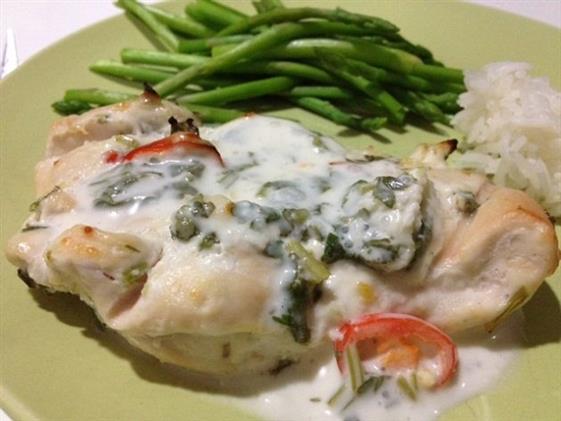 What You Need
2 large breasts of chicken
1 long red chilli finely chopped
2 cloves of garlic finely chopped or grated
1 stem of lemon grass, trim and remove outer part. Keep the softer inside part
The rind and juice of one medium lime
½ teaspoon of fish sauce
100ml coconut cream
Handful of coriander (Chinese Parsley) including stalks, roughly chopped
A generous pinch of salt
Method
Firstly prepare the marinade. Choose a shallow bowl that is wide enough to hold the chicken in one layer without stacking the two on top of each other.
Add to the bowl all of the ingredients minus the chicken. Give the marinade a good stir and have a little taste. If you wish to add more salt, lime or fish sauce do. Adjust the recipe to your taste. Set aside.
Next wash the chicken and cut each breast in half. Score the flesh with a sharp knife. Do not cut all the way through; just score the flesh enough so that the marinade can penetrate the meat.
Add the chicken pieces to the marinade and make sure all of the chicken is covered. Leave the chicken to marinate for at least 30 minutes.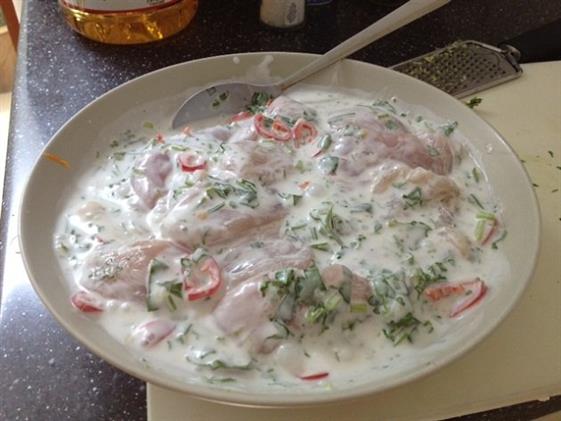 Preheat the oven to 180c, use with the grill function if possible. Shake off any excess marinade, but do not throw it away. Grill the chicken for around 10 minutes on each side.
Meanwhile, in a small saucepan heat the remaining marinade (this is going to become the sauce). Add a dash of tap water if you feel the sauce is too thick. Heat the sauce over a low heat, with the saucepan lid on.
When the sauce is piping hot, and the chicken is thoroughly cooked your meal is ready. This is great served with a little rice and some boiled or steamed Thai asparagus.
Editor's note: This meal is peanut free, tree nut free, gluten free, dairy free and egg free. Of the top eight food allergens, this dish contains fish. Depending on how pressed you are for time, this is a dish that be made in advance and left in the fridge for hours, or you can marinate it for at least half an hour before cooking.
Vicky Henniker-Anandraj is a mother of two kids with severe food allergies. She writes on all things allergy, family and fun in Singapore. Working with leading chefs to create allergy-aware meals for readers, as well as developing their own home-style recipes, she also hunts down places that are allergy-safe for her kids.