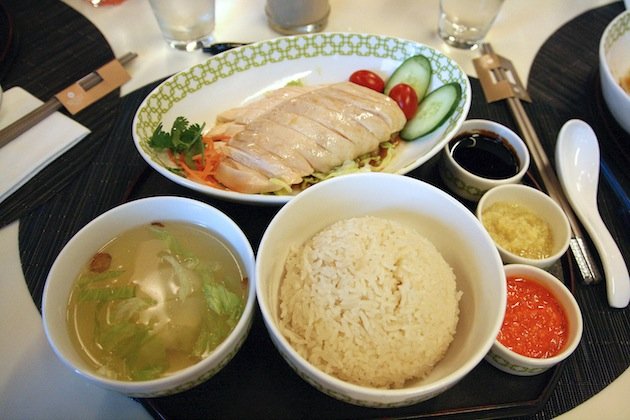 Secrets of Chatterbox Chicken Rice
By Catherine Ling - Friday, Oct 04, 2013
The Mandarin chicken rice at Chatterbox, now costing S$27++, is easily Singapore's most famous premium chicken rice. Some chefs have come out of the hotel's kitchen then to start their own chicken rice stalls, loudly capitalising on the fame and branding. But few of us know that it was a German-born chef who led the team and helped put this dish on the menu.
The Mandarin Orchard Singapore tracked down its very first Executive Chef Peter Gehrmann who left in the 1970s, and brought him from Hawaii back to Singapore to talk about his role. Peter, who had trained at The Savoy, London, was part of the opening team for The Mandarin Singapore (as it was known then).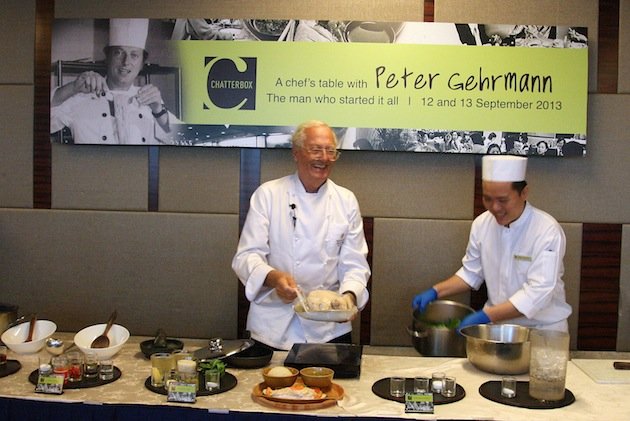 Hotel owner, Lien Ying Chow, had asked Peter to include three local dishes on the Chatterbox menu. At first, Peter was not so sure it was a good idea, as the norm was to serve the foreign hotel guests their home cuisines that they were familiar with, not local food. But he went along with it.
"We assembled a local team, and we went around Orchard Road tasting hawker food. Eventually we decided on chicken rice, laksa and char kway teow. Then we worked with local cooks and fine-tuned recipes to get the right taste, and developed the kitchen operating procedures," said Peter. "Getting the right taste was difficult. Everybody had different ideas of what good chicken should be, but eventually we got to this."
The Mandarin chicken rice debuted 1 August 1971, the same day the hotel opened its doors.
Peter was the one who decided to plate the chicken rice in individual portions, serving the chicken on that now famous, ceramic "boat" vessel, so that it would all fit onto a platter for easy carrying.
For efficiency, the chicken would be all cut and placed on the platter. Servers would just add the warm rice and soup, and bring the whole tray out. There was no waiting time and customers could be served quickly. Back then, it was popular with customers who were on their ways catching movies at the nearby Shaw Cinema.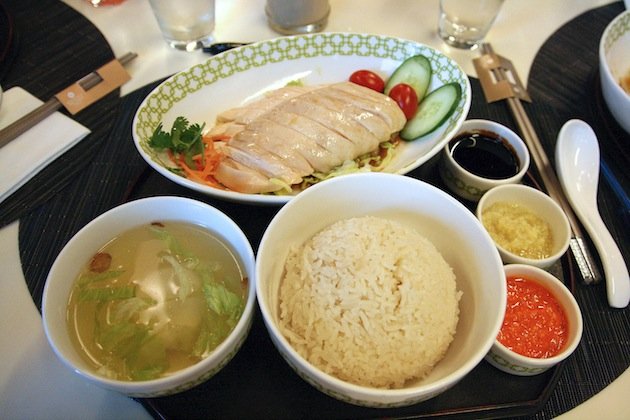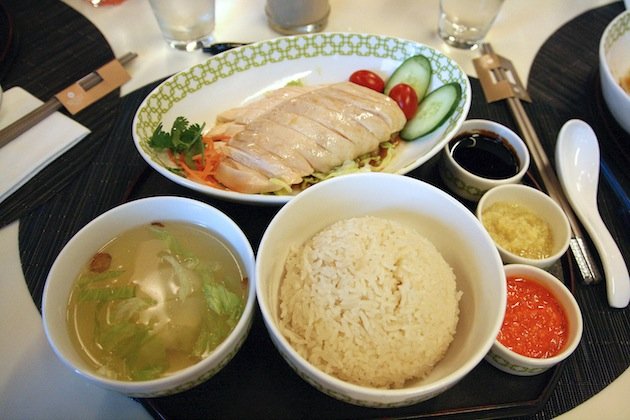 Peter also dictated the strict breeding process of the chickens – they use COBB 500 chickens, which are popular broiler chickens in the USA, known to yield a meaty breast with less fat. Most chickens are sent to the market after 50-55 days, but these are kept until they are 65 to 70 days old and weigh 2kg.
It's not just the chickens that are bigger but the portions too. You get a full quarter chicken at Chatterbox. The meat from each chicken (mainly breast and thigh) is used for only four portions. "Sometimes at the hawker centre, the stalls use one breast alone for ten portions. It's all flattened and spread out to look big," said Peter.
Chatterbox now serves 700 portions a day, using 175 chickens. To date, they've served more than 10 million portions.
There are a few other secrets.
The chicken is boiled 35 minutes in a seasoning stock of ginger, garlic, salt and pandan leaves. It is then submerged into an ice bath – ingeniously a salted one, so that the flavours aren't diluted.
The chicken rice is cooked Italian style – brought to a boil in chicken stock and then oven baked. After the rice is cooked, some chicken oil is folded in gently for fragrance. This results in rice that's not overly greasy or cloying.
To create a smooth ginger sauce, egg yolk is used to bind the mixture of ginger juice, hot peanut oil and vinegar. The chili sauce has soy sauce in its blend of ginger, garlic and pounded chilies.
Only six chefs have known the complete recipe, as most cooks are only trained in specific aspects of the process. The full recipe remains a closely guarded secret. But even those that know the recipe cannot replicate it completely because of the ingredients and equipment used.
Chatterbox Level 5, Mandarin Orchard Hotel, 333 Orchard Rd, Hours:11am- 1am (Sun- Thu), 11am- 2am (Fri & Sat) Tel:68316291