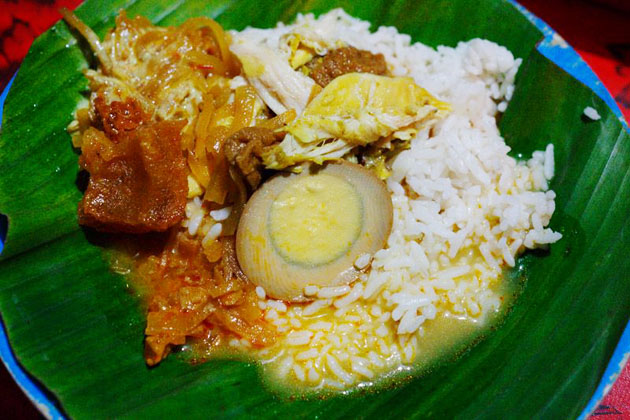 Semarang Chicken Rice
By Marchellinus Hanjaya - Wednesday, Nov 20, 2013
There is one thing Singaporeans and Indonesians have in common – pride in our own food, from nasi uduk, gule, char kway teow, Indian rojak to, of course, chicken rice…or what the Indonesians may call Nasi Ayam.
Other than the identical name, Nasi Ayam in Indonesia is manifested differently, in both appearance and flavour. Although the rice is cooked similarly with a chicken stock base, Nasi Ayam Semarang (in the north coast of Java) comes with a touch of coconut milk. The end product is oilier, with a different mouthfeel and aroma. The Hainanese chicken rice is kept simple when it comes to appearance, but the people of Semarang like their chicken rice merry. Indonesians tend to combine numerous dishes on a plate, like chap chye peng, and Nasi Ayam Semarang is one example.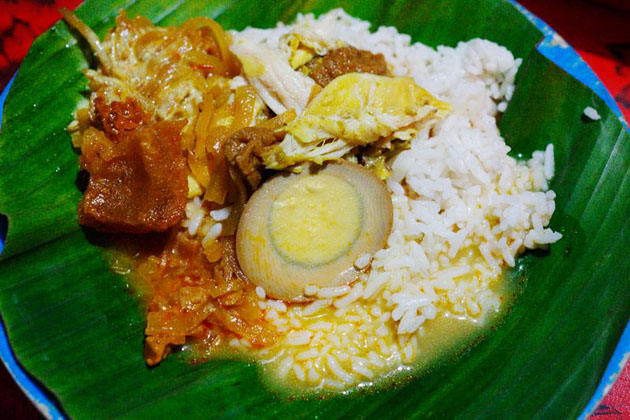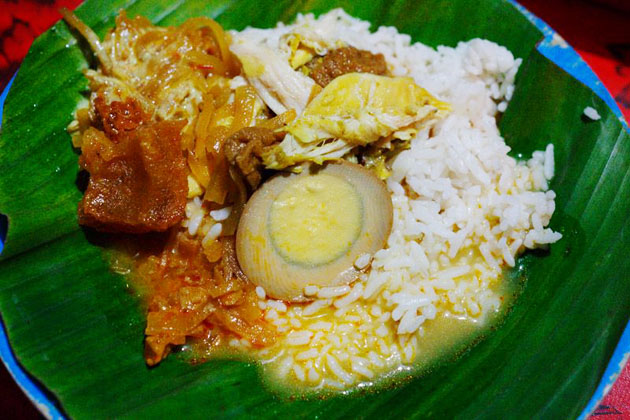 A basic plate of Nasi Ayam comes with a scoop of rice and turmeric seasoned chicken. It's topped with a couple of spoonful of Sayur Labu (chayote in spicy soup), stewed cow skin crackers in sambal, seasoned hard-boiled egg and Areh (seasoned thick coconut milk based sauce). Imagine the savoury, sweet, spicy and creaminess served on a banana leaf. The different types of sauces somehow remind us of Hainanese curry rice. And it does not stop there. On every table is a basket of assorted satays – chicken intestine, heart, blood cubes, gizzard and liver, which you can add on to your meal.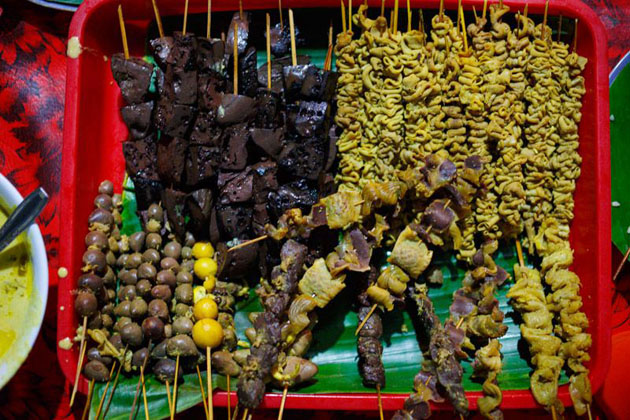 This is what the locals at Semarang have every day, for breakfast or supper. It is easy to spot a Nasi Ayam vendor. Look for a kaki lima (street food cart or stall), often times with a lady standing behind a long table and surrounded by stacks of banana leaves.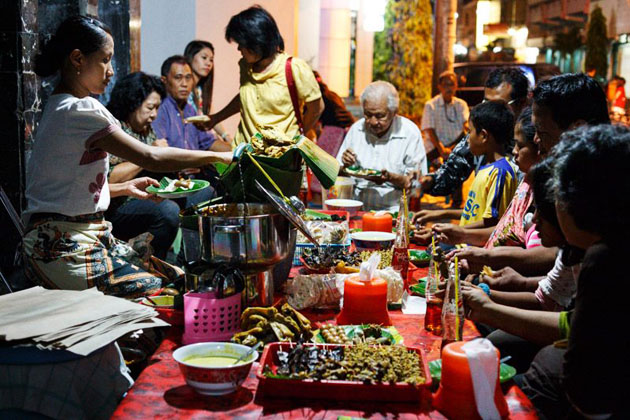 One of the most famous stalls is Nasi Ayam Bu Pini on Jalan Gang Pinggir (which means 'side alley' in Indonesian). One portion is probably not enough, but the price is so cheap that having double is very normal.
Nasi Ayam Bu Pini
Morning: Jl. Gg. Pinggir No. 134 (front of Gg. Tengah) Semarang, Java, Indonesia Tel. +62 024 70303223
Evening: Jl. Gg. Pinggir No. 34 Semarang Telp. +62 024 70444626