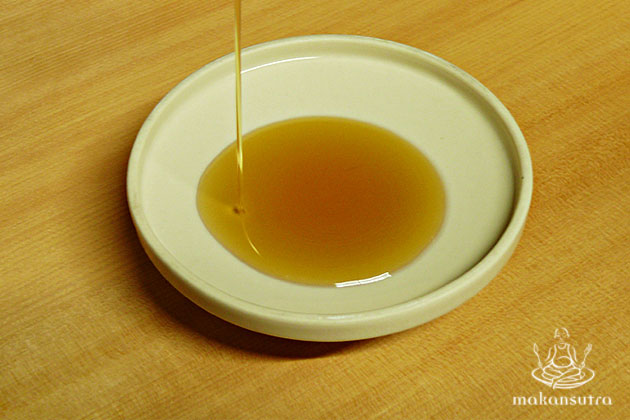 Sesame Oil : OPEN SESAME
By Shoba Nair - Thursday, Apr 30, 2015
There was probably a reason why Ali Baba (from the Arabian Tale, 'Ali Baba and the forty thieves') chose the humble sesame in his famous phrase, 'open sesame'. Sesame seeds pop out of their fruit capsules just as dramatically as the popping up of the cavern doorway in the tale.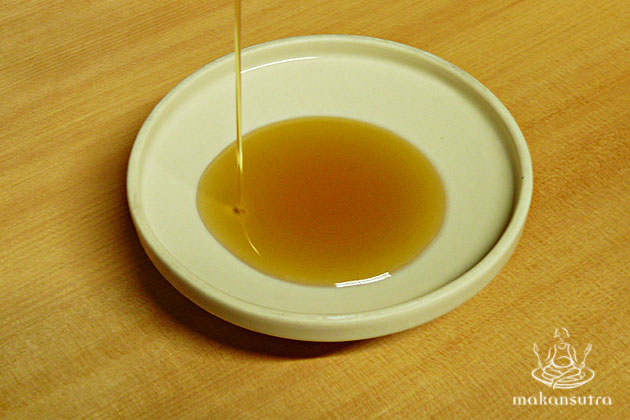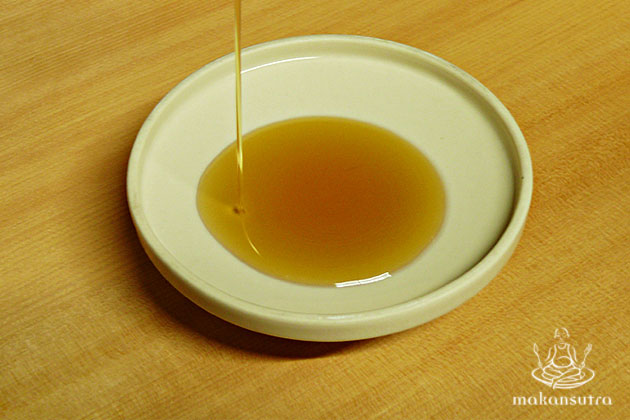 If you have been using sesame oil in your cooking or have seen your favourite hawkers using them, rejoice. The sesame oil that oozes out of the 'popping' seeds includes a drop of magic. By consuming cholesterol-free sesame oil, you gain access to a whole range of benefits, from glowing skin and stronger bones to reduced blood pressure and sugar levels in the body.
History
There are a few hypotheses about where the sesame seed first came from, pointing towards India, Africa and even Uzbekistan.
The mention of sesame seeds in ancient Hindu scriptures and the use of sesame seeds in religious rites and as sweet offerings show that India was most likely one of the first places of origin of the sesame seed. Sesame oil was also already produced in India for consumption centuries ago, as the later Hindu scriptures specifically mentions sesame oil (The Economic Times, India). Moreover 13th and 14th centuries Italian adventurer Marco Polo, in his travel reports, had remarked that Indians on the Malabar coast extracted oil and that he found the oil flavourful (Encyclopedia of Cultivated Plants: from Acacia to Zinnia, by Christopher Cumo).
As for the Far East, there is evidence of a Japanese text noting that priests used sesame oil for lighting and in the 6th century, China used sesame seeds as currency. (Encyclopedia of Cultivated Plants: from Acacia to Zinnia, by Christopher Cumo) The value of sesame oil as a food source is believed to have not been uncovered until much later in this East Asian region.
To Roast or Not to Roast: Production and Varieties
Sesame oil is made from the pressing of sesame seeds. Traditionally, in India, Ghani, which is a gigantic version of the mortar and pestle we use to pound garlic and ginger, was used to press the seeds together. Today, more sesame oil is commercially made using various machinery like hydraulic presses and other large oil press machines. The resulting sesame oil is then filtrated to separate the clear oil from the residue, and chemicals or other natural ingredients like jaggery may be added to enhance the flavour.
Generally, sesame oil is grouped into two types: the light-coloured variety and the dark-coloured variety, depending on whether the sesame seeds get in the heat.
The light-coloured version, also known as gingelly oil, is golden in colour and is used predominantly in Indian cooking. Oil is extracted from non-roasted, dehusked sesame seeds, and yields a mild nutty and earthy flavour. You can use this refined sesame oil for all types of cooking, including deep frying of your crispy and crunchy papadams, as it has a high smoke point.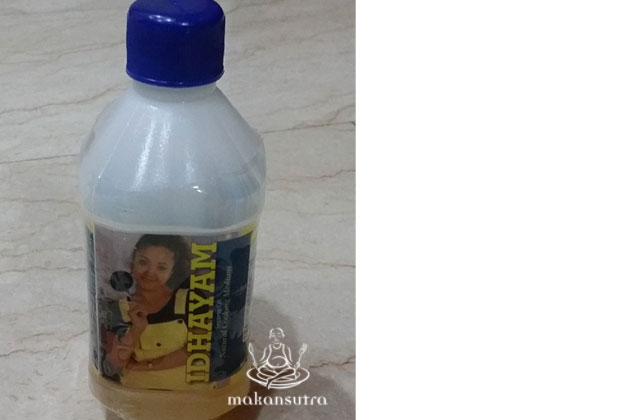 Chinese cuisine favours the dark-coloured oil. Here, the sesame seeds are given a good roast, before the oil is pressed out. The oil, due to the roasting, becomes dark, almost coffee-like. The flavour of this variety is anything but subtle as the nutty flavour is strong due to the bursting of flavours from high heating of the sesame seeds. Because of the dominating flavour and its low smoke point, you may have seen your mother using this oil more as a seasoning that is added during stir fry or just before or at the end of cooking, hardly as a cooking oil for deep-frying.
Chinese and Indian Cuisine using Sesame Oil
In Chinese cuisine, the dark sesame oil, being a flavourful condiment, is used as a marinade or seasoning, where the healthy essence of the aromatic oil helps to mask the sharp, pungent flavours and aromas of certain dishes. Indian chefs and homecooks not only use the golden sesame oil as a seasoning but also as a natural preservative and a non-hydrogenated cooking oil.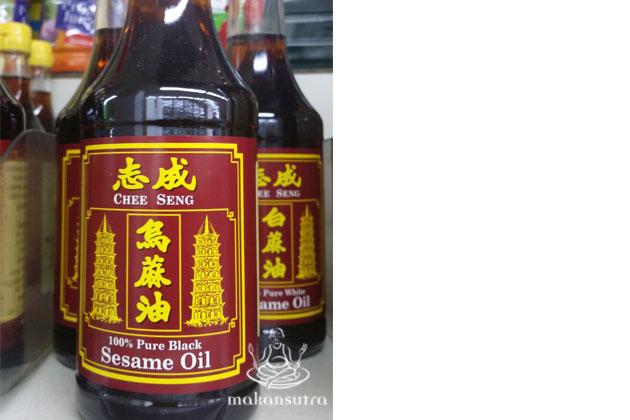 Chinese Dishes:
As Marinade and Seasoning : Sesame Chicken
The sesame oil is used as part of the marinade for the chicken and later as a garnishing sauce, together with vinegar, chicken broth, sugar and chilli paste. The resulting sauce is poured onto the deep-fried boneless chicken pieces just before it is served. This dish is usually served to confinement mothers after delivery.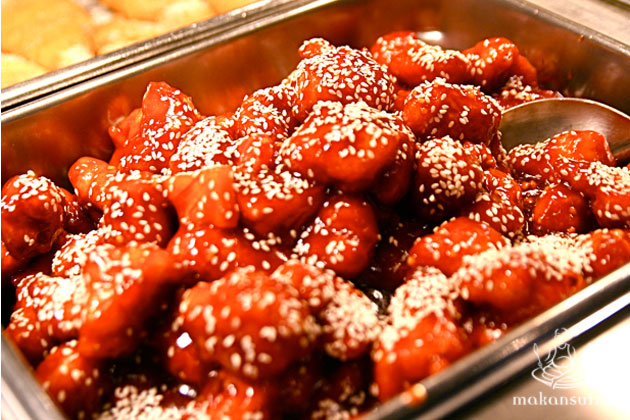 As Seasoning: Cold Sesame Noodles
Those who have stayed in London or the United States for studies or work would be familiar with this cold Chinese dish favoured by both Asians and Caucasians. Cold sesame noodles is a vegetarian dish, with the sesame oil mixed in a sauce which includes sesame paste, soya sauce and vinegar among others, and poured over the cooked noodles.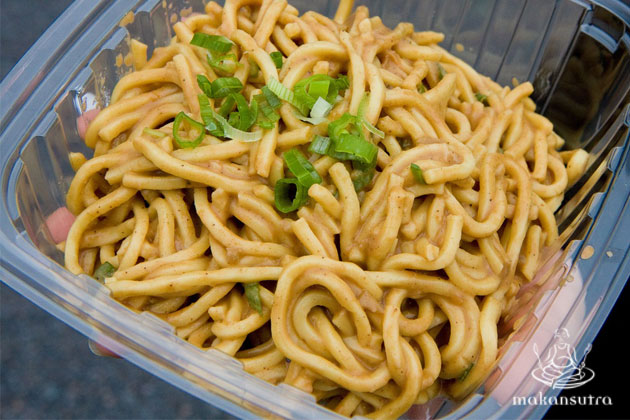 As Seasoning : Sauce for pork dumplings
This sauce is made with soya sauce, vinegar and minced ginger, with a small amount of sesame oil added to deliver the finishing flavour. Dipping the dumplings into the sesame-flavoured sauce helps deliver the tingling of senses with each bite.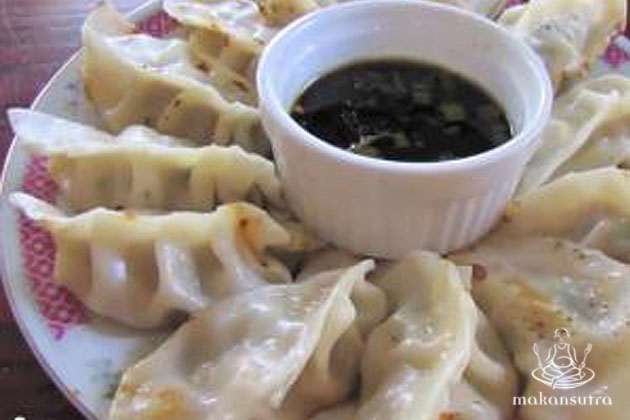 Indian Dishes
As a Preservative: Mango Pickle
Being the most stable of oils, sesame oil is used widely as a preservative in achars or pickles. When making mango pickles, a generous amount of sesame oil is used to soak the raw mango pieces over a minimum of three days. The rule of thumb is that the oil should sit atop (not just be absorbed by) the mango piece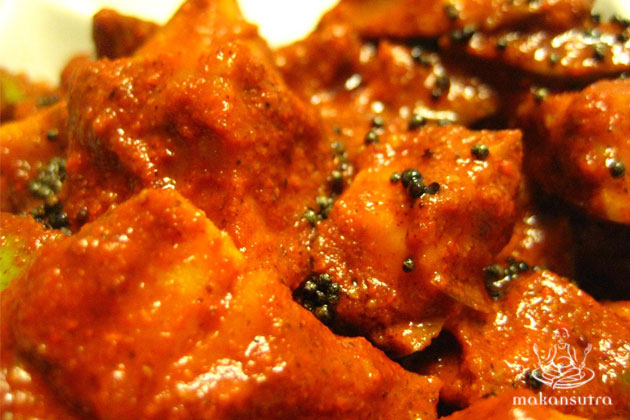 As Seasoning: Podi
Podi is an accompaniment to the main meal. This is a powdered mixture made generally of crushed sesame seeds, chilli powder and sometimes grated coconut. Oil is added to the podi when it is time to be served, and is best eaten with South Indian main meals like thosai, idli (a steamed South Indian savoury cake) or even rice.
As Cooking Oil: Curries
Various curries like onion-tamarind curry and sambhar curry (a mixed vegetable curry with lentils) use sesame oil as the base cooking oil. It is of course always an alternative oil for any Indian curry or dish, due to its healthier image relative to other traditionally-used oils like coconut oil and ghee.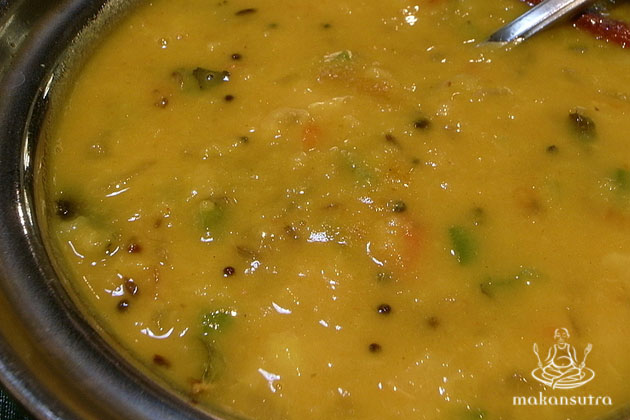 Sesame oil, by the same name, do indeed taste and cook different, and thus the distinctive variety of uses of darker and lighter varieties of sesame oil. However, kicking flavours they certainly make, in their unique ways.