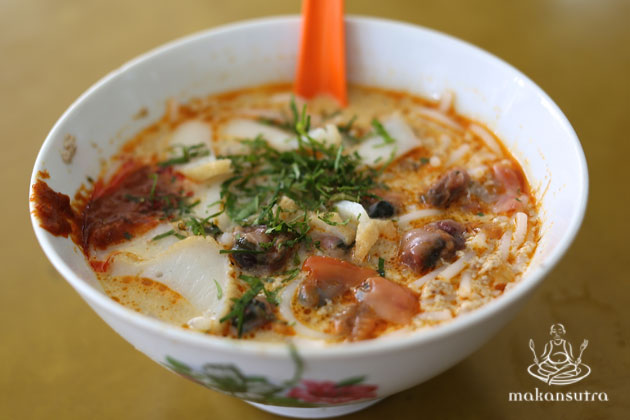 SG50: 50 Years on and still Cooking (Part 1)
By Cecilia Joven Ong - Thursday, Jul 16, 2015
Let's celebrate SG50 by remembering and recognizing these hawker stalls, which have been around since Singapore's independence. These hawkers roamed the street of the urban Singapore and Kampongs during the 60s to 70s before they eventually moved into the hawker centres. It is time to experience the tastes of yesteryear and to appreciate these true blue Singapore hawker stalls.
HAINAN CHICKEN RICE BALL
43 Jalan Besar Road Shin Boon Hwa Food Centre Singapore 208804
Operating Hours: 8.30 am to 9.30 pm (Daily)
The 3rd generation owner of this stall is still cooking the chicken and rice using the traditional methods that have been passed down. He is still diligently frying sea salt with ginger and garlic that is added into the chicken stock which is used to cook the rice in a big pot using gas fire instead of the electrical rice cooker. Such a method is to give the rice the desired fluffiness and fragrance before it is hand molded into rice balls for a firm and bouncy texture. The poached chicken is nicely done and it is served with flavoured dark soy sauce drizzled over it. Their perfectly braised eggs are well-loved by their regular customers. There is a lot of heart and soul behind such a simple taste.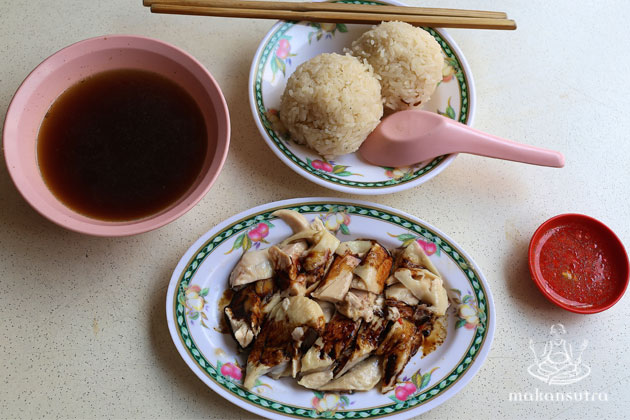 TIONG BAHRU LIEN FA SHUI JING PAU
Block 120 Bukit Merah Lane 1 #01-10 Alexandra Village Food Centre Singapore 150120
Operating Hours: 8.30 am to 3.00 pm (Tue to Sat) (Closed on Sun & Mon)
This stall has been a part of the growing up memories of the older Singaporeans whenever the old Tiong Bahru market is mentioned as they started a stall there in 1959. Their signature crystal dumpling is known for its delicate and chewy translucent skin that gives it the glossy texture. You could choose amongst the 3 fillings namely yam paste, sweet bean or vegetable which is their best seller. These dumplings are so popular and they are usually sold out before their closing time even though new batches are made hourly. It is always better to make an advance order or else you might have to wait an hour for the next batch.  Though it still tasted almost the same as back then, the skin is slightly thicker than what I used to remember but they are still as good especially when eaten with their special chilli.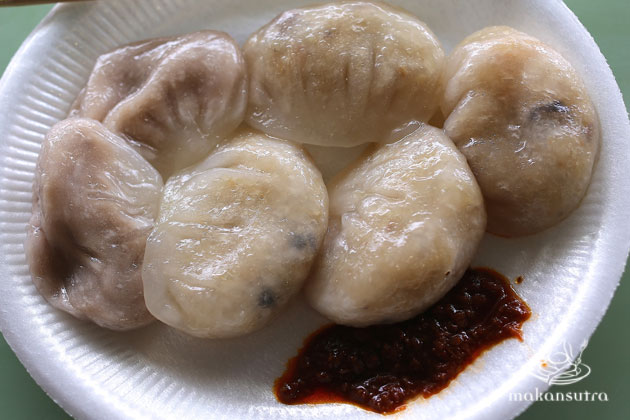 NAM SENG WANTON MEE
25 China Street #01-01 Far East Square Singapore 049567
Operating Hours: 8.00 am to 8.00 pm (Mon to Fri) / 8.00 am to 3.00 pm (Sat)
Madam Leong, 86 started her first shop right next to the old National Library in 1958. She is still around though no longer cooking but overseeing the running of the stall. Her "nostalgic" flavours are a big part of the growing up memories of many Singaporeans visiting the old National Library. The noodles are rather firm with a delightful chewiness and not clumpy. It is served with just light aromatic soya sauce together with sesame oil that complemented the simple eggy taste of the noodles; it could be eaten by itself even without the chili sauce. The well-seasoned wanton dumplings are served in lightly flavored soup.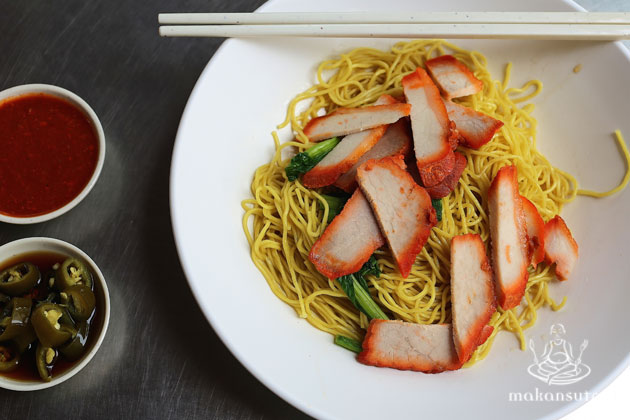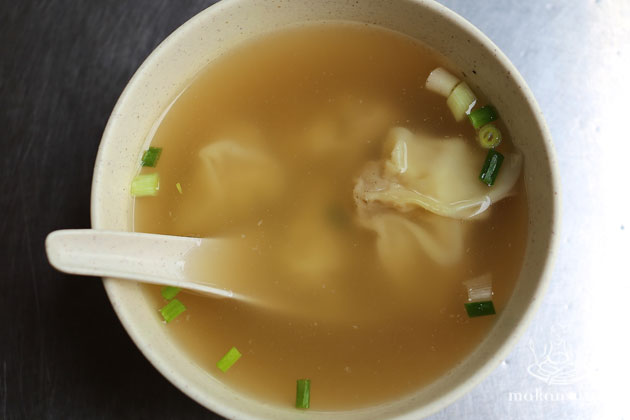 SUNGEI ROAD LAKSA
27 Jalan Berseh #01-100 Jin Shui Kopitiam Singapore 200027
Operating Hours: 9.30 am to 5.30 pm (Closed on Wednesdays)
This is another memorable dish with its legacy started in 1956 from a push-cart stall at just 0.20 cents per bowl of laksa along Johor Road by day and off Sungei Road by night. They are likely the only one that is still cooking their laksa over charcoal fire to keep it constantly warm and to maintain its distinctive flavor. This could also be the only place to get a bowl of laksa at just $2 though the portion is rather small; a bigger bowl is available at $3. The bits of dried shrimps added have given it an aromatic taste, the level of spiciness is just right with a slight hint of coconut milk. The thick noodles with ingredients like sliced fishcake, beansprouts and cockles, garnished with laska leaves are served cut up into smaller strips to be eaten using spoon.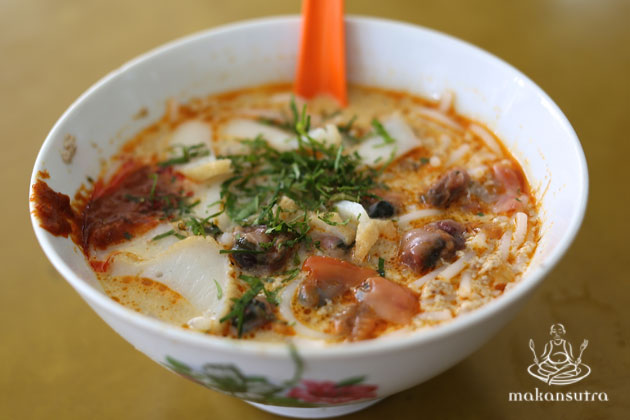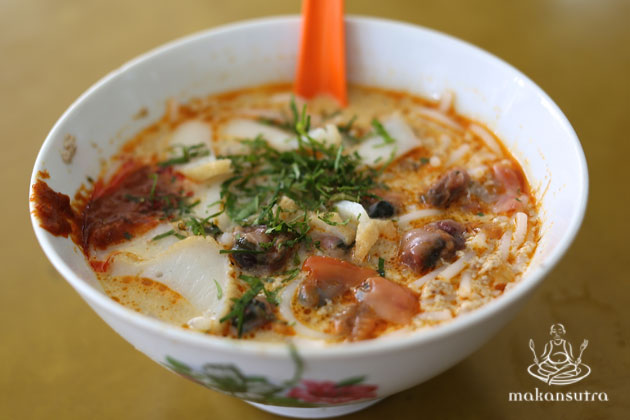 SHENG CHENG TAU KWA PAU
369 Tanjong Katong Road Singapore 437126
Operating Hours: 8.00 am to 6.00 pm (Closed on Mondays)
They started at the old coffee shop along East Coast Road right at the junction of Joo Chiat Road in 1959 before moving to the current location a couple of years ago. Their signature stuffed fried Tau Kwa Pau is still the most talked about till today. The tau kwa is stuffed with fillings consisting of bits of hard-boiled eggs, coarsely chopped fish cake, shredded cucumber and fried yam. Braised duck gravy is drizzled over the dish and served with chilli sauce in a small bowl for dipping. This is usually eaten as a side dish to complement their braised duck rice. It is the combination of the unique taste and texture to make this a memorable dish even after decades in the buisness.