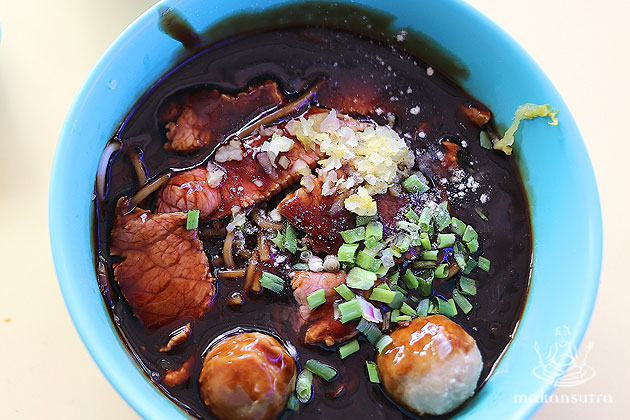 SG50 (part2): 5 Hawker Stalls Spanning over 250 Years
By Cecilia Joven Ong - Tuesday, Jul 21, 2015
Celebrate our 50th national day with these 5 hawker stalls spanning 50 years; they have been through it all and it still standing today. Let's just take time to experience a taste of nostalgia and to recreate the memories of yesteryear through these time proven and comforting local dishes.
ZHONG XING FOO CHOW FISH BALL & LOR MEE
Block 148 Silat Avenue #01-14 Nam Heong Ho Kee Coffee Shop Singapore 160148
Operating Hours: 8.00 am to 5.00 pm (Mon, Wed to Fri) / 8 am to 3 pm (Sat & Sun)
(Closed on Tuesdays)
The stall runs by Madam Wong and her husband is located in a quiet coffee shop at Silat Avenue. The late father of Madam Wong started selling noodles at China Street in 1942; he imparted his culinary skills to her and her older brother.  The older brother has a stall in the Maxwell Food Centre using the same name. Their irregular shaped Foochow fish balls with well-marinated minced meat as filling are handmade from fish paste to give it the desired texture. They are also making meatballs and Foochow dumplings. Their signature Foochow fish ball noodle is $3, also available are Foochow style Wanton Mee, Lor Mee and Sesame Dry Mee for $3 per bowl.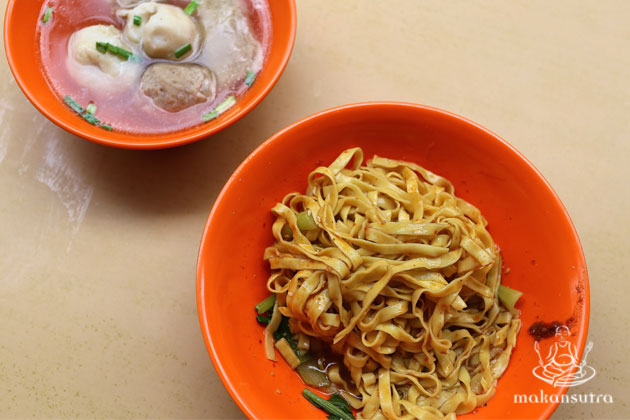 JOHOR ROAD BOON KEE PORK PORRIDGE
638 Veerasamy Road #01-101 Whampoa Coffee Shop Singapore 200638
Operating Hours: 6.45 am to 3.00 pm (Closed on Mondays)
The Hainanese stall owner started this family run business off the junction of Arab and Johor Road about 60 years ago. Their grainy and thick porridge is cooked with fresh ingredients to bring out the flavor. Pork bones are boiled for hours to use as broth base for porridge. Ingredients like liver, minced pork, pork slices, fish slices, chicken, cuttlefish, century eggs and eggs are available to go with the porridge starting from $3 for a basic bowl. Their regular customers are always returning for the satisfying taste and they claim this porridge is amongst the best in Singapore.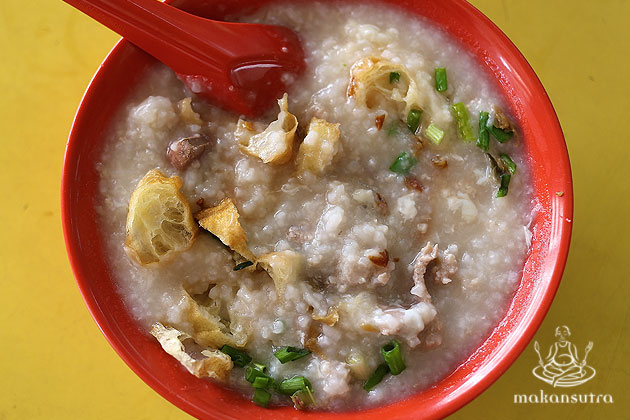 THE ORIGINAL KATONG LAKSA
50 East Coast Road #01-64 Roxy Square Singapore 428769
Operating Hours: 8.30 am to 5.30 pm (Daily)
They are also known as Janggut Laksa, they started from a pushcart and have been around since 1950s. They settled down in 49 East Coast Road as Marine Parade Laksa in 1963 and they were the first to start selling laksa there. They closed it in the 90s due to high rental; the stall was taken over by the 328 Katong Laksa. They then resurfaced as Janggut Laksa after 2 years but rightly claimed that they are the original Katong laksa. They serve their thick noodles cut up to be easily eaten with a spoon, together with ingredients like fish cake and cockles. You could choose from $4, $5 or $6 for a bowl of old-school laksa. They have another stall at Queensway Shopping Centre under Janggut Laksa.
HAI NAN XING ZHOU BEEF NOODLES
Block 22 Toa Payoh Lorong 7 #01-06 Kim Keat Palm Food Centre Singapore 310022
Operating Hours: 8.30 am to 5.00 pm (or sold out) (Closed on Mondays)
This famous Hainanese style beef noodle has been around for about 60 years, their stall used to be at Cuppage Centre but moved to the current location about 15 years ago. The stall is still operated by the elderly owners and there is always a queue during the lunchtime and weekends. Their ingredients particularly the beef slices are always fresh and cooked just right then served with salted vegetable and crunchy bean sprouts. Their soup is simmered well to achieve the intense flavor and the thick starchy sauce is bursting with soy and beef flavor. You could choose from the small ($3), medium ($4) to the big portion ($5).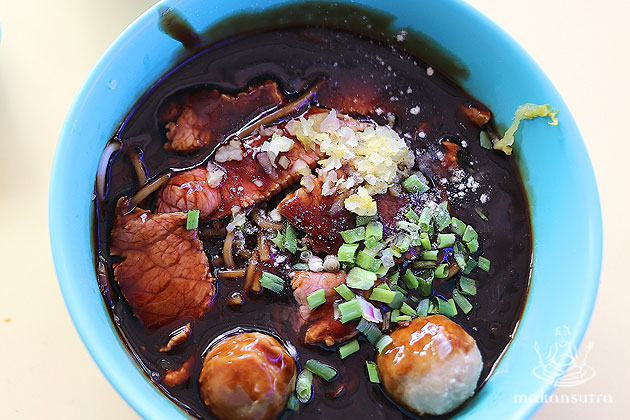 ARMENIAN STREET FRIED KWAY TEOW
. Block 303 Anchorvale Link Coffee Shop Singapore 540303
. Block 137A Tampines Street 11 #01-40 Tampines Round Market Singapore 570024
. Block 24 Sin Ming Road #01-51 Singapore 570023
Operating Hours: 11.00 am to 8.00 pm
Mr Tan Chong Chia started his stall at Hock Hiap Leong Coffee Shop in 1949 at the junction of Lok Yew Street and Armenian Street thus that stall name. They are still using the same stall name even though their main stall is now at Sengkang with another 2 stalls at Tampines and Sin Ming. Their family business has been passed down from generation to generation using the same recipe. Mr Tan Soo Kiat started helping his father in 1971 and he is still manning the wok at Sengkang together with his brother and nephew at the other 2 stalls. Their Fried Kway Teow is still tasty even after decades; it is at $2.50 for the small plate and $3.00 for the bigger plate.