Shashlik Re-opens
By KF Seetoh - Monday, Mar 07, 2016
The Hainanese fine western cuisine heritage is a fast fading story unique to Singapore and we are not talking about pork chops or chicken cutlet. So when Shashlik Restaurant shuttered down late last year after over 30 years of operation. I sadly bid sayonara to this slice of our food culture, but out of the blue, the children of one of the previous owners bought the business and now..they are back in business, not just by name.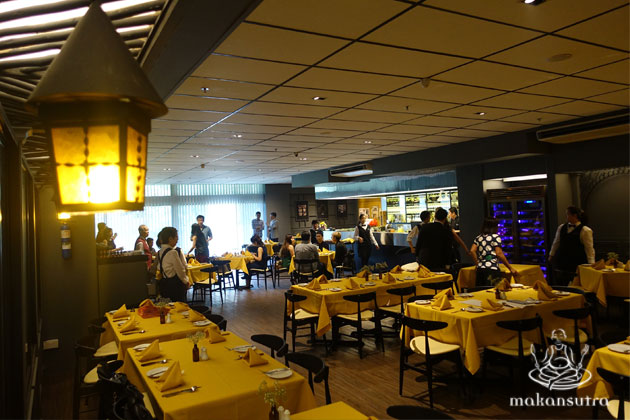 Chef Derrick Tan and his brother Alan, both children of the late of Mr Tan Niap Hin, decided to buy the iconic restaurant. Together with another partner Mr Lee Say Yeow, they persuaded and won over each of the other 7 partners of the restaurants and their families with their bid "and I believe we are not the highest nor the lowest. It was about family ties, continuity and that Hainanese bond" said Derrick. Also, 7 of the previous 8 workers have agreed to continue working the floor and many have done so for decades, including 76 year old original owner Mr Foo Sek Chuan and Madam Tan Kai Buay, who at 78, is still adept in the kitchen and specialises in their signature Egg Millionaire starter item. Chef Derrick says the menu for now remains the same as before "as I need to perfect and improve it before we come up with new items in that vein", and the happier part of that equation is that "all prices remain the same." During renovations in January, they discovered an unused toilet that was utilised as a store room and the team decided to open that 100 square feet space for extra seats and a bar area.
At a food tasting session last Wednesday, I did what came naturally, compared it with the old goods and discounted some points for the facilitated meal. For starters, Derrick invested in new $60,000 kitchen complete with grill, hot plate, stove and deep fry stations..updated and upgraded from the previous fading bone shaker of a kitchen.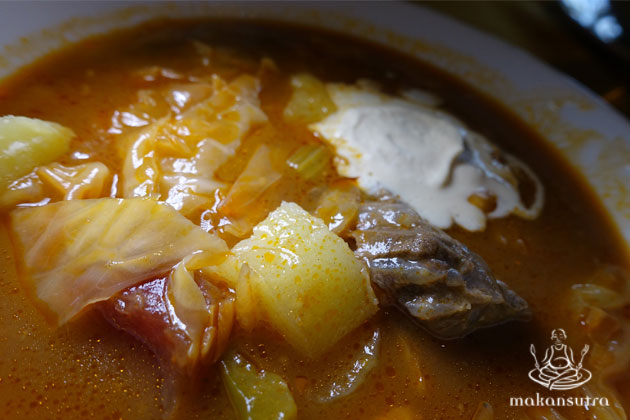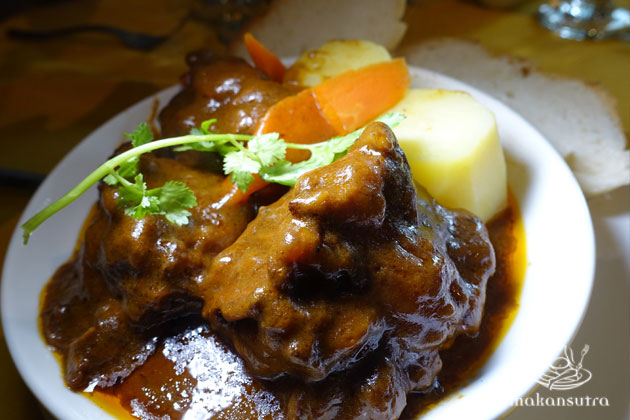 I paid particular attention to the two most iconic dishes from Shaslik- the Oxtail Stew ($32) and the Borshch Soup ($7). The beefy stew came up tops, better than before with fork soft, fall-off the bone meat in a thick, wine reduction beefy and savoury sauce. But the Borshch soup, was a tad less beefy than I liked, although the texture and beef chunks with that dollop of sour cream was one up than before, it lost me on the robustness. But I think it can be easily fixed.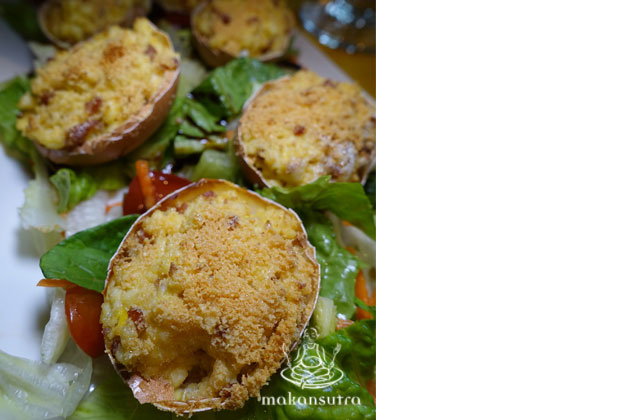 The Egg Millionaire ($16) starter was a highlight too. Chopped boiled eggs tossed in bacons bits, parmesan and crispy bread crumbs are baked and stuffed back in to the halved egg shell. Delightful, and it now comes with a crunchy salad, dressed in balsamic vinegar. Their old fashioned, whole Deep Fried Spring Chicken ($22) comes uncut and beckoning with sides of fries and sweet corn cobs. The chicken was moist and very well fried outside unlike the dry leathery one before.
But I save my favourite for the last- the flambe Cherry Jubilee ($20), where fresh cherries are pan tossed with butter and brandy, then flambe , before sitting a blob of vanilla ice cream next to it. It was like I remembered, juicy, sweet, tangy, milky, buttery and with a hint of brandy.
Do look out for their value for money set lunches everyday. Welcome back Shashlik.
Shashlik Restaurant
545 Orchard Road (Far East Shopping Centre) #06-19
12pm-2.15pm, 6pm-9.15pm, closed Monday
Tel: 67326401