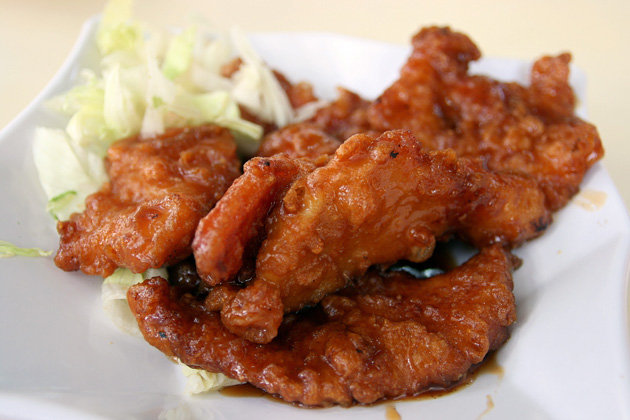 SIANG HEE SEAFOOD: Old School Cze Char With New Twists
By Catherine Ling - Tuesday, Oct 02, 2012
In every corner or coffeeshop in Singapore, there's bound to be a cze char (cook and fry) stall. Most of them probably offer the same predictable items without much variation.
Siang Hee made a name for itself by adding little new twists and creating dishes like pumpkin cream tempura prawns. The sprightly lady boss goes by the nickname "Ah Yoke". She may be in her 60s (yes, she whipped out her NRIC for me to see) and just gone through a kidney stone operation last year, but there's still fire in her eyes and enough strength to wield a wok for the long hours.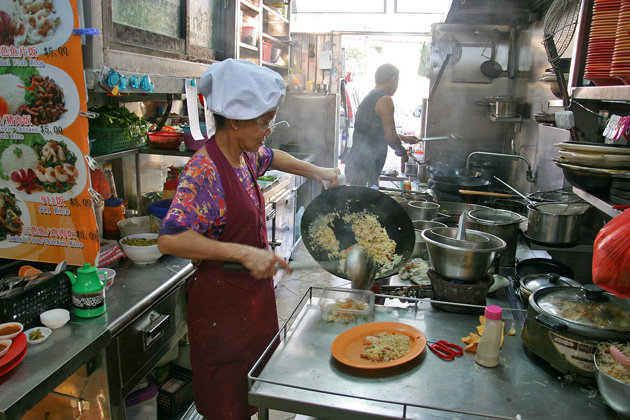 The husband-and-wife team were at Zion Road Food Centre, but moved to Serangoon Gardens Food Centre. Ah Yoke says it's much brighter here, and there are more seats. Unfortunately, her husband is no longer able to cook, so she and a stall assistant are holding the fort. But the food still keeps customers coming.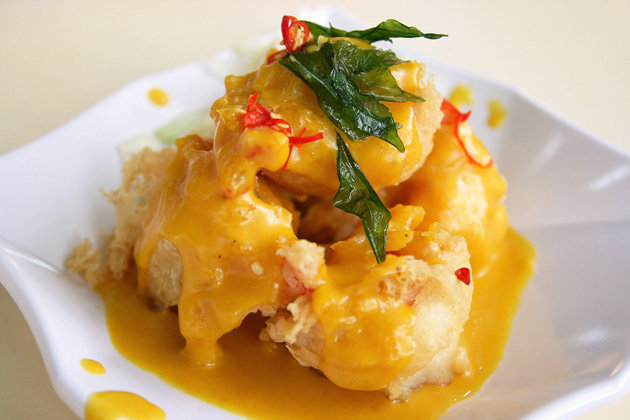 The pumpkin cream tempura prawns (S$12) feature large, crisply battered prawns coated with a thick and savoury golden cream spiked with chilli and curry leaves. These are completely deshelled, so it's much easier to munch.
Another dish that's insanely popular here – the sinful, salty and umami laden Deep-fried Pork Knuckles (S$18) – first pressure cooked, air dried then deep fried. These extra crispy skin cracks like shrimp crackers! And yet the meat within remains fairly moist and tender. Ah Yoke takes great care in pressure-cooking the meat and stewing them in herbs to remove any porky stench before deep-frying them. Her marmalade chili sauce features apricot jam, which makes it a great dip.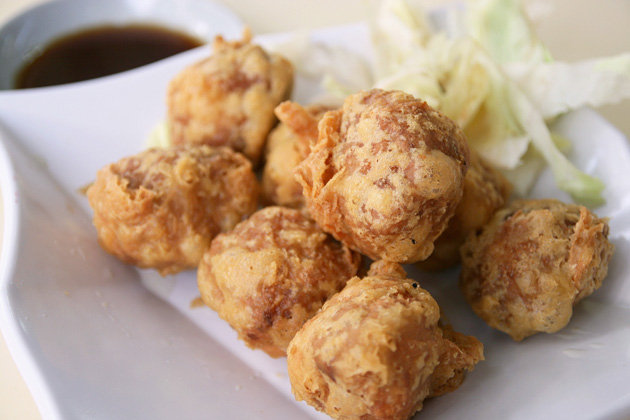 The hae cho (S$8) or prawn rolls come are also a must-try and it's a new item not found in the old Zion Road menu. The crunchy batter yields to reveal moist chunks of prawn and water chestnuts. Tiny bits of salted egg yolk enliven the fritters.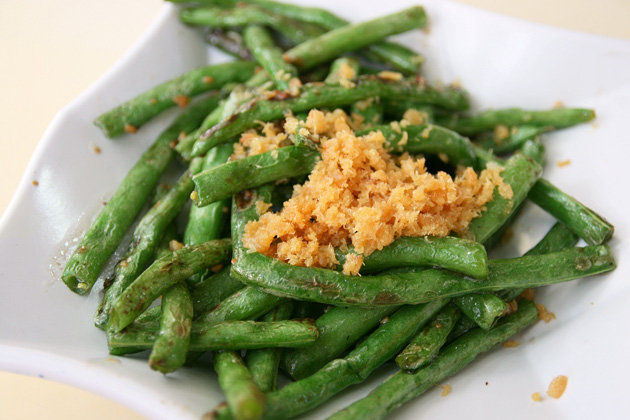 Of course you must have your vegetables. These flash-fried "four season" green beans (S$7) topped with crispy shrimp floss are very popular.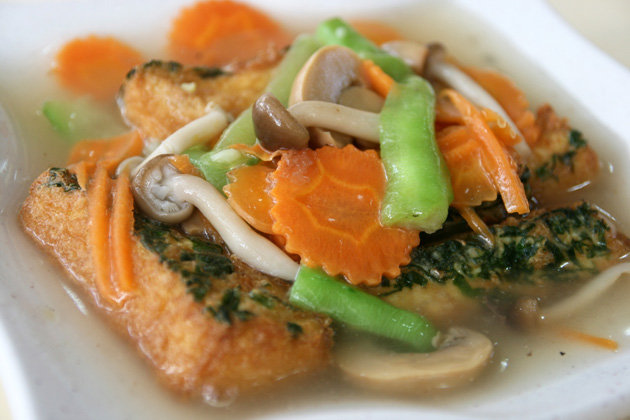 A healthier option might be the homemade tofu (S$8) with vegetables in a simple but tasty gravy. The tender slabs of tofu are topped with spinach.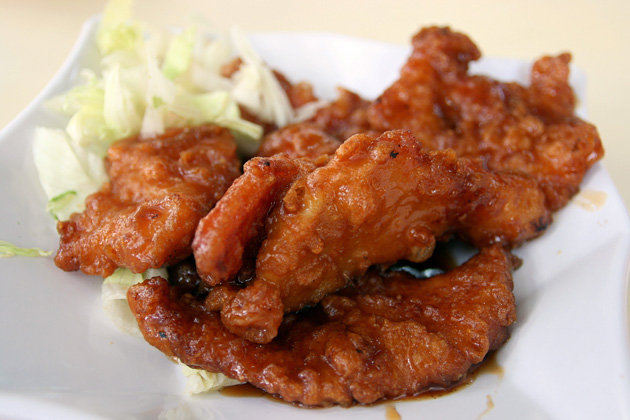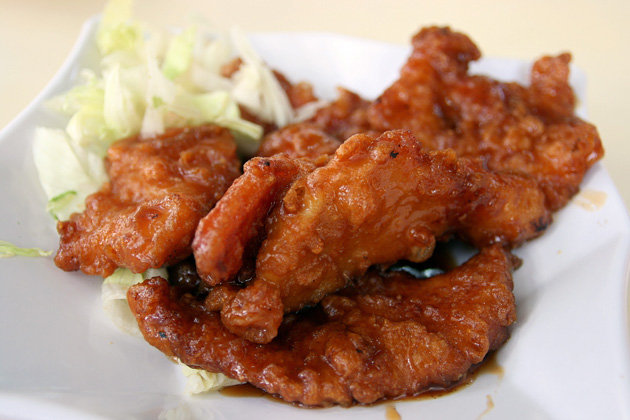 Customers also like their take on Marmite pork (S$8). Tender pieces of well-marinated pork fried to a gentle crisp, and tossed in a finger-licking good sauce. As the lighter colour suggests, the Marmite is not overpowering, but just enough to lend that savoury kick.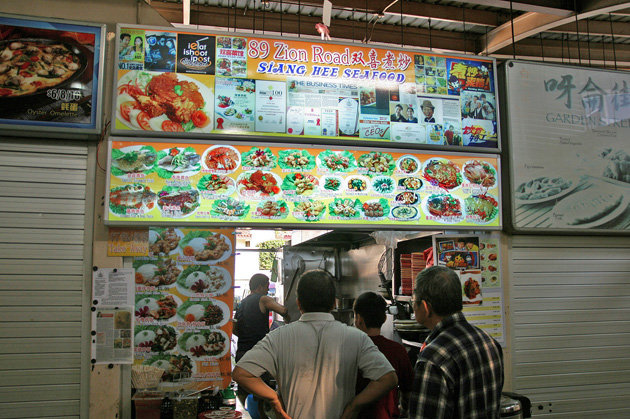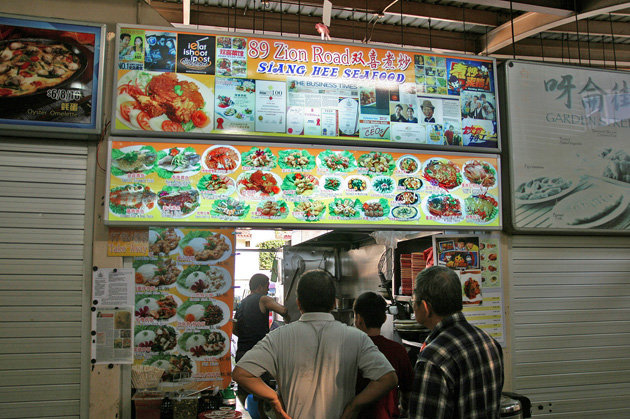 Siang Hee also features fish and seafood dishes – assam fish, Thai-style fish, and crab done various ways. Look out for them next to the famous Garden Street kway chap stall.
SIANG HEE SEAFOOD
Stall 20, Serangoon Gardens Food Centre
49-A Serangoon Gardens Way
Open 11.45am to 10pm
Closed alternate Mondays