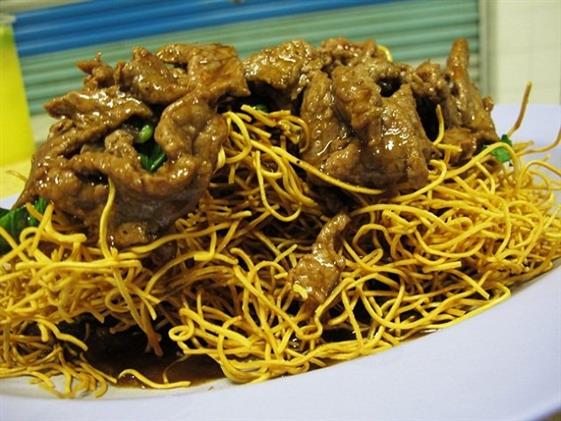 Sing a Song for Sang Mee
By KF Seetoh - Thursday, Nov 22, 2012
It's very hard to enjoy this dish let alone discuss the little nuances (or the big differences for that matter) that make one outstanding. Not many here know this Cantonese dish and to most that do, and have it occasionally, you probably enjoyed it only enough to not commit it to memory. A lot of cooks out there do a bad unmemorable version of Sang Mee – platter of deep-fried crisp thin wheat noodle doused with meat sauce, from black bean beef to prawns and seafood. The Thais have a version called Mee Krob (the sound it makes when you gnaw it).
The cooks-that-get-by versions are pathetic. They deep fry a block of mee kia (thin pasta) straight off the pack, in a wok to crisp only the outside and mostly leave the inside all floury and cakey at times. Then they pour the same familiar hor fun sauce, with bits of meats, vegetables and seafood, over. Which is what makes me appreciate and adore this version here.
The Chin brothers inherited their mother's street food cart business in Chinatown yonks ago and continued her legacy when those bad, good ol' days of itinerant street hawkers were relocated into the Chinatown Complex Food Centre decades ago. I had many chances to watch them at work, especially so when their kitchens were a bit more naked in their old stalls. Now they are covered up and hidden behind their stall signs and shop front picture menus. For starters, they quick blanch the noodles to rid it of extra starch then aerate them under a fan and cooker hood. When it's loose, dry and soft , they lower it into a wok full of hot vegetable oil. Next, the art – slowly and patiently, they gently toss the noodles about with steel ladles and de-clump them as they crisp up into a nice airy round ball of noodle. It's then left to cool over a strainer as the immediately work on the sauce in a quick hot wok-hei style – sear the beef, introduce the fermented black bean sauce, toss, toss and over the ball of crispy noodles it goes.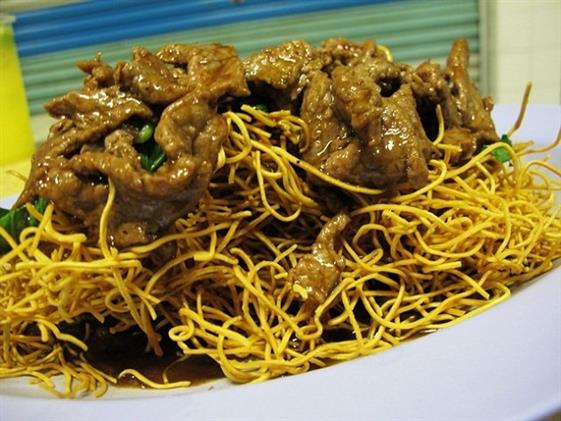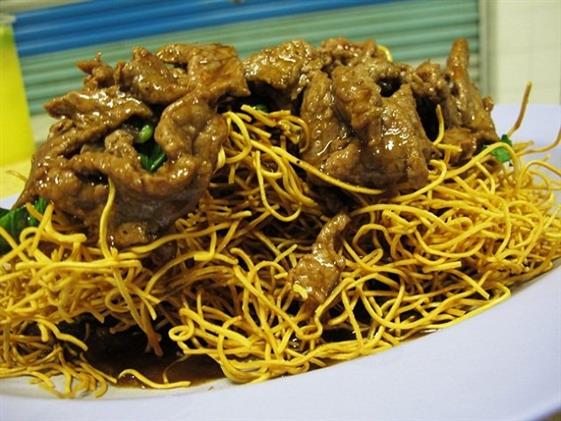 The result – a loosely collected crispy, airy and light ball with beefy and richly savoury black bean sauce dripping in between the crevices of the noodles and with generous slices of soft, wok-seared beef sitting atop. Lower your steel spoon or fork over and you can hear the symphony of the crackling of crisp and moistened sang mee. Krob krob, krak krak… then chomp chomp, num num. And if you are bothered and ponder "What, only one dish ah?", then they are only too happy to tell you that their real signatures are the steamed carp fish heads in spicy bean sauce, fish head bee hoon, beef hor fun and fried prawns with egg tofu sauce. You should have them all to complete the concert here.
An Ji Famous Fish Head Noodles (Rated Die Die Must Try) #02-193, Blk 335 Smith Street (Chinatown Food Complex) 10.30am-2.30pm, 4.30pm-10.30pm Close Wednesdays