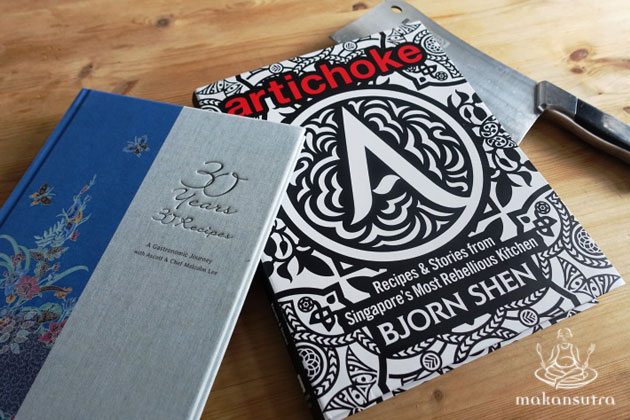 Singapore Cookbooks: In Love with Classics and the Funky
By KF Seetoh - Friday, Sep 12, 2014
If the old don't go, the new won't come. That old universal adage applies to almost everything we do… almost. But in our makan culture, it's more like "the old must stay and the new must come too" because we're all food mad. We enjoy everything and anything, and nothing must be lost along the way or in translation. We fear no food and take no hostages- we are only afraid of mediocrity.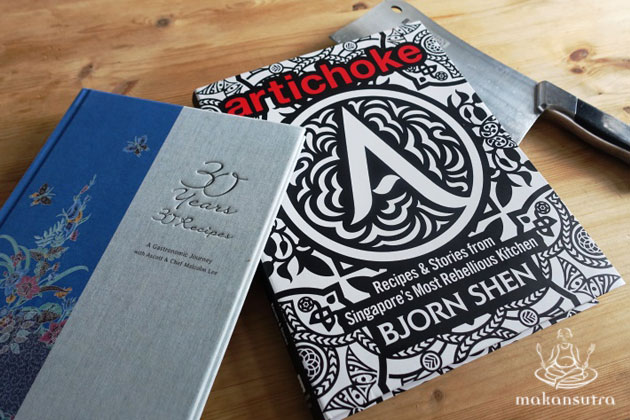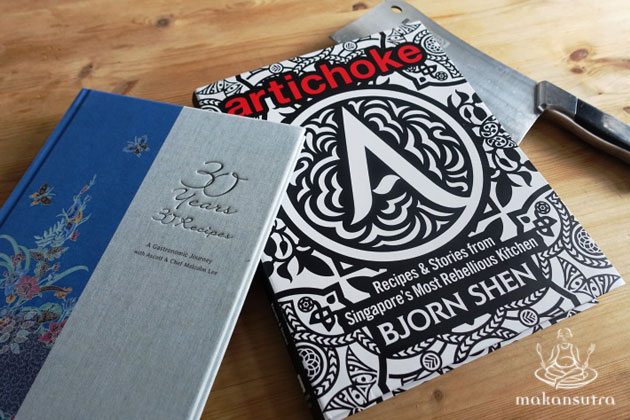 Two cookbooks recently inked brought this thought to my attention and it celebrates that food party and philosophy that reverberate in our midst. One, by the diligent and teen-faced twenty-something Malcolm Lee of Candlenut Restaurant has all the classics hidden between the pages featuring 30 recipes. It's published in partnership with The Ascott (chain of serviced apartments) which is celebrating their 30th anniversary and simply titled 30 Years, 30 Recipes. It has a respectful and refined batik inspired fabric cover and holds 100 pages inside. The "clean" photography leaves nothing to the imagination, and babi pongteh is just that, a neat picture softly lit with all the attendant details. Malcolm also included an interesting Yeye Kari, a white rempah (spice paste) curry chicken. The book is not for sale but is available in public libraries and given to long-stay guests of the Ascott.
The other, is Artichoke, an in your face (among other unmentionable parts) collection of weird and funky recipes from "Singapore's Most Rebellious Kitchen" by Chef Bjorn Shen of Artichoke restaurant. Bjorn, with formal culinary education, ditched "all that sh—" and went to do what he likes most…plus broke rules. In his restaurant, he sells Mediterranean chow with some interesting twist, and that is just a starter to what the mind of this 32-year-old chef really is. He tells of how he awoke one morning to the idea of a grilled cheese cha siew bao sandwich done with a panini press "or just weigh it down with an iron pot of water". His twist comes with Szechuan vegetables and mozzarella cheese. If that doesn't float your sampan, check out his Roasted Pumpkin with Marmite Honey. He currently retails it at his restaurant at $44.90 and it goes to the bookshops by end September.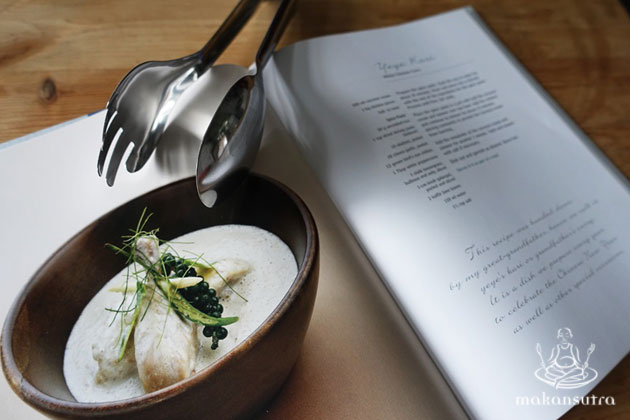 Yeye Kari by Malcolm Lee (for 4-6) (recipe in Ascotts cookbook)
Ingredients:500ml coconut cream/ 1kg chicken pieces/ salt to taste
Rempah- 30gm uncooked rice/ 1 tsp dried shrimp paste(belacan)/ 10 peeled shallots/ 10 cloves of garlic peeled/ 12 green bird eye chillies/ 1 tbsp white peppercorn/ 1 stalk lemongrass (bulbous end and sliced)/ 1cm knob galangal- peeled and sliced/ 2 kaffir lime leaves/ 150ml water/ 1.5 tsp salt
Method: Prepare the spice paste. Soak rice in water for 10 mins. Drain and place in blender with the rest of rempah ingredients (with some water to moisten and encourage blending). Set aside the paste in a pan or pot with half the coconut cream and simmer over low heat. Add chicken pieces and continue to simmer for about 15mins, stirring constantly to prevent the coconut cream from burning.
Add the remainder of the coconut cream and simmer for another minute. Taste and season with salt. Dish out and garnish with thinly sliced kaffir lime leave (optional).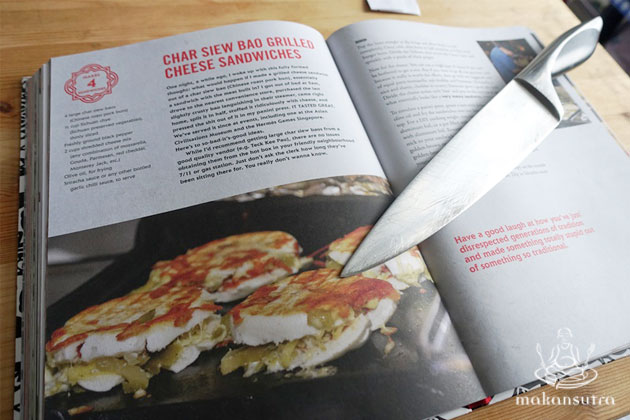 Grilled Cheese Cha Siew Bao Sandwich by Bjorn Shen (for 4)
Ingredients- 4 large cha siew bao/ half cup Szechuan preserved vegetables thinly sliced/ freshly ground black pepper/ 2 cups shredded cheese mix(mozzarella, cheddar, parmesan etc..) / Olive oil for frying/ bottled chili sauce
Method: Ensure baos are cooled or chilled, then cut baos into half ala burger buns. Spread the Szechuan vegetables across the "buns" base and sprinkle some black pepper over. Then spread the cheese mix over the vegetables and let it stretch out over the edges. Now press the bao over a lightly oiled pan (with a "foil-wrapped brick"), a panini press, or just a flat base iron plate. Pan grill till golden brown and flip over and repeat. When done, they should be "shatteringly crispy outside and melty gooey cheesy inside". Dip in chilli sauce.
====
Artichoke Café and Bar
161 Middle Road (sculpture square)/ Tues to Fri- dinner only/ Sat- brunch and dinner/ Sun- brunch
Tel: 6336 6949
Candlenut Kitchen
01-03, Dorsett Residences,331 New Bridge Road,(Mon – Fri: 12:00 – 14:30/Mon – Fri: 18:00 – 22:00/ Sat: 18:00 – 22:00/ Closed: Sun & PH/ tel: 8121 4107
Updated on 15 August 2018:
Relocated to Blk 17A Dempsey Road
Operating Hours:
Lunch- Mon to Sun, 12pm-3pm
Dinner- Sun to Thurs, 6pm-10pm
Dinner- Fri & Sat, 6pm-11pm