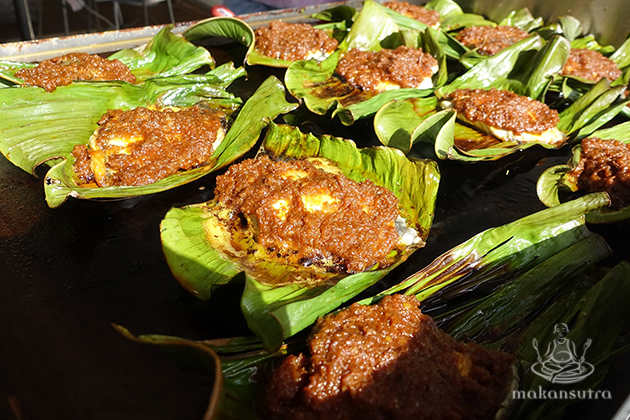 Singapore Day of Comforting Makan
By KF Seetoh - Friday, Sep 15, 2017
Each year, since 2007, the hawkers toiled and pleased the masses and this year was no different at the Singapore Day in Melbourne at the Flemington Race Course grounds. Many closed their stalls for a week and did not mind that this was not a money generating exercise for them. Over 6000 folks showed up and up to 20,000 meals were dished out over 5 hours. VIP guest DPM Teo Chee Hean personally thanked them as he visited the stalls. I salute these hawkers who had been contributing to the success of Singapore Day and defending our makan legacy all these years.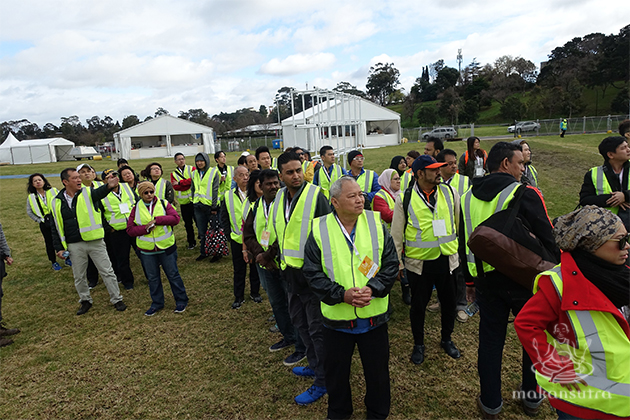 1/ Alhambra Padang Satay, Makansutra Gluttons Bay, 8 Raffles Ave, Esplanade Mall. 5pm to 2am daily.
They hand skewered about 400 sticks using fresh chicken chunks marinated overnight.
2/ Casuarina Curry Roti Prata, 136/8, Casuarina Road. 7am-12midnight daily.
Just like the Alhambra folks, they had been at every Singapore Day and they never failed to please, despite the little hitches they face each time.
3/ Wee Nam Kee Chicken Rice, United Square, 101 Thomson Road, #01-08, 10.30am-10.30pm daily.
Always a popular treat at each event. It's just that they can't find versions as authentic as this one anywhere else outside the coutry.
4/ Rafee's Corner Teh Tarek, 3, Yung Sheng Road, Taman Jurong Food Cte, #02-112, 6.30am-9.30pm daily.
On a cold day, his hot and less sweet pulled Indian milk tea was such a delight, especially after some of the spicy offerings.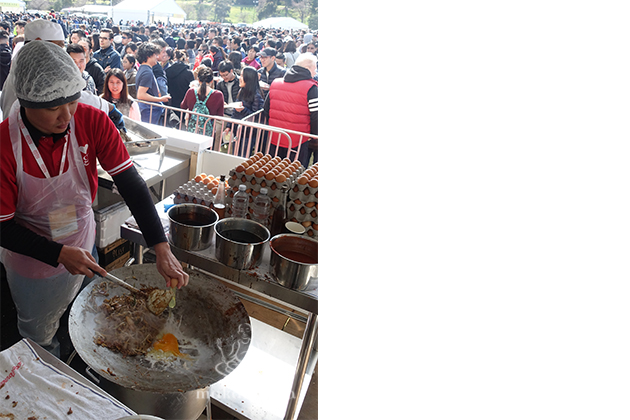 5/ Hill Street Cha Kway Teow, 16, Bedok South Road (Hawker Cte), #01-41, 12pm-4pm/6pm-10pm, closed on Monday
Ah Kiat, the son of retired master Mr Ng, brought their own special wok and he delivered with ease after adjusting to the weather and the ingredients.
6/ Xiao Di Fried Hokkien Mee, 153 Serangoon North Ave 1, Block 153,11am-8pm, closed on Monday and Friday
A first timer at the event, his initial trepidations melted away when the crowds was so pleased with the quality.
7/ HariAnns Delight (Nonya Kueh). #02-25, 30 Seng Poh Rd (Tiong Bahru Hawker Cte), 6am-2pm, closed on Monday.
Another first timer, they hand made on-the-spot sweet potato Onde Onde and Kueh Talam. It was easy on sugar and high on pleasure.
8/ Chey Sua Carrot Cake, #02-30, Toa Payoh Lor 1, Blk 127, 6am-1pm, closed on Monday.
This World Street Food Award winners are a firm favourite at every Singapore Day and rightly so, is you saw just how much effort went to making the cakes fresh on site.
9/ 328 Katong Laksa, 51, East Coast Road, 10am to10pm daily (they open earler at 9m on Saturday and Sunday)
They are another event stalwart and with little supervision, they never failed to please each year.
10/ Abdhus Salam Indian Rojak, Stall 73, Blk 503 West Coast Drive (Ayer Rajah Food Cte), 11am-9.30pm, closed on Monday.
His father Akber Ali, passed on earlier this year but son Abdhus Salam carried on where he left off and it was still as good as it gets.
11/ Selera Rasa Nasi Lemak, 2, Adams Road (hawker centre), 01-02. 7am-5pm, closed on Friday.
Malek had also taken over after his late father passed on and I think he outdid Dad and opened a few branches now…Bravo my brother.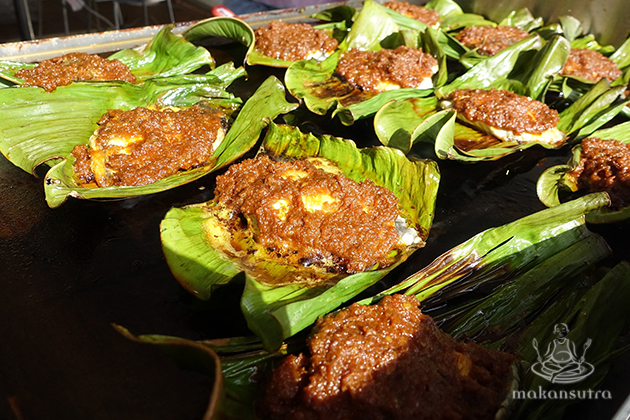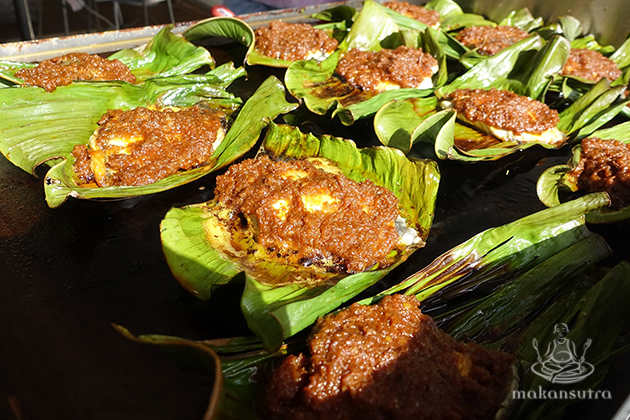 12/ Rong Guang BBQ Seafood, Makansutra Gluttons Bay, 8 Raffles Ave, Esplanade Mall. 5pm to 2am daily.
They made other own sambal and slathered it over freshly grilled sea bass chunks. It was hard to get this wrong, especially with lime squeezed over.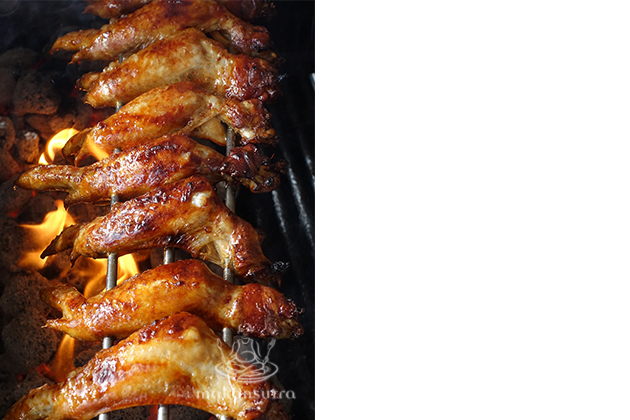 13/ Huat Huat BBQ Chicken Wings, Makansutra Gluttons Bay, 8 Raffles Ave, Esplanade Mall. 5pm to 2am daily.
Boss Mr Tan personally oversaw operations and worked the grill. The flavour felt so homely and it was very roasty.
14/ Selamat Datang Soto Ayam. 2, Adams Road (hawker centre), 01-09. 8am-10pm, closed on Wednesday..
I had never tasted this as good as at the event because "the spices and the chicken were fresh" said boss Mr Sumadi.
15/ Rong Chen Bak Kut Teh, Blk 26 Sin Ming Lane, #01-114 Midview City, 9am-9pm daily.
Mr Tan was especially happy with the pork supplies and they came up tops with their garlicky and peppery brew of pork ribs soup.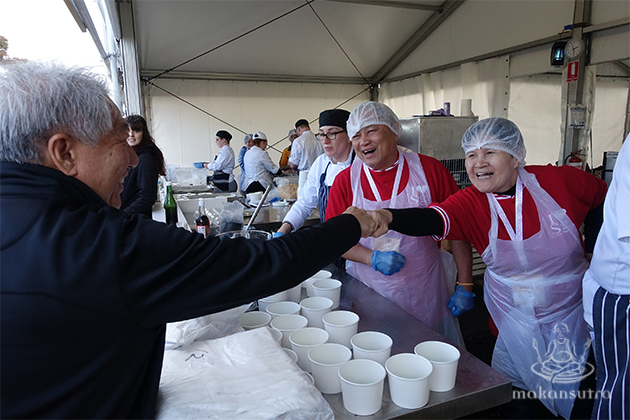 16/ Tai Wah Bak Chor Mee. #02-16, 531A Upper Cross St, Hong Lim Food Cte, 9.30am-7.30pm, closed on Monday.
The magic of the sambal and black vinegar combo in the noodles was a show stopper with the attendees.