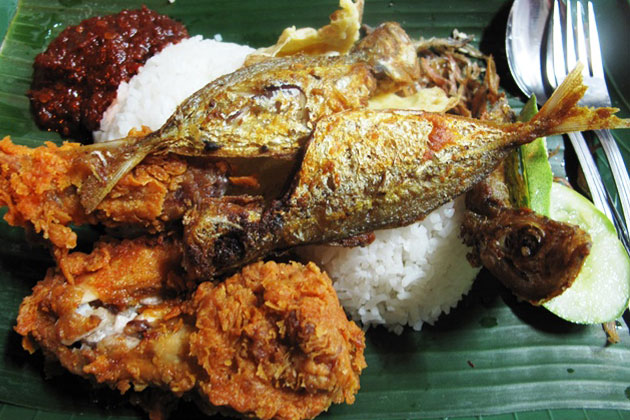 Singapore Food Street Names: Food Associated with Streets
By KF Seetoh - Tuesday, Aug 05, 2014
They say they're from some Changi Village, so their nasi lemak stall bears the name of the food centre in Changi that's so famous for nasi lemak. Another stall says that they are the East Coast BBQ Seafood, but the owner of the same-name popular stall in East Coast Lagoon Food Centre said he has nothing to do with this new stall at the newly minted Singapore Food Street in Changi Airport Terminal 3. Some think it's not right or ethical to associate your food stall with a place or name that is famous for it, to respect the original hawkers who had made a mark and created the goodwill and reputation. They think that food is about quality and that there's no need for an indirect association to someone else's fame. Folks today can judge if food is good. They can taste confidence in a kitchen.
The local daily wrote about how this new food court housed a collection of "famous" hawkers only to retract in a later piece about it being "Not so famous after all". The food court's spokesperson response was, "If you use the name of the stall, then you're in trouble, but if you don't use the name and just use the street, it's free for all".
So, what's with all these roads and names that's causing many to want associations? Although not legally wrong, it's not right in the eyes of righteous, hardcore foodies bent on preserving traditions and heritage with integrity. Some even wrote about how "it would fool the tourist into settling for less than the real thing", as they know no better. Some travellers would head back into their world and wonder, "What's all this fuss about their famous laksa?"
Let's revisit some of these famous Singapore roads and streets that come with a delicious history and reputation.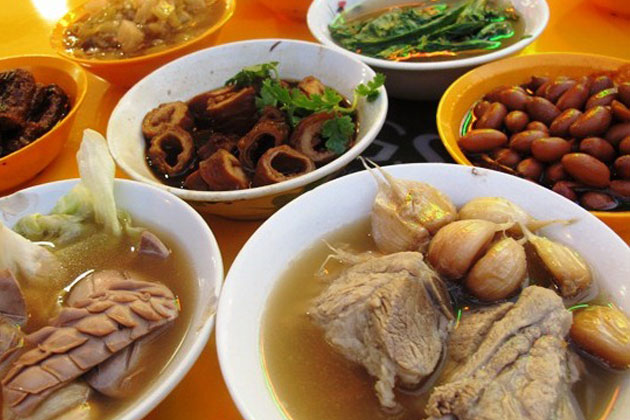 Balestier Road: Bak Kut Teh and Tau Sa Piah
This up-and-coming 3-km makan lifestyle stretch is getting more attraction for its charm. Lined with old pre-war houses, it is still a go-to makan hub for local foodies. Somehow, over the decades, the place gained a reputation for two items: bak kut teh (pork ribs tea) and tau sa piah (bean paste biscuits). At least eight quite popular bak kut teh stalls and four tau sa piah shops and stalls line this street. They all have a legion of their own fans.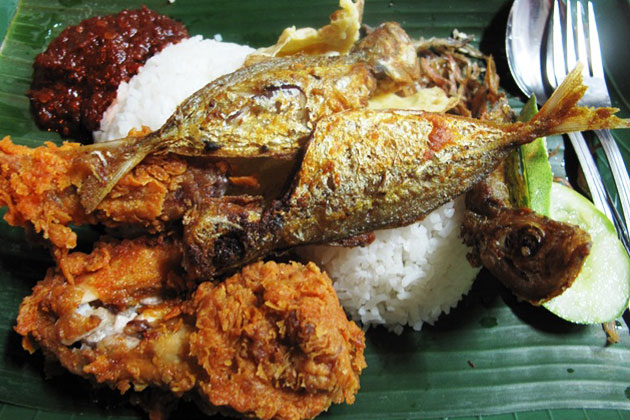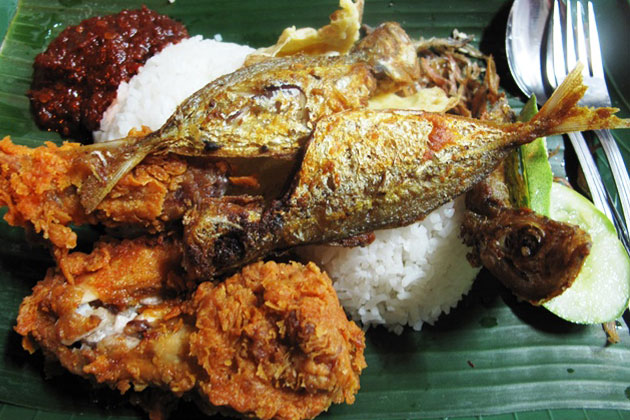 Changi Village: Nasi Lemak and Nasi Ayam Penyet
Mention this "far-east" food centre and area and hungry Singaporeans will shout "nasi lemak" or, more recently, "nasi ayam penyet". About 10 stalls are offering these two items. It makes sense. Nasi lemak has been a mainstay of this food centre, and nasi ayam penyet, which saw a little boom over the last decade, is quite similar a dish. It features flavoured rice, sambal, fried chicken and greens.
Katong (East Coast Road area): Katong Laksa
There used to be just one stall offering this Singapore-style Katong laksa. Janggot, a beardy Chinese, hawked his then-fiancée's mother's home laksa recipe during the war era, to help them make ends meet during the desperate times. He walked the streets around Katong (where the wealthy Nonya folks lived) with a "kandar", or shoulder food basket. He later set up a little stall at 49 East Coast Road, and it drew the masses in daily. The rest is history, and now his children and family continue his legacy at Marine Parade Janggot Laksa in Roxy Square.
Sungei Road: Sungei Road Laksa
It is just one stall, which began as a street food tricycle cart along Sungei Road, which gave this area a taste to the place. They are still around today, and the aroma emanating from their charcoal pot of laksa gravy perfumes their coffee shop in Kelantan Lane. Their recipe, tweaked somewhat to give it a "Chinese" taste, is unique to Singapore.
North Bridge Road: Nasi Padang
The area around the vicinity of the National Mosque is naturally a hotspot for Muslim food, especially nasi padang. At least four top names in the field have been residing in the area for decades now. They include: Nasi Pariaman, Sabar Menanti, Hajah Ratna and Minang Nasi Padang. They all have roots in the capital of nasi padang in Padang Sumatra in Indonesia, and they are fiercely authentic in their ways. Some of them are related.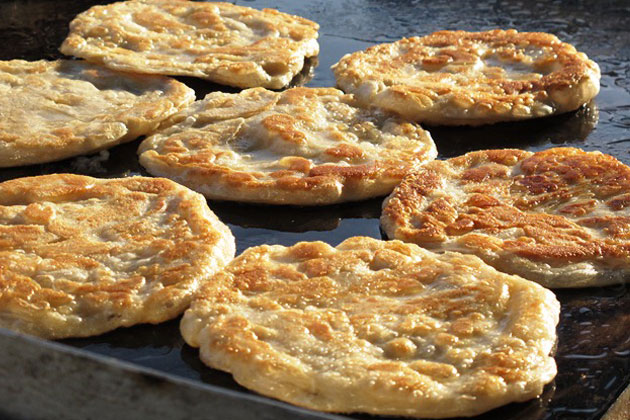 Jalan Kayu: Roti Prata
There aren't too many roti prata joints in Jalan Kayu but when the Thasevi folks made their mark in their still-humble outlet, they went straight to the top of the game. Roti standards are measured by their yardstick. Many outlets all over the city sort of have some reference to this place and to them, but, like they say on their fading sign at the shop front, "We have only one outlet".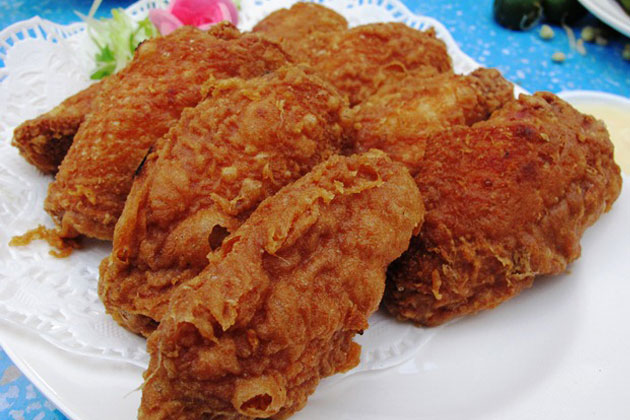 Hong Kong Street: Cantonese Cze Cha
The late Ah Hon and his mother once ran a Cantonese street cze cha place at Hong Kong Street when street vending was still rife in Singapore. They created a name for themselves and were known for their fish head beehoon and prawn paste chicken. Later he created the famous sum lo hor fun, and the rest is history. They had a look and presentation style of their own. Many similarly named outlets use this street name brand today and not all have any association with the original.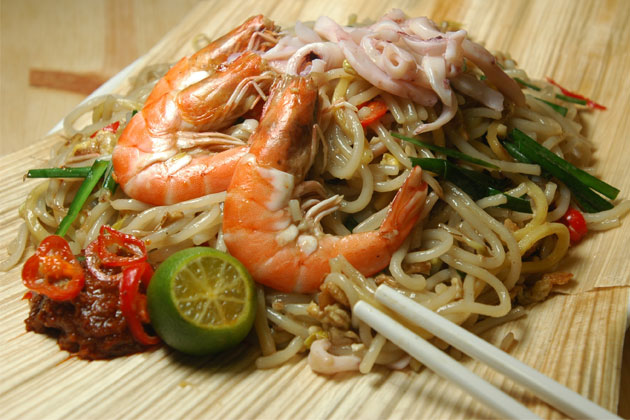 Rochor Road: Tau huay and Cha Hae Mee
The Rochor Beancurd folks began life as a tricycle pushcart hawker along Rochor Road. They packed that stretch of the street at night in the 80s. They gave this street its reputation and association with tau huay though they no longer run a stall along that street.
Rochor mee was the original name for fried Hokkien prawn mee or cha hae mee. It was known that many itinerant hawkers would gather in that area and fry up noodles with seafood bought cheaply from the nearby Beach Road fishmongers (when it was still a beach way back when).