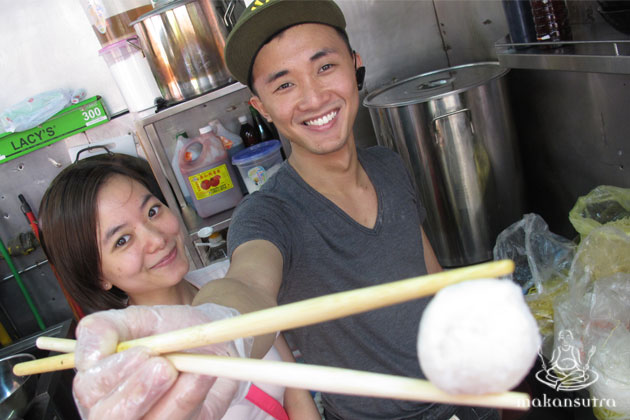 Singapore's Shining 10 Young Hawkers
By Catherine Ling - Wednesday, Aug 26, 2015
These are our new culinary heroes. Forsaking cushy careers in air-conditioned cubicles, these young people have chosen instead to uphold our hawker trade, bringing us delicious eats on the cheap. Despite the long hours, sweltering heat and numerous business challenges, they soldier on brimming with passion, ideas and entrepreneurial verve. Meet ten of Singapore's brightest and most promising young hawkers (in alphabetical order). These short introductions don't do them justice; go visit them instead and experience their amazing efforts first-hand.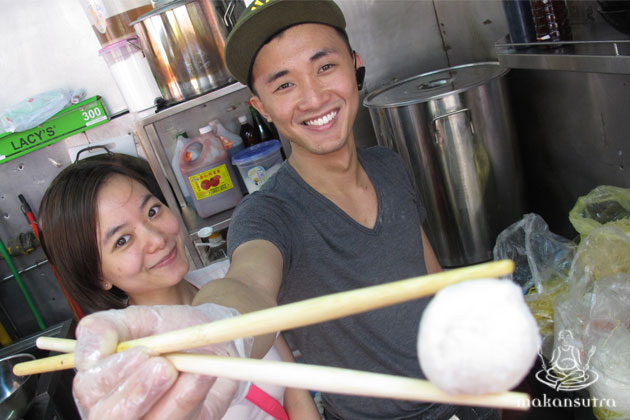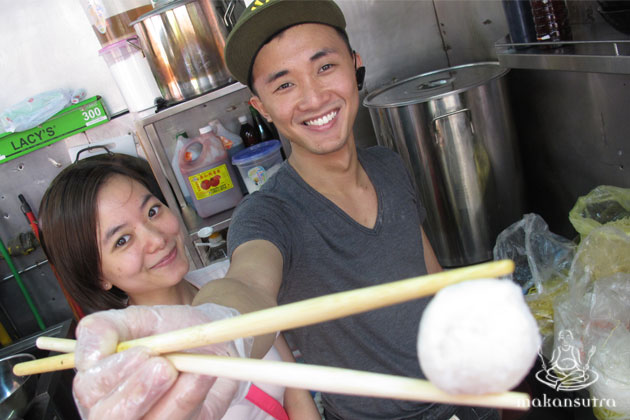 Douglas Ng (Fishball Story)
#01-85 Golden Mile Hawker Centre, 505 Beach Road, Singapore 199583
Douglas became a media favourite when he burst on the scene last year when Makansutra flushed him out in a newspaper column. He was only 23 but dazzled everyone with his dense and bouncy fishball – tediously handmade, using all fish and no flour. His cherished grandmother's recipe, it requires skill and art in getting the texture right.
Don't miss: the homemade sambal that breathes life into the noodles!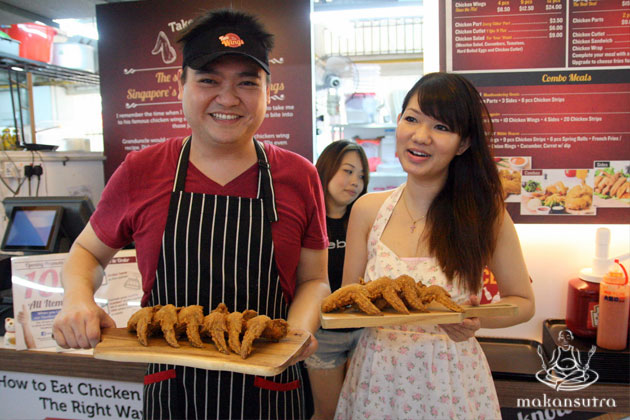 Jeremy Loh (Two Wings)
Block 119, Bukit Merah Lane 1, #01-40, Singapore 151119
Jeremy grew up loving his granduncle's fried chicken wings (where Carona Fried Chicken and Victor's Chicken Rice were based). Jeremy has improved on the recipe with special frying and oil control techniques. He's opened another branch at Essen @ The Pinnacle (1 Cantonment Road) serving the same food in an air-conditioned comfort closer to the city.
Don't miss: the fried chicken, which is miraculously non-greasy and stays crispy even hours after!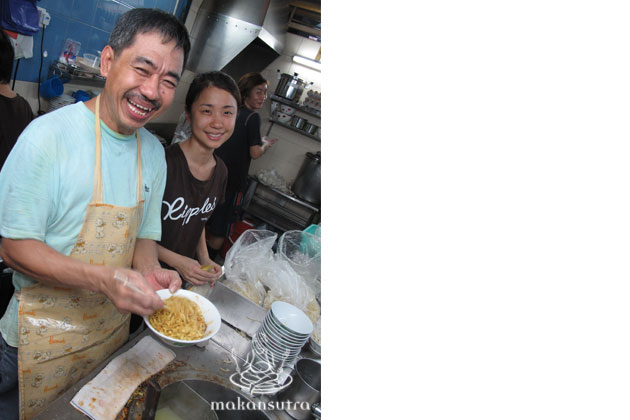 Joanne Ng and Daniel Lee (Ruji Fishball Noodles)
Block 51, #01-37 Old Airport Road Food Centre, Singapore 390051
Beating fish paste and moulding fishballs from 430am (almost) daily is hard work. Joanne's father has been doing this for ten years at Holland Village. People loved his food and this young couple didn't want his skills to go to waste. Never mind that they have biomedical degrees; they dug in their heels to help him continue his legacy. Now they have three stalls, and even went overseas to sell fishballs for Singapore Day.
Don't miss: the huge fried fishcakes that are juicy and savoury!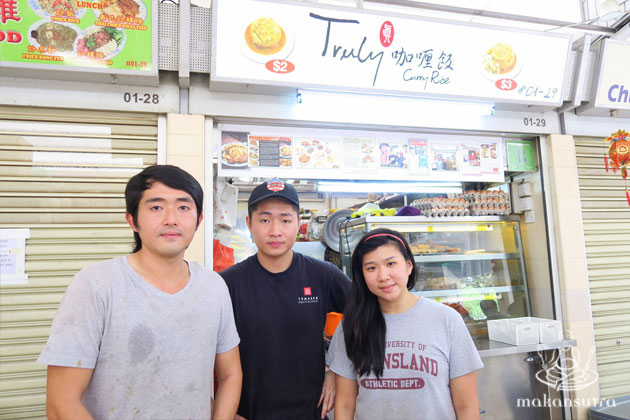 Joel Chia and Deniece Tan (Truly Curry Rice)
153 Kampong Ampat, Jun Jie Industrial Building, #07-05, Singapore 326328
These two graduates dumped their careers in finance to cook curry rice. They took over Deniece's father's stall at Telok Blangah, serving people from all walks of life who were grateful to have a hearty S$2 meal. Now they've moved to Kampong Ampat where they've taken over an entire kopitiam, and are leasing out units.
Don't miss: the S$1 stewed pork trotter beehoon – stir in some chili sauce and enjoy!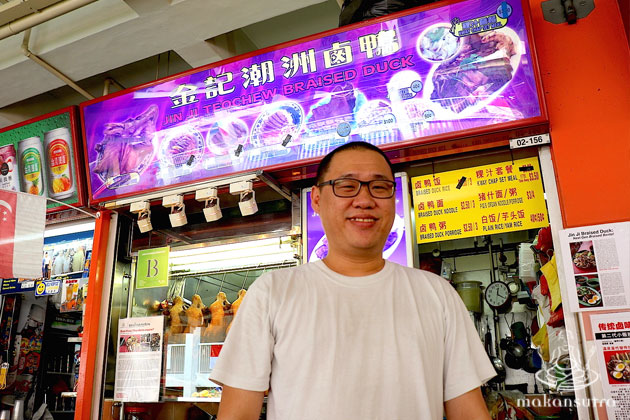 Melvin Chew (Jin Ji Teochew Braised Duck and Kway Chap)
Blk 335, Smith Street #02-156, Singapore 005335
Melvin's parents have been selling braised duck for 30 years in Chinatown, with a special gravy featuring ten different herbs and spices. Now that he has taken over, some changes were made – sweeter and thicker gravy for example – and also introduced a bento set to entice the modern and younger generation.
Don't miss: the hefty bento which combines the best of both worlds, duck rice and kway chap on one pretty platter!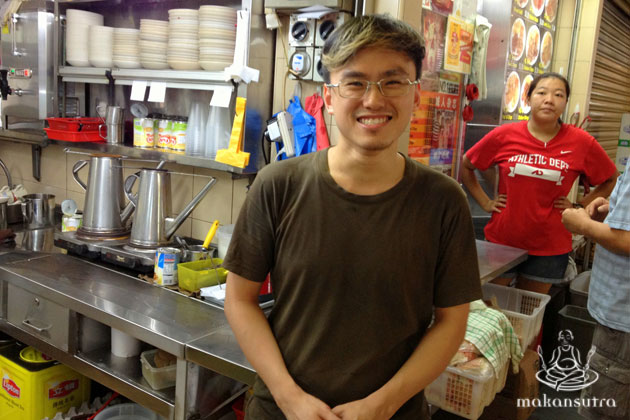 Melvin Soh (Toast Hut)
Block 51, #01-52, Old Airport Road Food Centre, Singapore 390051
Melvin learnt the art of brewing old school coffee from his father. Now at his own stall he serves up coffee that's extra thick and potent, along with kaya toast – using kaya with less sugar. For the younger crowd, he has included ice blended drinks and sandwiches.
Don't miss: the coffee and the kaya toast!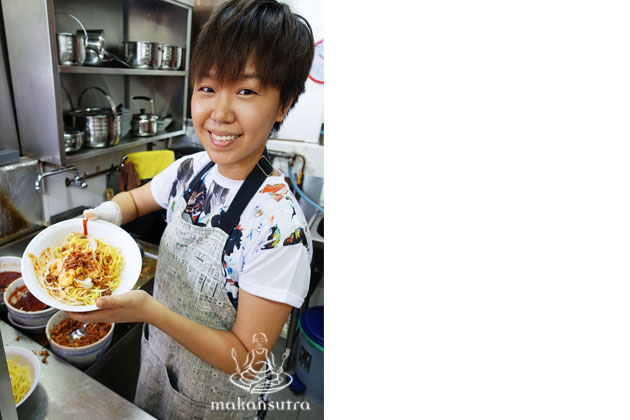 Li Rui Fang (545 Whampoa Prawn Noodle)
665 Buffalo Road, #01-326 Tekka Centre, Singapore 210665
A degree-holder in Economics and Finance, Rui Fang quit the corporate world to continue her grandfather's legacy of serving prawn noodles. The prawn stock is infused with seafood richness from clams and little prawns, full of flavour. She dreams of having her own cafe one day serving this specialty.
Don't miss: the dried prawn noodles with the perfectly balanced chili sambal!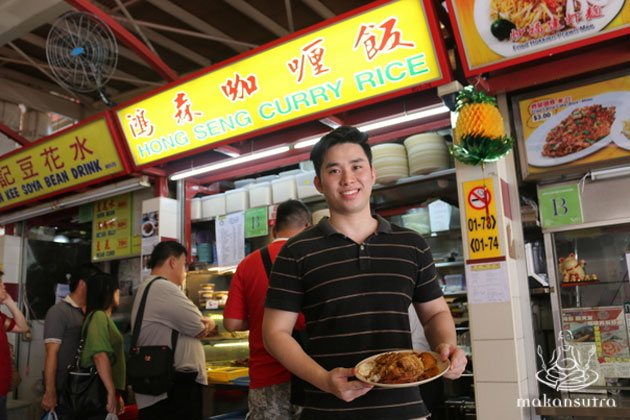 Lim Jia Han (Hong Seng Curry Rice)
Block 85 Redhill Lane #01-74, Singapore
Jia Han completed his degree to avoid disappointing his family but his entrepreneurial heart led him to take over their curry rice business when they wanted to retire after 20 years. He learned the recipes from his uncle and helped streamline the operations. Ultimately he has bigger dreams of more branches and a central kitchen.
Don't miss: the crunchy and addictive sambal ikan bilis, and the S$4 value set meal with six toppings!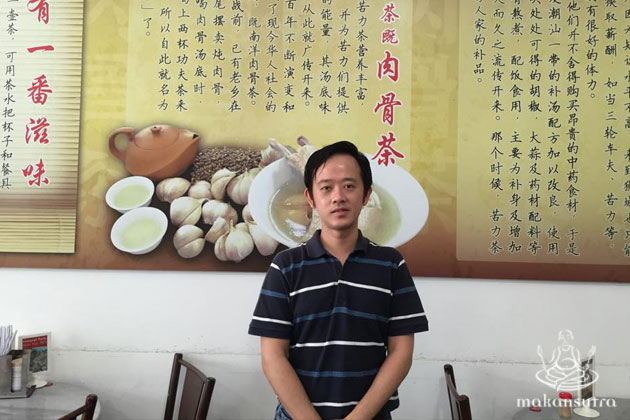 Lionel Lim (Rong Cheng Bak Kut Teh)
Blk 26 Sin Ming Lane, #01-117 Midview City, Singapore 573960
After a decade in the corporate world, Lionel came back to the family business. He opened this outlet not far from his father's shop at 22 Sin Ming Road famous for its clear and peppery Teochew-style pork rib soup. Lionel has introduced new items like "natural pork" (similar to organic pork), which is more expensive but tastes better
Don't miss: pork belly slices, which taste like shabu shabu!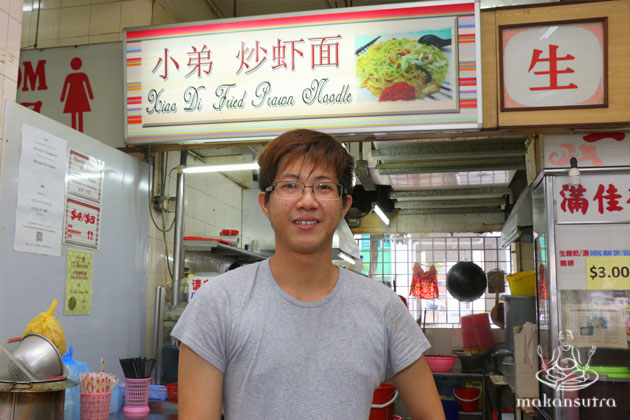 Terrence Chee (XiaoDi Hokkien Mee)
Block 153, Serangoon North Avenue 1, Singapore 550153
A self-described rebel, Terrence finally found his calling as his own boss. He may only be 24 but already has close to a decade of experience in cooking and understudying master hawkers. His sumptuously good Hokkien mee is a result of tenacious learning and experimentation. He uses only fresh prawns and is extremely particular about his stock.
Don't miss: the Hokkien mee steeped in that rich seafood stock!