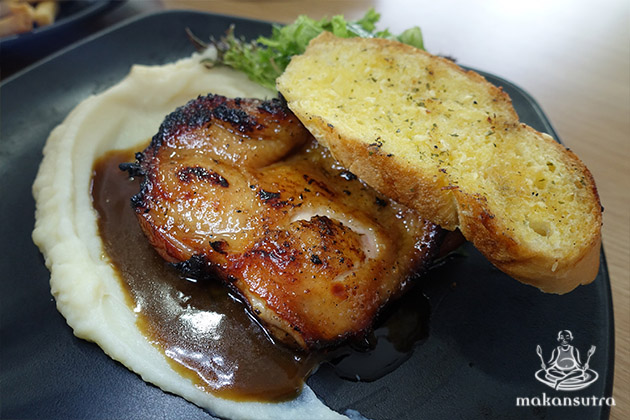 Smokin' Joe: Smokin' Good
By KF Seetoh - Friday, Jun 29, 2018
It's difficult telling most overseas visitors just what heritage hawker street food in Singapore really is, if they have not been here. The overwhelming state of street food hawking around the world is really about a food cart or table by the street, marinating and cooking with the "flavours and aromas of street pollution". Tell them that street food in Singapore is a comfort cuisine culture that has been preserved in a safe and clean hawker centre, they will go dim on you, waiting for the next topic. Worse, say this is where some of the best restaurant quality food is found affordable like Peking Duck, lobster noodles and baby squid chawanmushi, they'll lay a "page not found" look on you.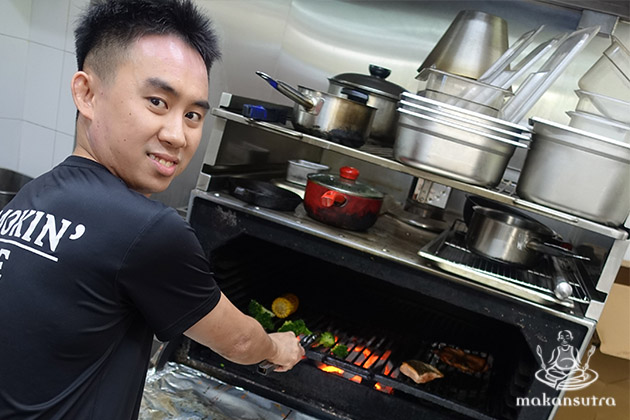 But we amble along, a couple of years back the Majestic Restaurant folks opened what I think is the world's first Peking Duck hawker stall and now, I spy millennial Joseph Yeo, who left his western chef gig in some top restaurants and now, I suspect is the only hawker in the world to employ a top class Josper oven in his humble hawker stall in Yishun. Google it, those ovens are used by the best of the best grill establishments. It's essentially a stainless steel box with a chimney connected with an airflow valve and runs completely on wood fire. "I have always wanted give hawking a try and this is the only way I know how to best cook" and Joseph also adds that $40,000 of his hard earned money was sunk into this stall. A brand new oven alone, can set you back by $20,000.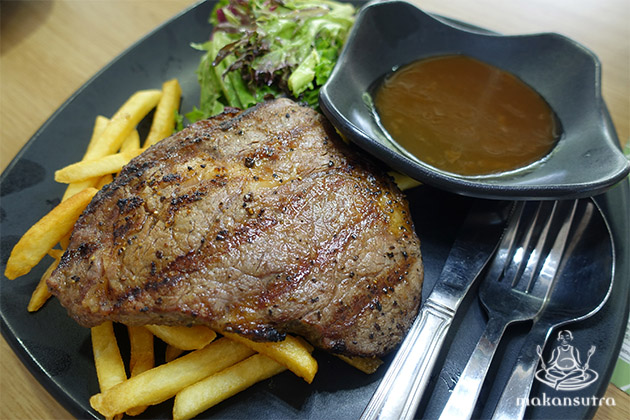 His marinates are simple and on-point, largely a yakiniku-and-yakitori-plus 'secret' he employs. While anyone can up the marinate ante, it is hard to introduce this wood oven smokiness to the food, especially in a hawker centre. His prices range from reasonable to break-even prices, just check out his $32 grade 6 waygyu beef (about $100 in nicer steakhouses).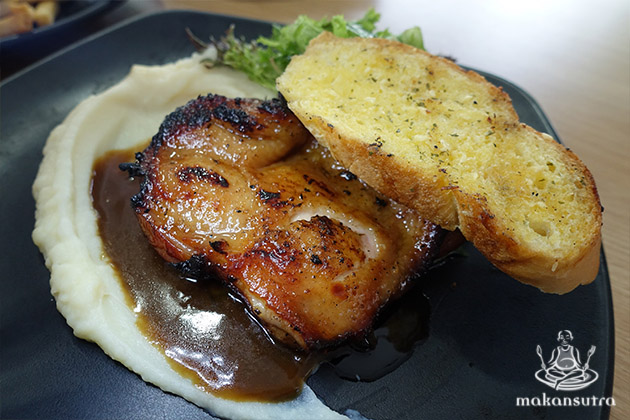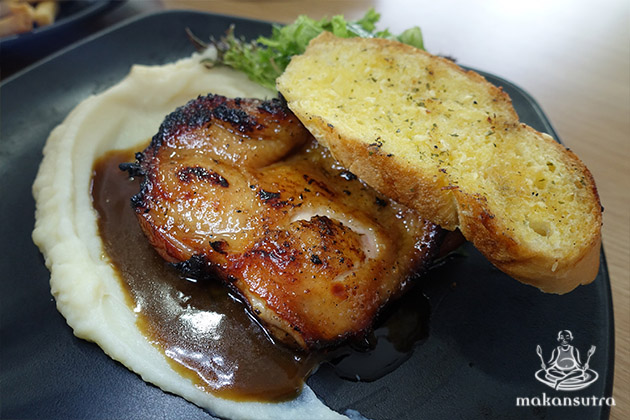 His best seller is the Bbq Boneless Chicken Leg ($8), with mash, roasted garlic bread and sesame vinaigrette salad. Perfectly smoky, light special yakitori aroms, and nicely cooked through, retaining enough moisture and flavour. The "secret" sauce tastes nothing like hawker centre stuff.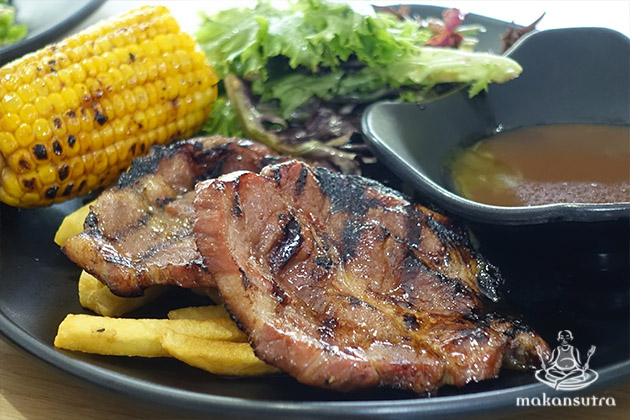 The 200gm Korubuta Pork Collar ($18) came naturally sweet and the wet yakiniku rub made this one my favourite too. "One trick I employ is to rest the meat for a minute or two" before he serves it up. It allows the flavours and textures to shine through and settle. He suggested I forgo the wagyu and try the medium rare Reserved Rib Eye steak ($18), knowing I am not into branded cuts of meats as all cuts can be done nicely if you know how. It was pink and juicy inside and touched with a breath of salt and pepper, but the deal sealer was the smokiness from the Josper oven he uses.
I am not a fan of salmon but again, this lightly salted Sashimi Grade Baked Salmon ($15), put through the oven drew out its best and it was moist, soft and again, lovably smokey. Do ponder when you chomp in on his fries, it's fine restaurant quality, not the $12 a box garden variety hawkers use. And do not miss out on his Onion Rings ($4), clearly the best I've had and one chunk of the love goes to his batter and those sweet and soft onions inside.
Smokin' Joe
Yishun Park Hawker Centre , 01-37
Yishun Ave 11.
1.30pm-10pm daily but opens from 5pm only on Tuesday.