Spicy Peranakan Buffalo Wings
By Sheere Ng. (Recipe courtesy of Woody Family Café) - Saturday, Mar 16, 2013
Former finance controller Jenny Yeo grew tired of punching numbers so with her semi-retired musician husband, so they took the other turn ahead in life and opened a little café/pub called Woody Family Cafe at Sembawang. There wasn't any problem filling up the menu. Jenny is a true blue Nonya bibik who is readily proud of her mother's Peranakan heritage and culinary culture. And fortunately for her, she has inherited many of her recipes.
Expect the traditional stuff, such as beef rendang and a rare buah keluak omelette, as well as her own inventions, like achar bacon roll and… Spicy Peranakan Buffalo Wings. This perfect accompaniment to beer sets off fireworks of citrusy, spicy, aromatic flavours, and doesn't pale in comparison to its American counterpart at all. The recipe is of course a secret but Jenny is kind enough to contribute a very similar recipe to their real deal. We've tested it in our kitchen…you are in for a treat!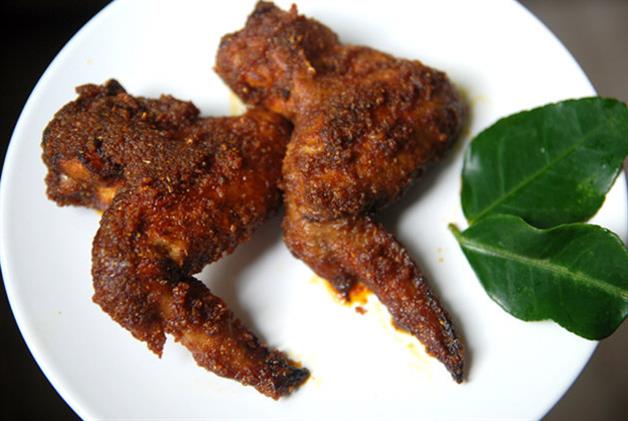 Ingredients
1 Kg of Chicken Wings
Ingredients for Marination
1 tsp of Light Sauce
1 tsp of White Pepper Powder
1 tbsp of Brandy
1 tsp of Spicy Chilli Paste
1 tsp of Sweet Dark Sauce (the one for char kway teow)
Method of Marinating
1. Mix all the marinade ingredients into a paste
2. Marinate the chicken wings and leave in the chiller between 3 to 4 hours before frying
Ingredients for Spicy Chilli Paste
40g Fresh Galangal
30 g Fresh Turmeric
30 g Fresh Ginger
30g Belachan
40 g Shallots
30 g Garlic
20 g Coriander Seeds
1 tsp White Pepper Powder
12 Fresh Chilli Padi
12 Dry Chillies
5 pieces Candle Nuts
8 pieces Kaffir Lime Leaf
1 stalk Lemon Grass, bruised
1/2 tbsp sugar
pinch of salt
250ml oil
Method for Chilli Paste
1. Soak dry chillies in hot water.
2. Peal and cut galangal, turmeric, ginger, shallots and garlic into small pieces.
3. Remove seeds from chilli padi. Drain the dry chillies and cut them into small pieces.
4. Pound or blend all spices and oil together finely to form a paste excluding lemon grass and kaffir leaves
5. Heat the wok and fry spice paste together with kaffir leaves and lemon grass over low heat till fragrant, about 30 minutes.
Method for Frying Chicken Wings
1. Heat a wok of oil for deep-frying of chicken wings at 170 degrees C.
2. Deep fry till golden brown, remove and drain
3. Warm up the chilli paste till it bubbles.
4. Put in the chicken wing one at a time and mix well. This must be done in a jiff otherwise the crispy wings will soften. Remove and set aside.
5. Scoop the balance of the chilli paste and put onto the chicken wings.
6. Garnish with English parsley.