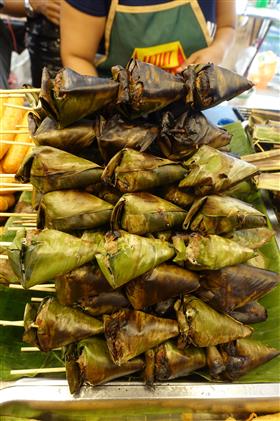 Sticking to Ramadan Traditions
By KF Seetoh - Wednesday, Jun 06, 2018
I don't understand why the Ramadan market season each year, grows to be more like some fancy pop-up market like I see in Europe and New York. Someone definitely overpaid for the rights to operate that sidewalk market space in Geylang Serai ( reportedly $2.2 million) which means a desperate hunt to fill out the hundreds of stall spaces costing anywhere between $10,000 to $20,000 each, which saw a slew of fancy food stalls hawking things like an edible balloon, meat ball buckets to dry ice desserts. I say, stick to traditions, go hit up the other food festivals with your funky chow for relevance- there is a right time and place for all sorts of food. Ramadan season means the chance to digest a slice of our Muslim culture and traditions. There are so many halal flavours from Indonesia, China, Middle East and even Malaysia that have yet to make a debut here, like Nasi Gudeg from Jogjakarta, Kay Pachok from Terenganu, or cumin skewers from Xinjiang. I am glad there are still many traditional local fare on offer and I spotted some rare and classic ones.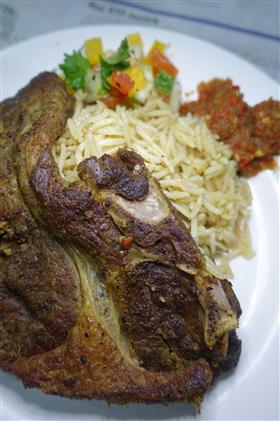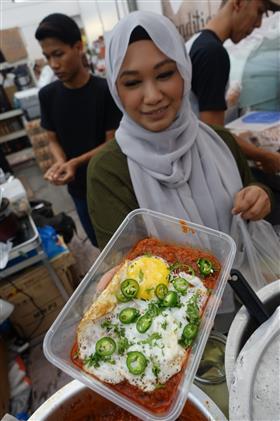 1.Al Kabsa, stall X48, Woodlands Ramadan Market, next to MRT station and Causeway Point, 3pm to 11pm daily till eve of Hari Raya.
Kabsa is an Arabian rice staple (from $7) and some say regional Middle Eastern national dish, is like a Nasi Briyani of sorts. The distinction is the rice- they use long basmati grains but the spice paste is what makes this different. Touches of cumin, nutmeg, tomatoes cardamom etc.. shines through and the star accent is the dried black lemon or noomi Basra, it lends a smoky tangy flavour that is so arresting. You have it with grilled chicken lamb and it comes with a tomato salad and a spicy chutney. This stall also offer Shatshuka (from $4), an eggy and spicy tomato stew that is common fare in the Mediterranean region. There's hints of paprika, cumin and coriander and you merely dig in with the French loaf slices it comes with.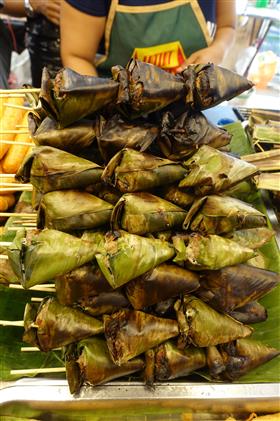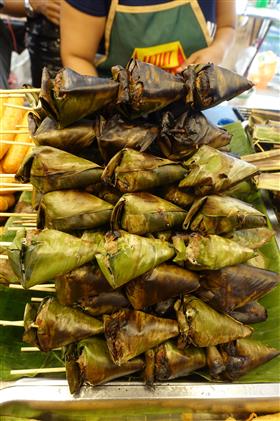 2.Satar Parcels, stall GS197, Geylang Serai Ramadan Market, 2pm to 12am, daily till eve of Hari Raya
The look like little bak chang dumplings all skewered and lined up on the grill. This spiced minced fish (or chicken) parcel hails from the Kelantan region in Malaysia. A pack skewer of 3 pieces cost $4 and it is lovely over fluffy rice. The slightly charred aroma of the banana leaf escapes into the fish and with spicy tones, it great value for money based on the amount of work needed to make them.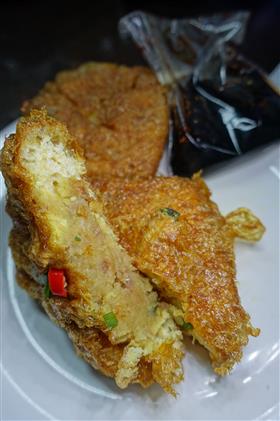 3.Nasi Kerabu and Curry Potato Tau Pok, Jannery Kitchen, stall X15, Woodlands Ramadan Market, next to MRT station and Causeway Point, 3pm to 11pm daily till eve of Hari Raya.
The blue rice is what will attract you to this dish- coloured by blue pea flower or bungah telang. It comes with a serondeng salad, a mince chicken roll and chicken or beef with a sambal($6). This Terrenganu dish is a Malaysian favourite. The other item here is a bean skin wrapped taupok stuffed with spicy mashed potato ($4)- deep fried and eaten with sambal. Much like a tahu pong from Indonesia except it's more complex here.
For what it is, just take a slow stroll around the bazaars and spot the rare and wonderful traditional fare offered. Pack some popular prawn vadais along the way (they are everywhere!)