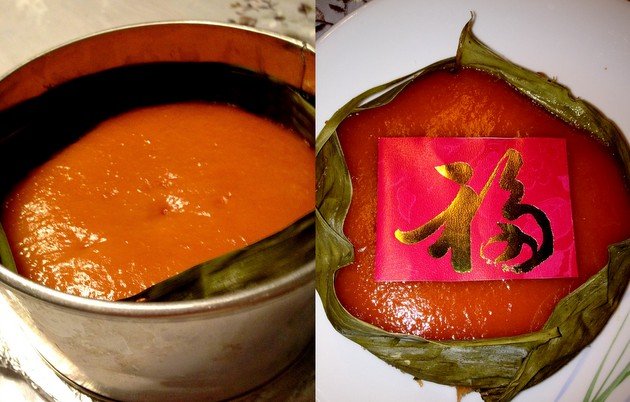 Sticking to Tradition
By Stefanie Chao - Friday, Feb 01, 2013
This Lunar New Year, our plates will be filled and overflowing with traditional snacks..plussome faddish ones like Pineapple Cheese Tarts, or KuihBangkit in at least 5 different flavours! To me, the ubiquitous Sticky Cake or NianGao (年糕)is a must-have because it is a homonym in Chinese that wishes one and all a 'higher level'of prosperity for the year. Fascinatingly, it was also meant to be an offering to the Kitchen God, so that whilst eating it, his mouth will be sticky and gummy so he wouldn't be able to badmouth the family who offered him the cake, to Yu Huang Da Di (Jade Emperor)!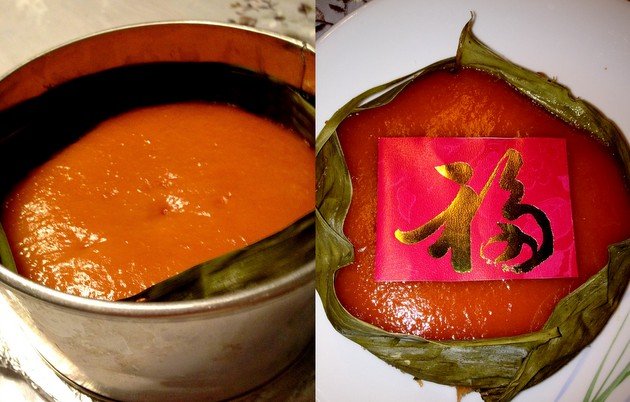 Nian Gao has a savory Shanghainese cousin namesake which is basically a dried rice flour stick, which when reconstituted in some hot water, softens and can be stir-fried with meat and vegetables. However, this sweet version consists mainly of water, glutinous rice and melted sugar mixed into a batter and steamed. Some versionsare jazzed and enriched with stuff like coconut milk and flavouring for added effect. We obtained this recipe from MsJoanna Koh who in a tribute to her heritage, made this traditional Foo Chow version, with some brown candy sugar added to make the Nian Gao fragrant yet not so cloyingly sweet. She also boasts of an unusual addition of orange sugar to make it look more festive, something similar to a Hong Kong version of Nian Gao. Joanna also shared that there is another Foo Chow Nian Gao which has yam and nuts in it, but unfortunately, it is very rare and families also don't make them these days. This is her version:
Ingredients:
1200g glutinous rice flour
800g brown candy sugar (冰片糖, available at most wet markets, at dried goods section)
200g white sugar
100g orange sugar (available at wet market or supermarket)
1350ml of water (5 rice bowls)
2 big pieces of banana leaf
Cornstarch or rice flour to coat
Beaten egg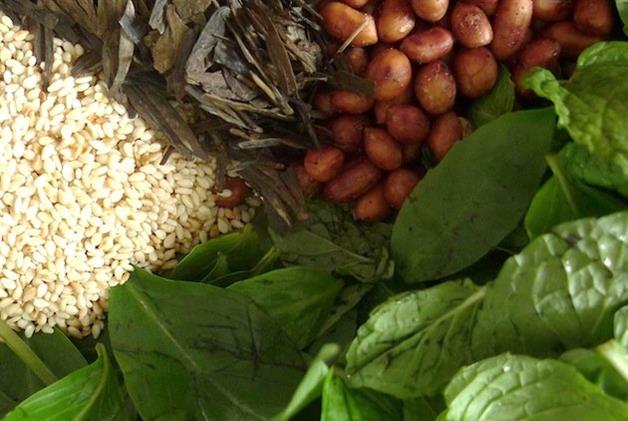 Method :
1) Melt thethree types of sugar in the water over medium heat. Cool the mixture.
2) Boil some water in a wok and blanch the banana leaves to soften it.Avoid breaking the leaves. Alternatively, heat the underside of leaves over the stove fire quickly to soften it.
3) Prepare 2 round baking tins (23cm x 5cm) and line them well with banana leaves. Trim off excess leaves at the top.
4) Add sifted flour to sugar mixture and mix well till smooth with a large whisk or with a cake mixer. Sieve out any lumps if necessary to ensure a smooth batter. Divide between the tins and steam for 1 hr 45 minutes.
5) Leave cake to cool in baking tin till it reaches room temperature. Place cakes in refrigerator for about 2 days to mature. To serve, cut it into thin square pieces. Coat it with cornstarch or rice flour, dust off extra, dip in beaten egg and then shallow fry till golden and crisp. Serve hot.
To boost the one-dimensional flavour and texture of the cake, others come up with different variations. An interesting version I've sampled involves steaming slices of the Nian Gao to soften it, then rolling it in freshly grated coconut tossed with a little salt. The sticky texture of the warm and sweet cake, along with the chewy but savoury rich coconut really is quite pleasant and reminds me somewhat of Kuih Kosui!
My favourite way of eating it however, is the Malaysian style of sandwiching it with some sliced tubers, namely sweet potato and yam, then gently pan-frying it instead of deep-frying it like they usually do. To add more depth and a slight savoury sweetness, I drizzle on the finished dish with my favourite ingredient- a little maltose. The crisp and sweet exterior gives way to chewy and gummy Nian Gao and an almost creamy texture from the tubers that have been scented with pandan leaves- a time honoured gem of culinary traditions.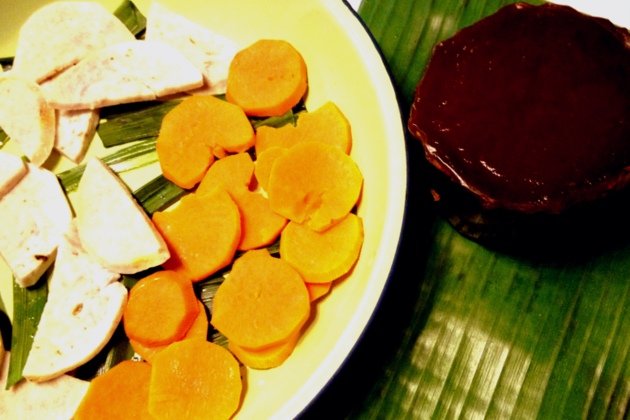 Serves 10:
1 local sweet potato, peeled and sliced into 1/2-cm-thick coins
1/2 small local yam, peeled and sliced into 1/2-cm thick crescents
5 pandan leaves
1 tsp sugar
20 slices Nian Gao, sliced 1cm thick
Rice flour to coat
2 eggs beaten with a pinch of salt
Maltose (麦芽糖) to drizzle
Oil for pan-frying.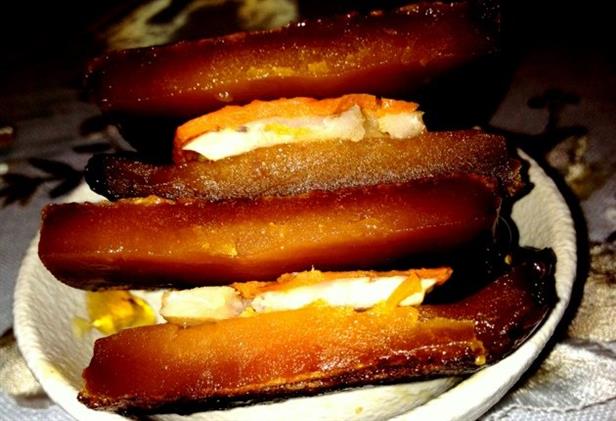 Method:
1) Line a shallow pan with the pandan leaves. Arrange the sweet potato and yam in a single layer and sprinkle with the sugar. Steam/bake for 5 to 8 minutes or until just cooked.
2) To a slice of nian gao, arrange one piece of sweet potato and one piece on yam and sandwich with another slice of nian gao. Press down slightly on the edges so it will adhere.
3) Heat up a heavy-based pan or a griddle with some oil, over low-heat.
4) Take the nian gao sandwiches and dust lighly with some rice flour, then dip into the egg to coat generously. Gently slide it into the hot pan and fry over low-heat until golden brown and crisp on both sides.
5) Serve immediately, with the optional drizzle of a little maltose over.