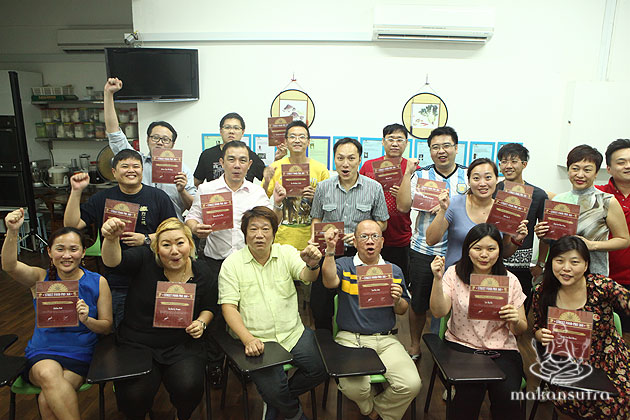 Street Food Pro 360 Course: A good hawker recipe is just not enough for success
By Thammika Songkaeo - Thursday, Nov 06, 2014
Few things feel more exciting than getting to train the next generation of comfort street food cooks and leaders. No, really. They're an important group to train because hawkers are the food people on whom Singaporeans spend the most amount of their food-related budget. According to a recent survey, the majority of food expenses for Singaporeans goes to hawker centres. It's unsurprising that this would be the case, considering there are 107 hawker centres in our tiny red dot island. Old folks, young folks , students and even CEOs go (did you know that a CEO hawker centre guide exists?).
Over about two months, beginning in September, we conducted the Street Food Pro 360 course with support from the e2i (Employee and Employability Institute).  The program looked at the multifaceted aspects and the new realities of entering and remaining in the comfort street food trade.  Eighteen students, from current bakers, young hawkers, culinary lecturers, real estate agents, events manager, to people who had never handled a wok before, filled up the rooms in the evening. Part of the course included cooking demonstrations from top flight hawkers and chefs.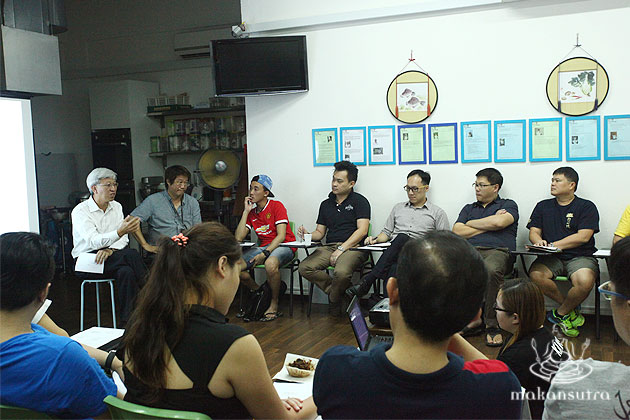 Being "360" meant we included as many aspects of the trade as possible, not just cooking. We touched on stall design, how bloggers and writers work, what the future hawker centres and hawkers should be like and the aspirations of new generation customers. There was even a food tour to see (and eat, of course) the differences among hawker centres, coffeeshops and food courts – places where the business of street food reside. The stellar cast of lecturers included Malcolm Lee of Candlenut (on running a comfort food restaurant and on Nonya food) and top bloggers such as Tony from Johor Kaki and Catherine Ling. Mr Richard Tan, head of the Hawkers Department at NEA, was also at hand to share his take and aspirations of his division. Debbie Yong from the Business Times also regaled her values and stands as a mainstream media food writer. The inventor of chilli crabs, Mr Hooi Kok Wai and his son, Christopher, of Dragon Phoenix restaurant, diligently demonstrated the art of making Singapore's national seafood dish. Frank facts and secrets were leaked on how to attract customers with every facet, from finding the best sauce combo, to contacting media, to behaviour on social media and photography. At the end, course creator KF Seetoh of Makansutra popped the key question: "Each of you, tell me what you want to do from here."
Uncomfortable body twists appeared, but frankness prevailed. Some comments were: "The trade is more complex than I thought. I will rethink how my approach to this business," "There is a whole lot more I can do than just take over my mother's kueh stall and recipe now," and even " I just want to inspire my students and fire up their interest in this heritage food business" (which came from the food school lecturer).  Existing young hawkers in the class had new ideas about stall design, presentation and how to win new customers. "First thing I'll do is relook our signage and food presentation," said  Melvin Chew  of Jin Ji Braised Duck and Kway Chap. Another, Terence Chee of Xiao Di fried prawn noodles, had a serious rethink and wanted to be a "Prawn King", leaving the concept to the imagination. Sheila from Alhambra Satay, now wanted to relook the business and combine the kebabs and skewers concepts into her menu ideas.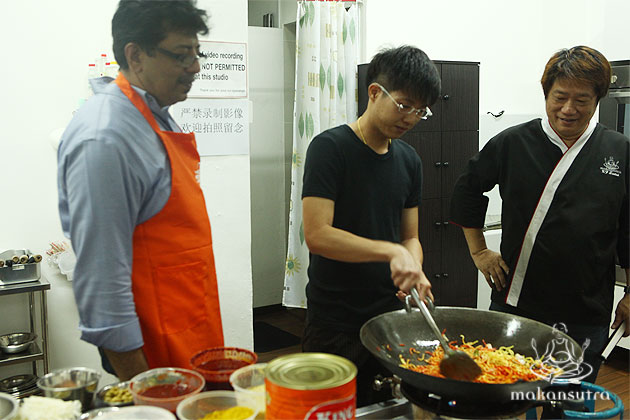 All of that is exciting, but here is the most important part that our director pointed out: You need to know what your goal is if you're going to play in the street food industry. It's simple enough to enter, but not so easy to sail along. Yet, the rewards are great in so many ways. Some students honestly confessed that they still were confused about their goal. Others tried to cover up their lack of a goal through a rambling of words. Our director seriously advised, "Know what you want, and learn everything there is about it." Upon those words, the room fell even more silent… Those words were so daunting, yet they would be so painstakingly effective for success.