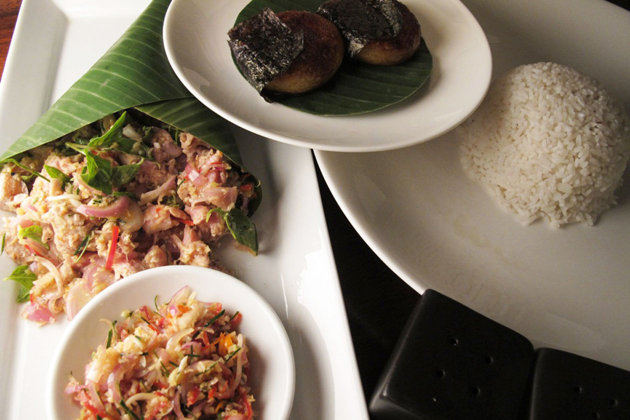 Street Food by the Lombok Sea
By KF Seetoh - Friday, Feb 21, 2014
Seafood mee goreng, soto ayam, Hainanese chicken rice, satay, green curries, ice kacang etc…are all comfort street food flavours of the region. All stuff we expect to see hawked at street stalls and hawker centres or even food courts. But increasingly, they are making regular appearances in fancy hotel and resort menus. And the offering is getting more exotic by the day.
And why not? Food travel is big – they fly in long haul, touch down and want to tear into what international TV food explorers like Anthony Bourdain and Samantha Brown and Andrew Zimmern spoke of and chowed on. A true, authentic culinary experience is one of the best travel souvenirs anyone can take from their journeys. But not all are fans of sitting on rickety stools framed by dusty roads and honking, noisy diesel engines zipping right behind them, however ambrosial that grilled pork collar with sticky rice may be.
In Singapore, many menus and buffets that cater to her chow crazy citizens would be crazy too, if some local dishes were not included in the buffet line, alongside the soufflé and Sunday roasts. The Straits Kitchen in the Grand Hyatt is a decadent, open-kitchen buffet café offering a string of local hawker fare. Besides design, the other great appeal is the "performance kitchen". You see char kway teow in action, cooked and served before your eyes in cool comfort. You take what you want and move on to the next "performance". Ditto for the Line Buffet in Shangri-la Hotel.
Lombok in Indonesia, which may not be her culinary capital, nevertheless has her own culinary citizens. Ayam taliwang ranks up there and they are also famed for terasi (belacan or shrimp paste) and dodol (fruity palm sugar candy).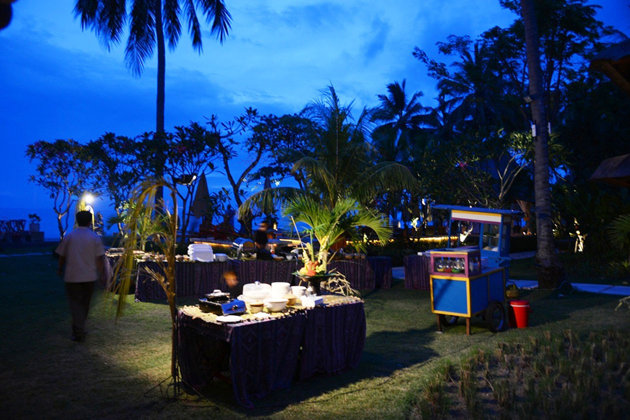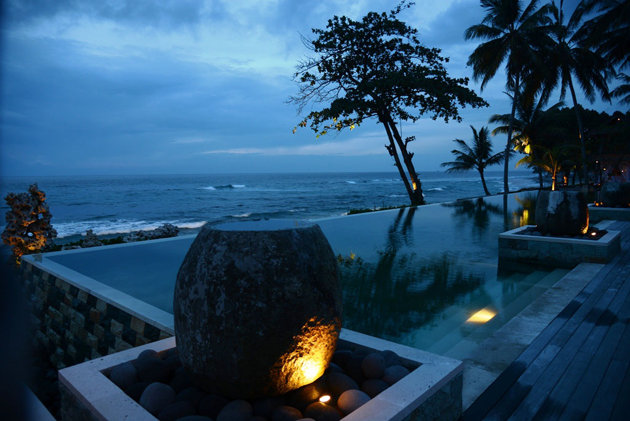 When I saw that the Qunci Villas folks have a regular "Friday pasar malam" makan night, I was piqued. I wondered what they could put in the menu that says "Lombok". They turned a little manicured lawn space right by the lapping shores beside the appropriately appointed decked lounge area and created a makeshift row of hawker and kaki lima (five legged street food carts) food stands.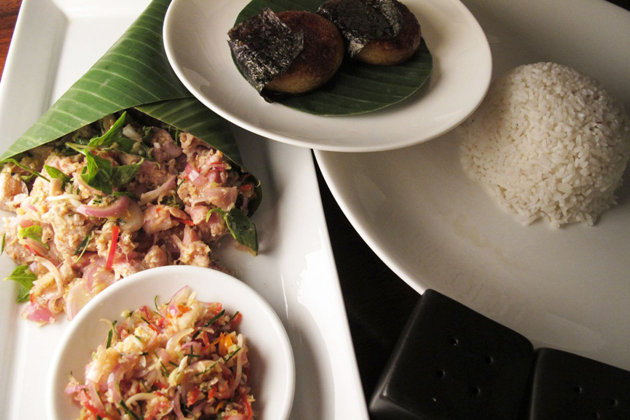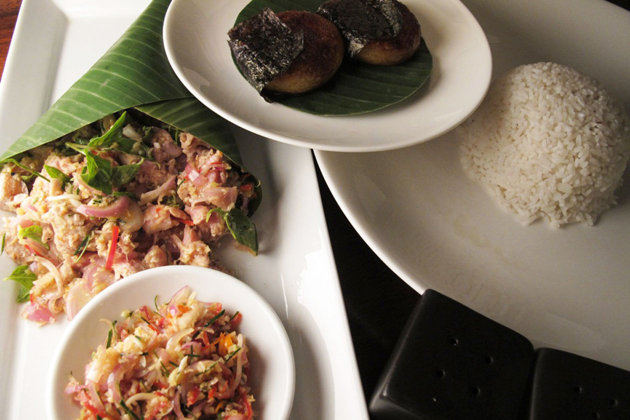 Their head Chef Frederic Pougault, who had been living, working and opening restaurants in Indonesia for many years, is one French chef who has his nose down on the ground. He can talk smack about local chow, "if you think Ibu Oka's babi guling is good, wait till you try IbuSuta's here in Mataram", he boldly hints of the comparison between the famous Ibu Oka's little eclipsed-by-TripAdvisor-fanatics stall in Bali with the one in Lombok's main town. He was right, I fell over that lunch we had at IbuSuta's. Her rendition of this roast suckling pig meal is now topping my babi guling charts.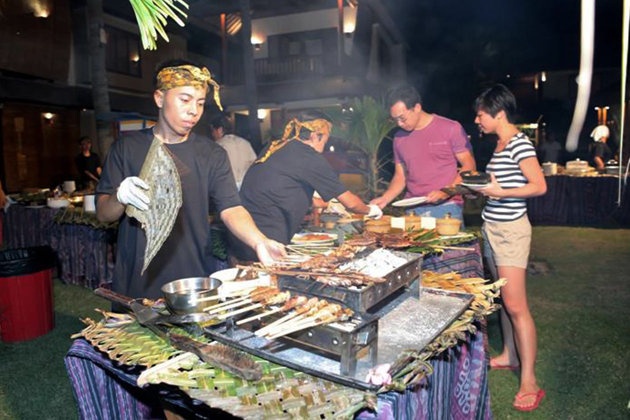 By Saturday morning (they postponed this one night later because of Valentine's Day), Chef Frederic's kitchen we are already humming with street food preparation problems and solutions, "The bonitos are twice the price today and the chicken hasn't arrived yet…" he shrugs. But that fish, a family of the tuna breed, was as fresh as can be (caught that very morning and bought off the boat) and they were busy splitting, marinating and skewering it. The sambal and rempahs were being done as was the batter for serabi, an Indonesian pancake. They also serve Pepes Ikan Bumbu Genep, a fish wrapped in banana leaf marinate in local spices. Lombok's answer to Bali's babi guling is kambing guling, that alludes to the Muslim palates, is also in their pasar malam menu. But sadly, I missed this one, and the BBQ salted eggs, both I would've loved and adored if I had it with a local sambal Banteng Ngangak (which means open mouth) – it's a raw sambal of cucumber and grated coconut where the Bunga Bongkot (ginger torch flower) is used. Which I also missed as it was not that evening's street food pasar malam menu.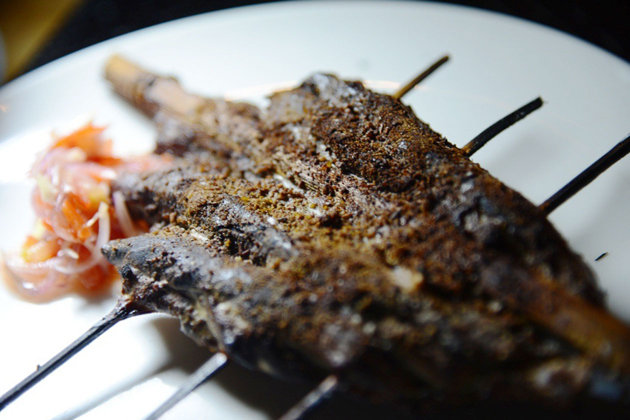 But they made a hideous looking but delectable Cakalang Fufu (with those bonitos) – barbecued with a dark marinate and serve with pickled spicy chutney. The soto ayam had a sourish tang which was wonderfully comforting. The serabi and their local style ice kacang (using crushed instead of shaved ice) sweetened the deal. With all the trappings of seaside villa comfort, street food presented in this manner is easily enjoyed by anyone.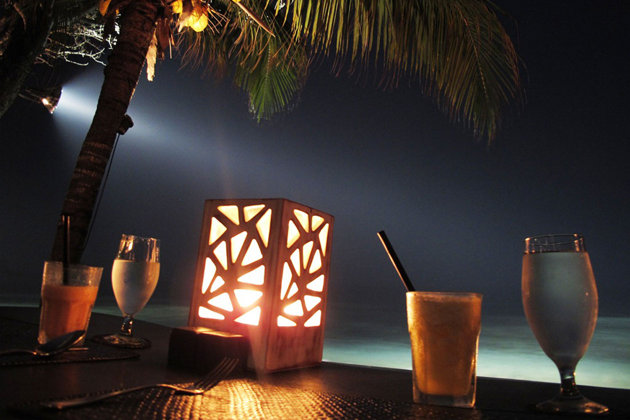 I got to be back for more of IbuSuta's babi guling and Lombok's iconic satay ikan tanjung.
Qunci Villas, Lombok