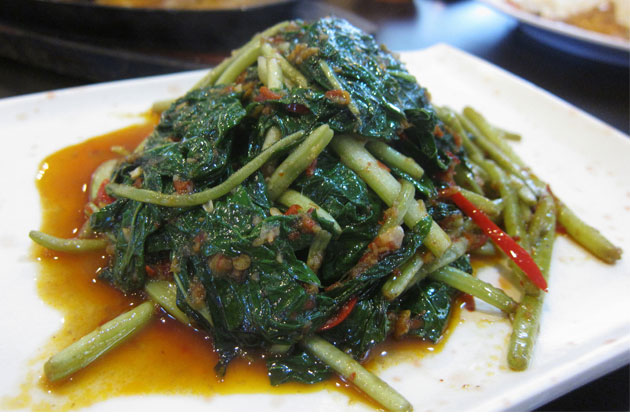 Sum Kee Restaurant: Among some of the best cze cha
By Tiantianchi - Friday, Aug 01, 2014
"You got to try Sum Kee!" That was Roberto Forzese's parting sentence at his farewell party. This Italian had lived in Singapore for more than five years and embraced our local food culture passionately. He could rattle off the best hawker food, the most obscured cze cha places and  eateries that didn't caters to tourists' or ang moh's palette.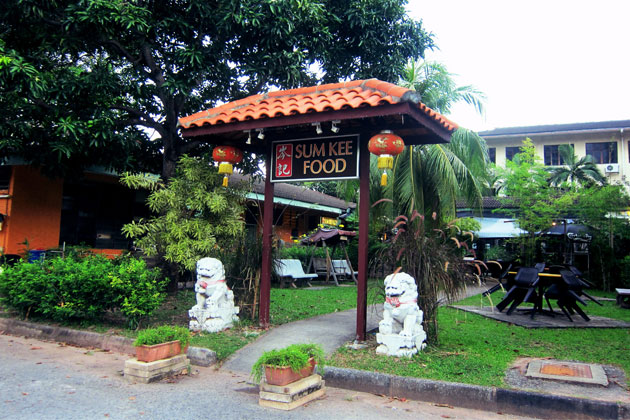 This place reminded us of the old bungalow restaurants popular in the '60s and '70s. The indoor air-conditioned dining hall was simple and functional and opened up to a shady and tranquil al fresco beer-garden-like outdoor seating. Even though it was in the day, many preferred to sit outside under beach umbrellas and with industrial fans blowing.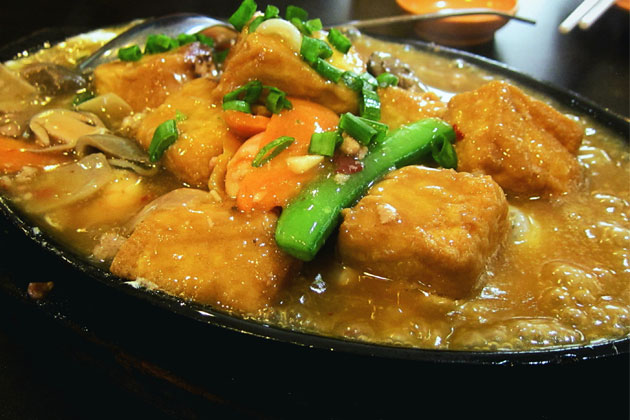 The menu was extensive, with more than 70 items, most of them wallet-friendly, too, starting from $6 for soups and $10 for most meat items. Some of the dishes came with strange names such as the "Crispy and Addictive Chicken Bikini Skin" (deep-fried chicken skin). It was certainly superior to the factory-supplied fried fish skin ($8). The "Kung Fu Pork Chop" (violently moreish) was actually pan-fried pork chop with Thai chili sauce, and it came a little lean but was still appetizing ($10).  "WaWa (meaning "slippery" or "smooth" in Cantonese) Steam Tofu ($10)" was steamed soft tofu with meat topping. There was also the curious "Ultraman Chicken" ($10), which the waiter could not explain. I could not understand the name for this salted egg chicken until my wife reminded that the pop culture space hero was nicknamed "Salted Egg Superman" in Hong Kong. I had tried salted egg with many ingredients, such as pork ribs, prawns, sotong, crab, and vegetables, and had been wondering why no one used chicken. This looked, smelled, and tasted calorific, but it was so addictive that we went for seconds.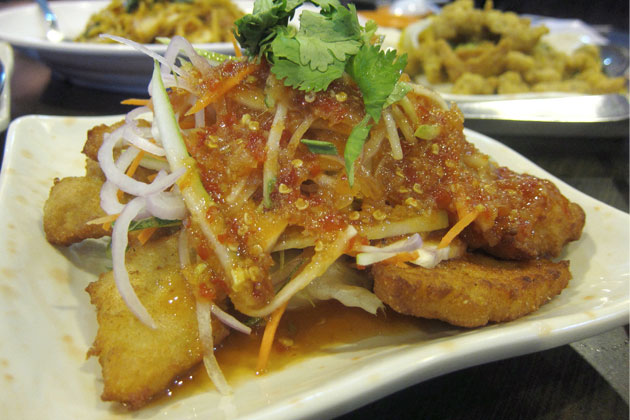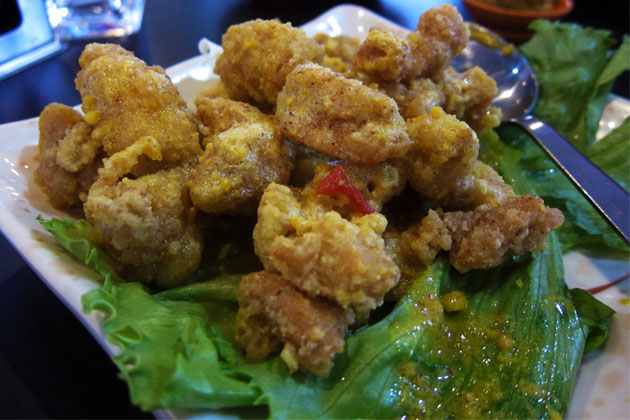 We were pleased with the several common cze cha favourites. Sambal sweet potato leaves, though a little oily, was not fibrous and sufficiently spicy. Bitter gourd with fish slices (or pork ribs, $10) in bean paste sauce is always on our to-order list at cze cha places, and theirs is dangerously moreish. It makes you want to have more rice with it. An alternative to this is to order the claypot fish head ($25). The fish head is big and meaty enough and there are so many sides in it that you almost don't need to order anything else for a small group. We love the idea of a raw egg topping it, adding richness and thickness, instead of being starchy. They have a satay babi, very un-Nonya, and their version comes with coarsely crushed peanut, which is sweeter and goes well with achar, another rice-friendly dish. Even a simple hotplate tofu is executed deliciously well. Do leave some room for the scrumptious Mee Goreng. Instead of the usual round Hokkien noodle, they use the flat version, and it comes with minimal alkaline taste.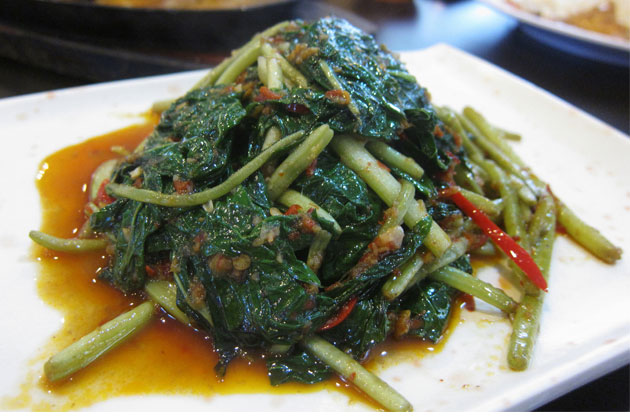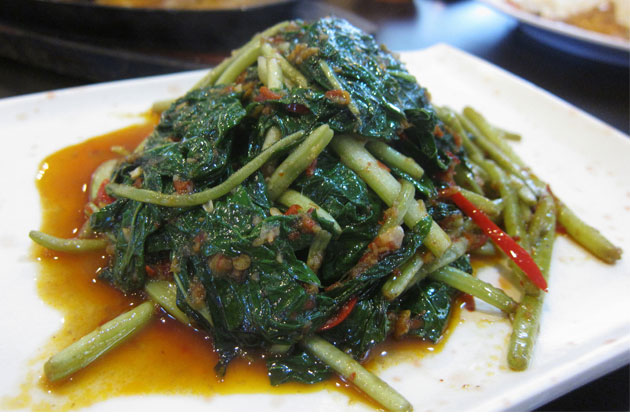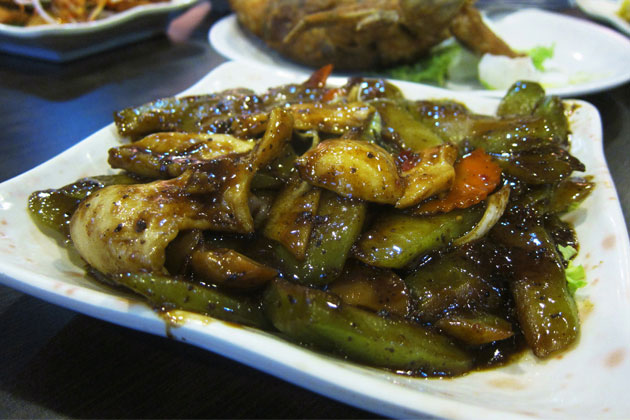 Besides the main menu, Sum Kee does introduce special dishes every now and then. At a recent meal we ordered the Wallet Chicken ($38). A lot of work is put into this. A whole chicken is deboned and stuffed with steamed glutinous rice then deep fried. Even the drumsticks were hollowed to be filled in. The glutinous rice was speckled generously with diced chicken meat, peanuts, chestnuts and shredded dried shitake mushroom is moist and deliciously toothsome. It paired divinely with the crispy "shell". This is the best dish we had and will not hesitate to order it again.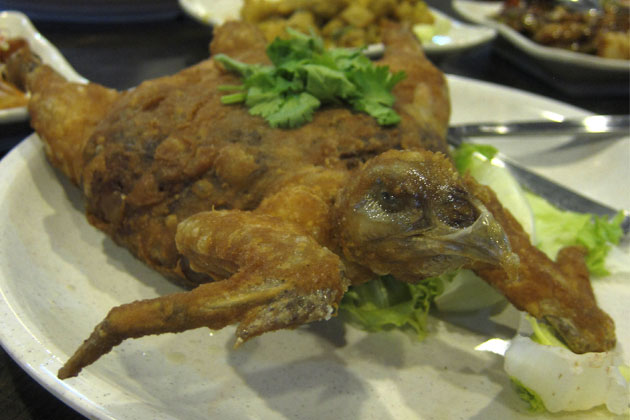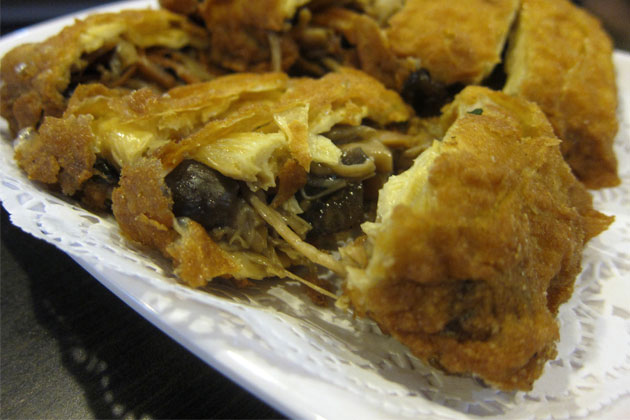 The service at Sum Kee is quick and efficient. They can, however, improve with more knowledge of the dishes. One of my pet peeves at restaurants is when asking for recommendations, we get the usual "everything is nice" answer, but these speaking robots get tongue-tied when we ask for descriptions. Otherwise they are genial and helpful.
Food here is hearty and family-friendly. We noticed a number of tables were having wine and were pleased to find that they have a friendly BYO wine policy, and corkage is only $1 per person. A few wine dinner gatherings are now planned.
SUM KEE FOOD
2, Telok Blangah Street 31 Yeo's Building
11.30am-2.30pm, 5.30pm-11pm