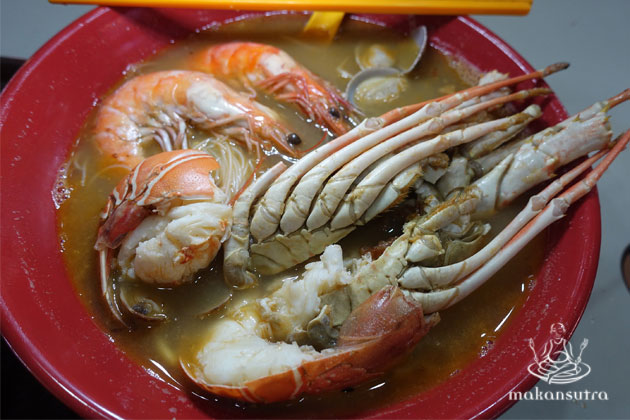 Sumo Big Prawn Noodles: Haha your way into the CNY
By KF Seetoh - Friday, Jan 27, 2017
If you've always wondered why the Chinese community here eat what they do and shun some ingredients, well, it's no big wonder. Unlike the northern Chinese folks who celebrate their new year with dumplings, all sorts of noodles and lamb hot pot, it's a different story here. We are overrun with the planet south Chinese, and to put it simply, Chinese New Year feasting is about eating all that sound (in Chinese) and feels good. We eat fish (Yue) for a smooth sail ahead, vegetables for luck (Chye), glutinous rice cakes (nian gao) for a higher quality of life, black moss fungus (fa chye) for prosperity, dried oysters (ho si) for good tidings, bak kwa (long yoke) for robustness, pineapple tarts (ong lai tar) welcoming the Gods etc.. you get the idea. They even blend the three emotions that form true happiness in a dish, Ho Si, Tung Koo, Fatt Choy (braised dried oysters, mushrooms and black moss fungus) , which means good tidings, sorrows and wealth. Then, there's prawns… which in Cantonese sounds like a good laugh, Ha!, and is taken to mean happiness here. So, here's a big haha for you to usher in the new year this weekend.
The first post on this giant prawn noodle stall, I saw on the internet was by another prawn noodle competitor, albeit with a big heart and a sharp palate. Ms Rui Fang of Whampoa 545 Prawn Noodle in Tekka Market facebook-ed this new stall a few months back, and it went viral. So, they all came, saw and devoured as did many other bloggers and mainstream media foodies. To me it meant, avoid, till the tides subside (can't avoid the term in this very wet week). So now the queues are more forgiving and only five thick, when I visited at 11am (instead of the old reports of 20 at any one time).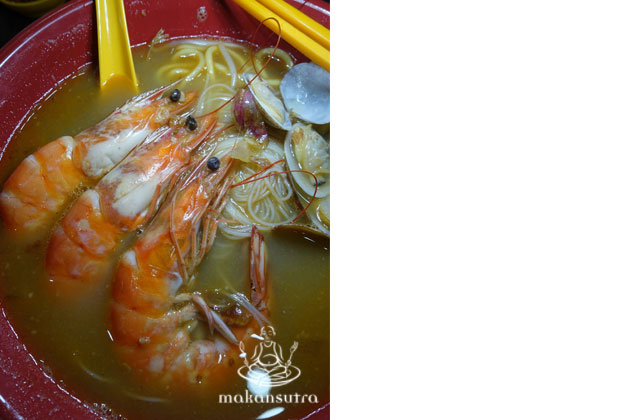 The main lure, is the giant prawns, crayfish and lobsters they let sit atop the wide rimmed ramen style bowls (otherwise the crustaceans won't fit). It came so impressive looking and instagrammable, which accounts for the online frenzy. I took on the $8 version that came with clams and three, thumb-to-index-finger sized, prawns. I had to take pictures for a start before I slurped the soup as the first litmus test. The cloudy shrimp broth had a sweetness that came from the clams..nice. But old school palates like mine yearn for that clear roasted shrimp shell stock simmered with fried shallots and sharpened with the umami of a good soy sauce. Then the prawnus-maximus came- the $24.90 whole lobster(chilled) version with giant shrimps and clams. How can you not like this (especially even more if your makan companion paid for it!). The portions are generous, and it feels satisfying.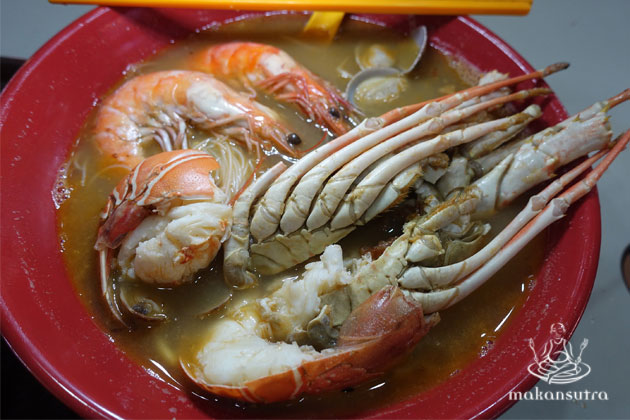 So, to new generation owners Desmond and Jerry Neo, laugh on and be happy, all the way to the bank, if need be. And may a delightful Year of the Fiery Chicken warm all our reader's hearts and spirits ahead. Kong Xi Fa Chye!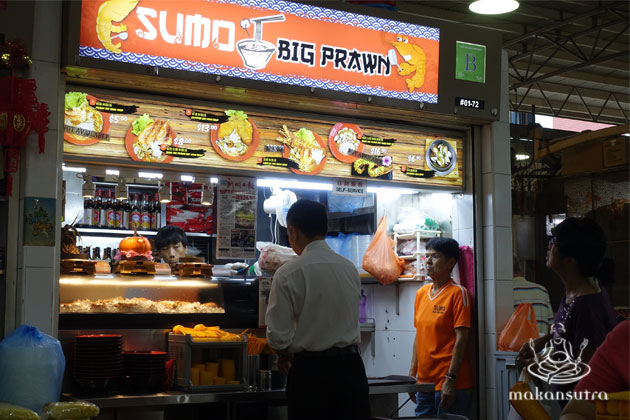 Sumo Big Prawn Noodles
Blk 628, Ang Mo Kio Ave 4 # 01-72
9am-9pm, Close on Monday