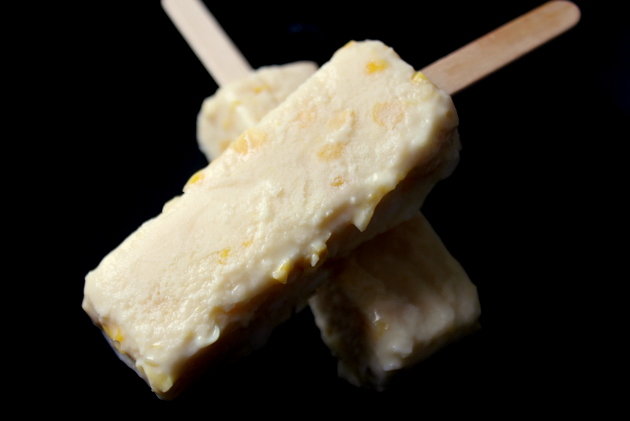 Sweet and Cold Nostalgia
By Stefanie Chao - Thursday, Aug 08, 2013
As Singapore approaches her 48th birthday, there is no better way than to celebrate with a refreshing treat that provides a fond walk down memory lane. Many from the older generation will remember potong ice-cream, perfection in its unadorned state, a fond reminder of the simpler days when ice-lolly moulds, ice cream machines and other gizmos and gadgets were not widely available.
To combat the heat, hawkers poured a creamy mixture of coconut milk, evaporated milk, sugar, infused with various flavours such as red bean, corn, jackfruit and even durian into moulds and froze them. Then, they cut them into blocks, pierced a wooden stick in, and peddled them from door to door. "Potong", which means cut in Bahasa Malay, then rose in popularity and demand through the late 80s and early 90s.
Today, its once glorious past is no more. There are only two remaining manufacturers in Singapore, one of them is Hong Kong creameries located on Sims Ave, founded in 1955, regarded as the original folks that popularised and commercialised it. [read here: http://sg.entertainment.yahoo.com/news/remembering-potong-ice-cream-090305030.html]
Although not as smooth as boutique ice creams or dense in flavour like Italian gelato, potong ice cream is a real joy to eat, filled with a taste of our local heartlands, and the best part is, you don't need any fancy equipment to make it! Regular ice cream needs frequent whisking or churning to break down and smoothen the ice crystals, however the fat content from the coconut milk ensures a smoother result even when it comes straight from the freezer. For this reason, freshly squeezed thick coconut milk from the wet market gives the best results although ready-to-use ones will not be too much of a compromise.
Traditional potong was made in long plastic bags or moulds;then cut into pieces. At home, you can do it in individual portions with Ziploc bags, or in metal trays to be unmolded then cut into blocks.
Sweet Corn Potong Ice Cream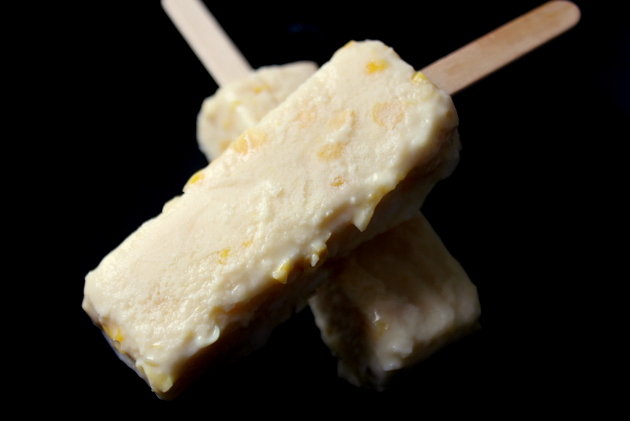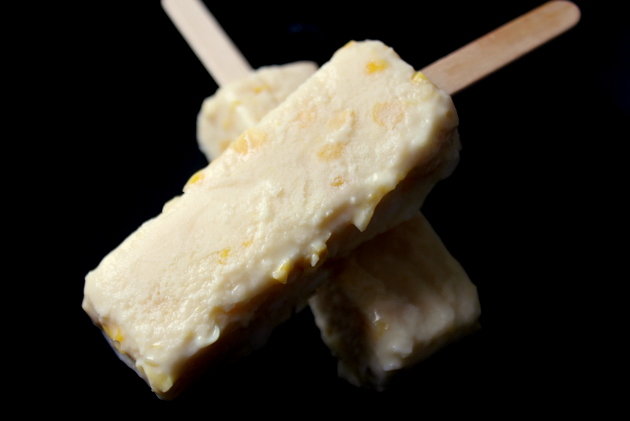 Ingredients:
300ml evaporated milk
300ml thick coconut milk
300g creamed corn
100g sugar
Flesh from 1 young coconut, diced finely
1 tsp vanilla extract
Few drops of yellow coloring (optional)
Methods:
1/ Combine the evaporated milk, sugar and vanilla in a heavy-bottomed pan. Cook until the sugar dissolves (about 3 minutes).
2/ Stir in the thick coconut milk with a pinch of salt, and once it comes to the boil, turn off the heat. (keep stirring and turn off the heat immediately once the mixture starts bubbling to prevent milk from precipitating).
3/ Stir in the creamed corn and coconut flesh. Tint a pale yellow with some drops of food coloring if desired. Leave the mixture to cool.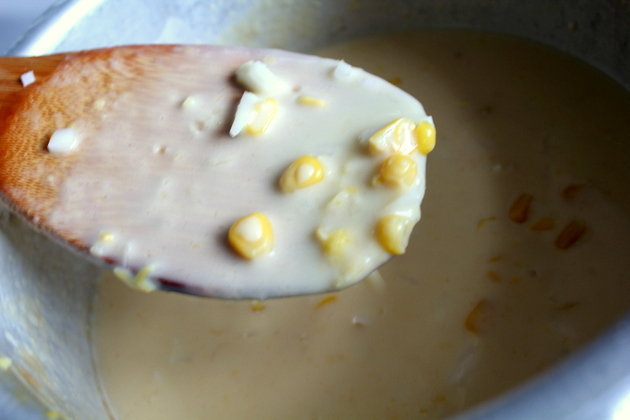 4/ Carefully pour into an 8-inch square tin which has been lined with enough plastic wrap or waxed paper to hang over the sides, and freeze it till solid (about 4 to 5 hours).
5/ Lift up the sides of the paper-plastic layer to unmold the ice cream, then cut into 5 portions (as desired). It should be firm, yet able to withstand an ice-lolly stick being inserted in before serving.