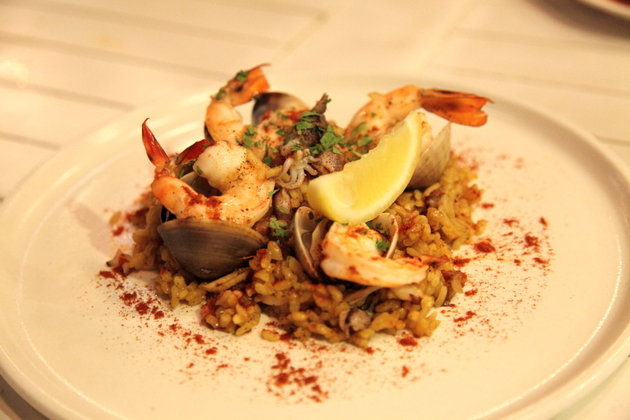 Tapas-Watermelon And Salty Anchovies
By CK Lam - Wednesday, Jul 17, 2013
On the bustling Burma Road in Penang, El Faro is the latest addition to a handful of genuine tapas joints around town. Small plates of tapas, prepared by executive chef Jack Yeap, come with rich offerings of pungent cheeses, olive oils, premium sardine, anchovies and tuna.
Tapas, or small plates of snacks, which originated from Spain, are best enjoyed under the covered patio in front of this restaurant. Alternatively, there's also an indoor air-conditioned dining area. Try the Boquerones – a perfect marriage of refreshing sweet watermelon, salty preserved Spanish white anchovies with mint, sea salt and extra virgin olive oil.
The next dish is slices of toasted bread with topping of anchovies, red pepper and eggplant. The anchovies, which are preserved in vinegar and olive oil, complement the other ingredients. The Gambas al Ajillo dish had fresh prawns sautéed with garlic, white wine and herbs.
Clams cooked with chorizo sausage arrived on the table in a beautiful sauce of white wine, herbs, tomatoes and onions. We had pieces of toasted bread to soak up the sauce with sweetness of clams and smoky flavor of the chorizo.
There's a dizzying variety of pork dishes. The deep-fried Crispy Pig's Ear offers an interesting chewy texture. Combinations of mixed spices give this snack an addictive flavour. Another pork dish created by the chef includes the Tender Pork Belly, which comprised the pairing of fork-tender pork belly and cabbage with refreshing boost of maple and lime sauce.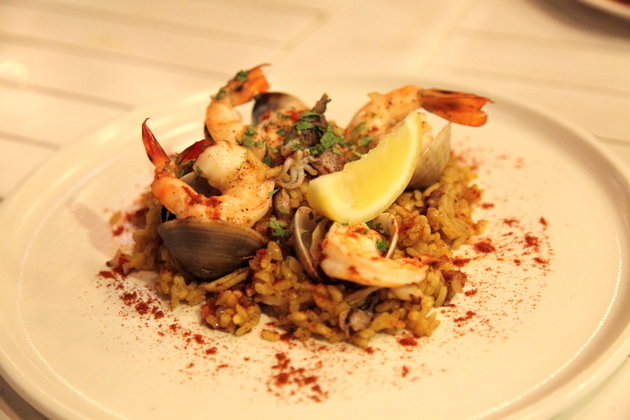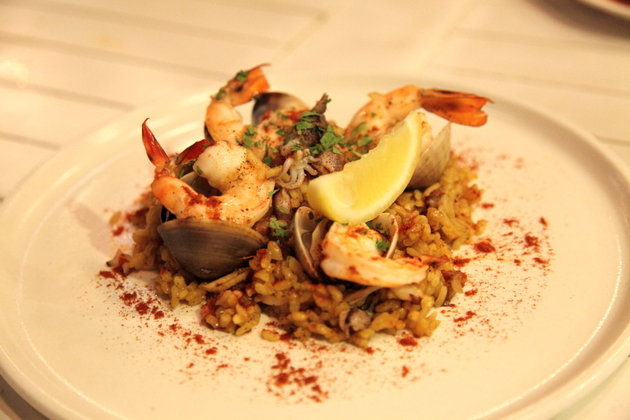 For a heartier dish, there is the El Faro paella, prepared with seafood and homemade stock. The rice served up on a plate with fresh shrimp, clams and calamari has a more of an al dente texture. Infuse with the flavours of seafood, the rice is enticing with some chili powder and a squeeze of lemon but we would like the rice done with a little extra stock.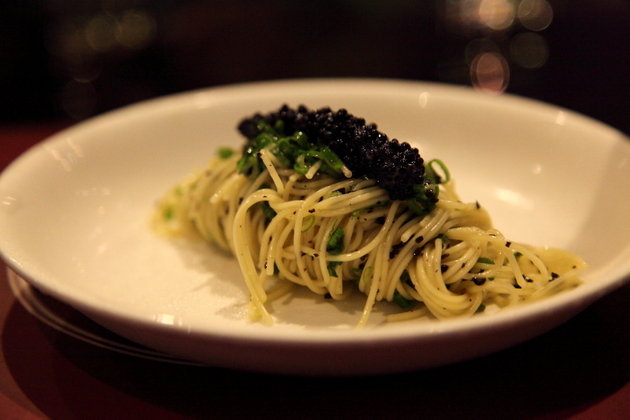 The chilled Konbu Capellini is immensely satisfying. The dish featured silky thin and long angel hair pasta garnished with slightly salty black lumpfish caviar and perfumed with truffle oil.
Besides that, we also enjoyed the Bikini, a simple and tasty sandwich with ham and truffle honey, and a bowl of Patatas Bravas (crispy potatoes with skin) doused in slightly spicy bravas sauce and garlic aioli.
El Faro also offers a selection of wines and cold beers to go with the tapas. The place is generally busy during its business hours from 3pm till 11.30pm (Closed on Wednesdays).
El Faro
231 Jalan Burma
George Town
10050 Penang
Tel: 04 2272310