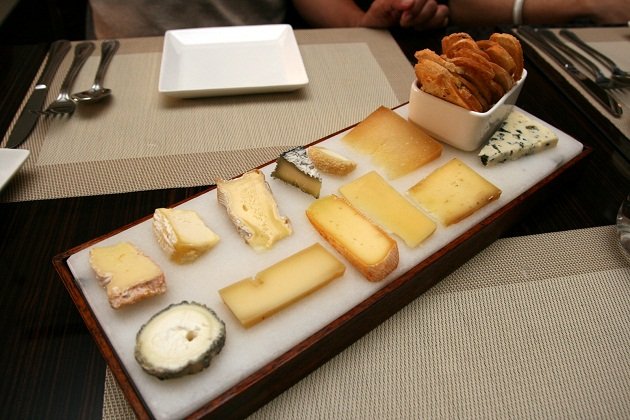 TARATATA BISTROT: Affably Affordable French Far
By Catherine Ling - Thursday, Oct 04, 2012
Taratata Bistrot is the dream of two French chefs Bertrand Raguin and Philippe Nouzillat who wanted to offer unpretentious French fare with regional focus, but in their own style. Classics like escargots, steak tartare, duck confit, boeuf bourguignon and steak frites stand firmly on the menu that aims to "get back to the roots of French cuisine".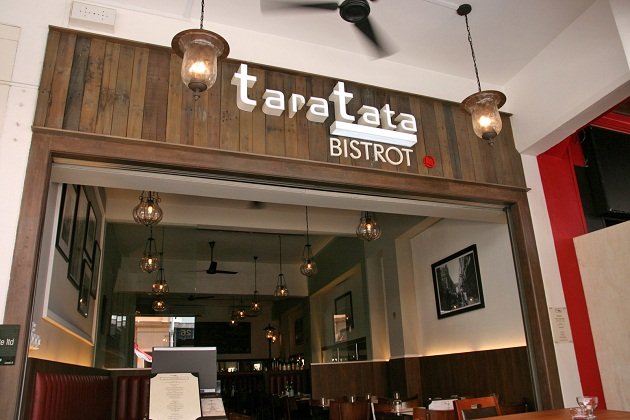 Why a bistrot for the very experienced chefs who have successfully handled fine-dining establishments? Both feel that Singapore could do with more relaxed French dining spots. You don't have to dress a certain way, or follow fussy dining protocols. But the food should still be good and showcase the regional diversity of French cuisine.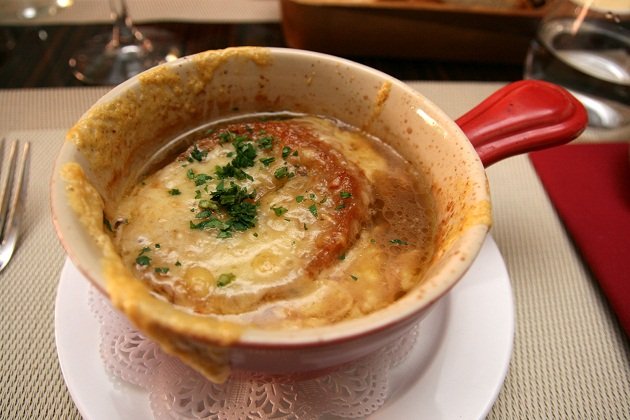 The food served here is certainly competent, but as with many eateries, some dishes stand out better than others. Here's a quick look.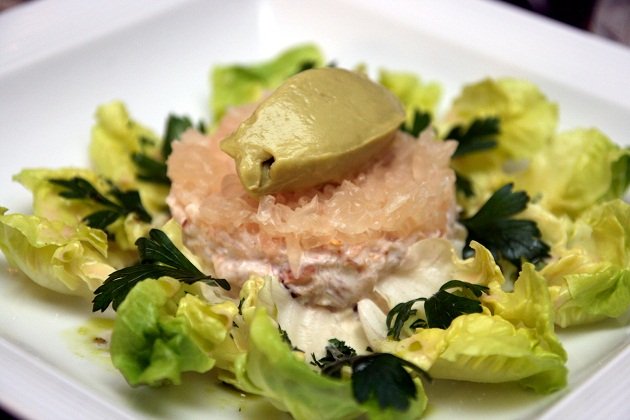 A robust rendition with lots of cheese and onions. The full portion is rather filling (halved portion shown here), so small appetites may want to share this instead.
This is possibly a little too creamy especially with the avocado. The crab's delicate flavours end up being masked by the dressing.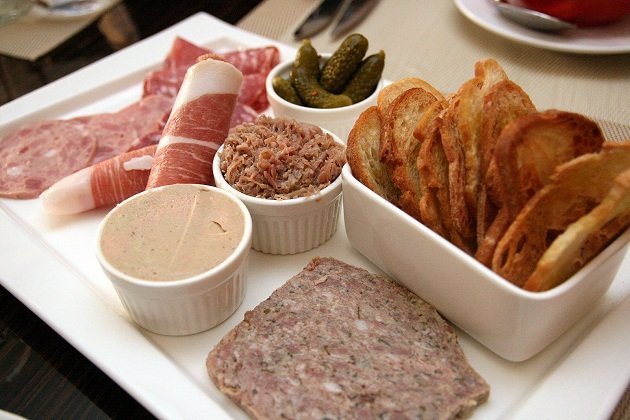 A pleasant platter of sausages, ham, pate, duck rillette, terrine, cornichons and crispy toast. There's a little bit of everything, so it's great for sharing.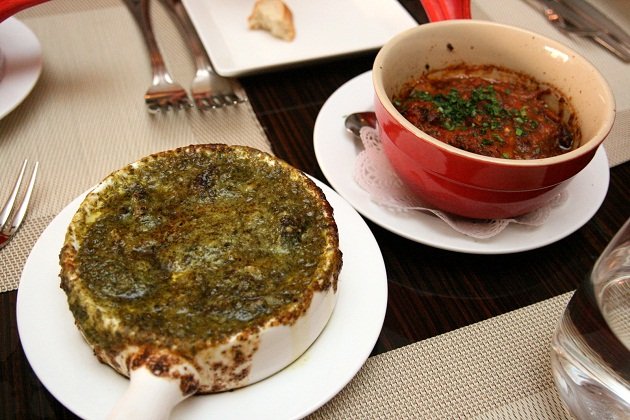 You can see just how richly intense the stew and herbed butter are. The escargots are specially prepared so that they are always served soft, smooth and al dente in texture. Snail lovers should be pleased.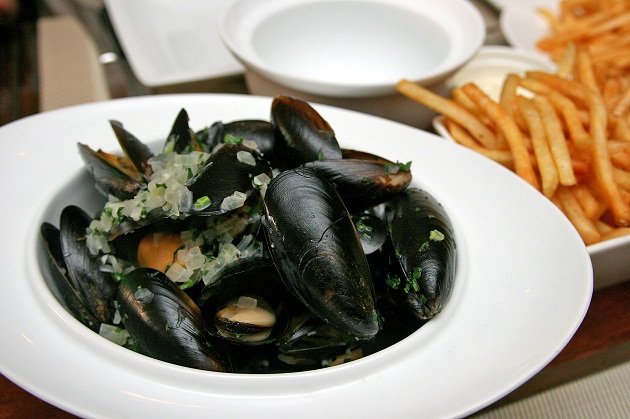 Now this was the surprise find. The moules frites were superb, with a sauce that will have you begging for more bread to mop up the excess with. Possibly the best dish of the lot.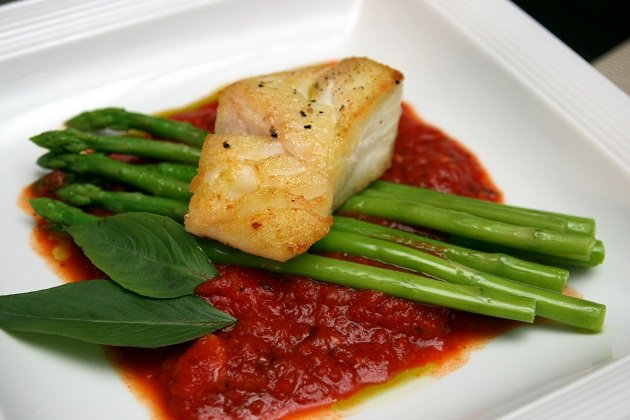 This beautiful slab of cod is nicely baked, but probably deserves something better than the tomato sauce. It all looks more vibrant than it tastes.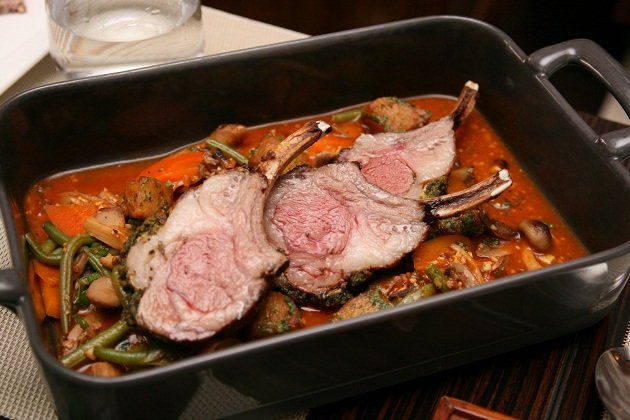 Now what a gorgeous tray for hungry eyes! The lovely rustic vegetables really bring out the flavour of the garlic-crusted lamb. Don't eat them separately.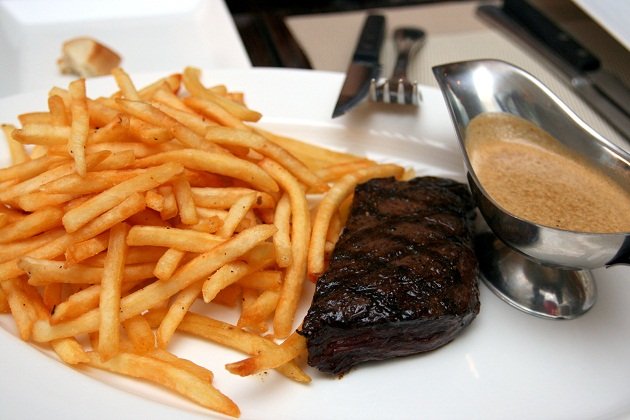 Their set lunches are good value, but the steak is a tad overdone and even the cognac-scented black pepper sauce cannot rescue it much. So it might be a good idea to ask for a doneness level one step lower than what you normally have, or check with the server what their definition is. The crisp shoestring fries will keep you happily satiated though.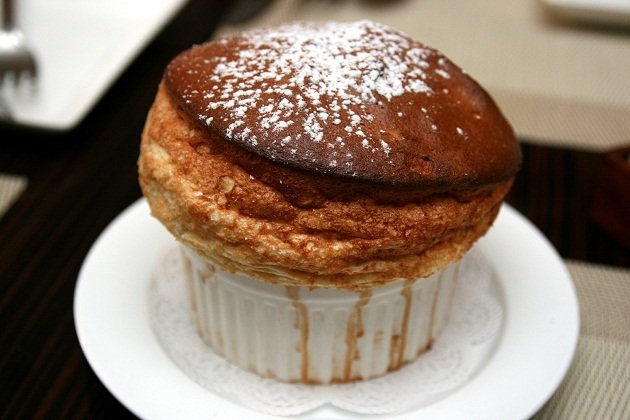 There are a few dessert selections, but this giant souffle is one of their specialities. And yes, they are generous with the Grand Marnier!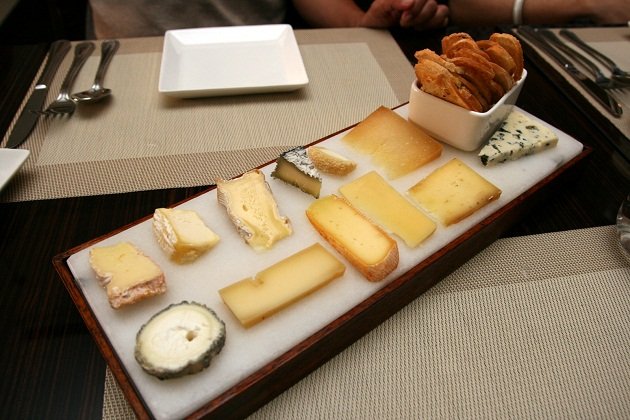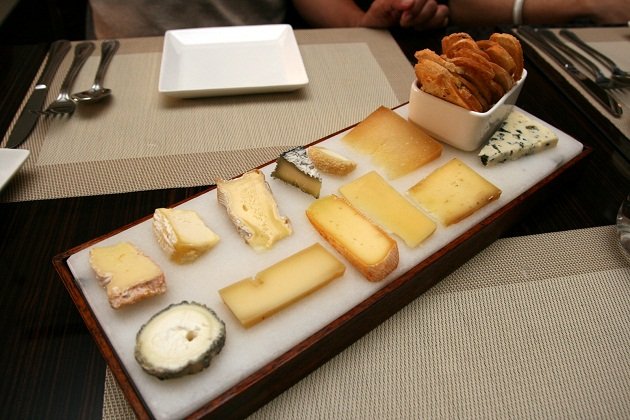 French artisanal cheeses – that's dessert for some! You get a selection of ten varieties (they were very kind to throw in an extra two that day), so it's a small feast in itself. These are personally sourced by Bertrand (he is a cheese lover himself), and include Saint-Maure and Bleu d'Auvergne. These were very satisfying but a couple of the hard cheeses seem to have dried out a little on the rind.
As Bertrand and Philippe are both from wine regions of France, their bistrot carries a strictly French wine list of more than 60 hand-selected labels.
For the quality of food in general, Taratata Bistrot is still good value for money. It does make French cuisine a bit more accessible, and you can leave that fancy suit at home.
TARATATA BISTROT
35A Keong Saik Road Singapore 089142
Tel: +65 6221-4506
Open daily except Mondays
Tuesday-Friday & Sunday: 11.30am – 2.30pm; 5.30pm – 11pm Saturday: 5.30pm – 11pm