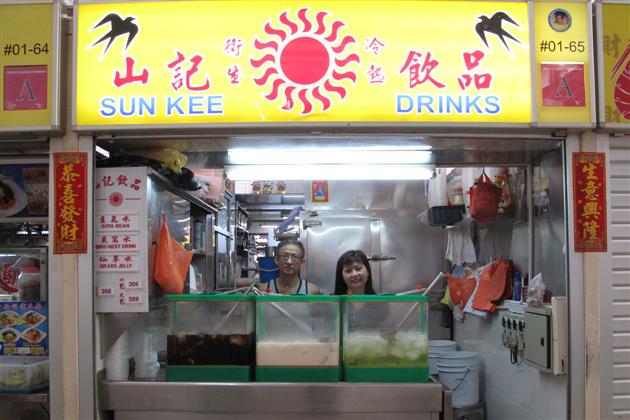 Tau Hway and Bird's Nest for 30 cents? (Sun Kee Drinks)
By Jade Hu - Wednesday, May 14, 2014
In this day and age, where no one blinks over entry level $100,000 cars and tiny million dollar apartments, someone is selling tau huay at… 30cents (note the absence of a dollar sign). On average, a bowl of tau huay or silky bean curd goes for $1 these days. So is this some gimmick and who's behind it…?
A long line is snaking from this humble drinks stall at Kovan Hawker Centre. A husband-and-wife team – Goh Kai Suah, 50, and Chua Choon Huay, 48 – sells soy milk, bird's nest drink (not the real deal of course) and grass jelly for a mere 30 cents for a small plastic cup (and 50 cents for a big plastic cup). The tau huay costs a mere 30 cents for a small bowl, and gets sold out by 11am almost everyday.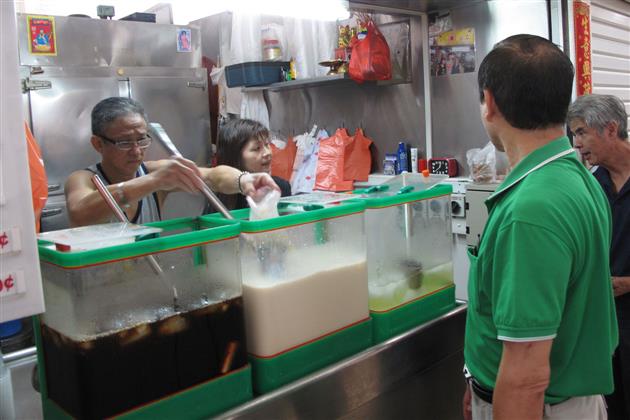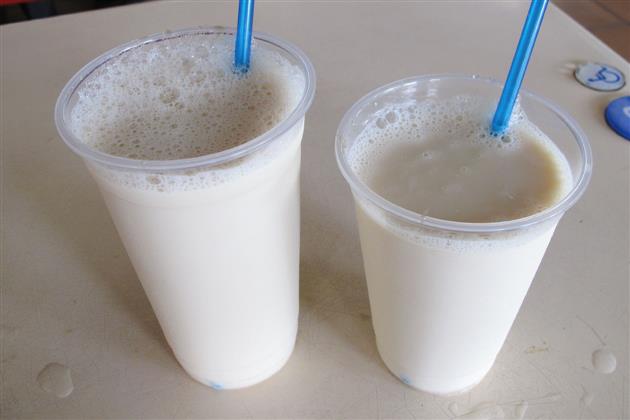 What's the catch and how can this be, you ask. Subsidized rental rates, for one. Mr Goh inherited the stall from his late father – a first-generation hawker selling the very same drinks at a roadside stall on Upper Serangoon Road in the 80s before relocating here in 1985. He declined to reveal the exact rates but it is known that first generation hawkers pay very low 3-figure rentals back in the day and the rates barely rise even when the stall is handed to a second generation.
Do they make any money by selling at these retro low rates? Ms Chua believes in a "low profit, vast sales" strategy (薄利多销), plus maintaining near rock bottom prices helped them retain their customers and attracted new ones – many of whom are price-sensitive foreign workers who drop by en-masse for lunch and pop over to 'da bao' drinks for their colleagues. Mr Goh does not wish to reveal how many cups he sells a day; his wife just said, "We are too busy to count, also no need to count, lah." It's clearly no easy money though – despite the brisk business, the couple worked fast and furious on their feet for hours each day.
They get their soy bean milk and beancurd, and grass jelly from a supplier, and the bird's nest drink does not contain any real bird's nest – "It's just a name, that's all". They make the drink themselves using pandan leaves. The grass jelly also comes in a big blob, which Mr Goh transforms into smaller, QQ, choppy strips using a handheld grater. To quell suspicions about cutting corners to achieve this low price, Ms Chua said, "Let's say if we really dilute the drinks, customers will eventually realise and stop buying."
Mr Goh is also a staunch Buddhist and believes that keeping low prices is part of giving back to the community, "We used to be very poor – so now we want to serve the low-income people out there. We used to sell at 5 cents for half a cup, and 10 cents for a whole cup, in the 70s."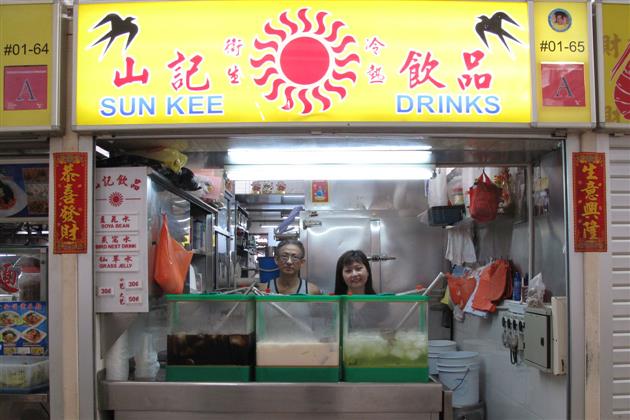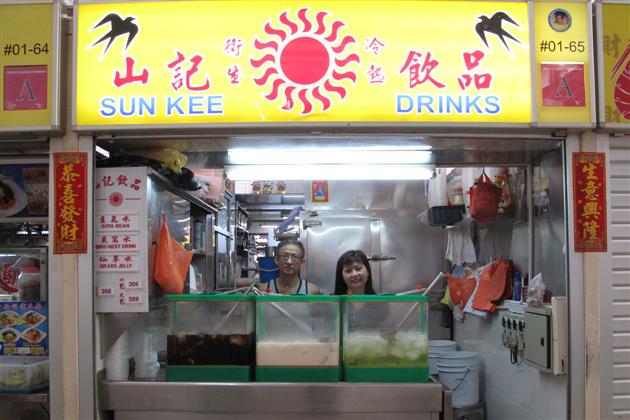 Now, just how many successful hawkers actually think this way, we wonder.
Sun Kee Drinks
Blk 209 Hougang Street 21, Kovan Hawker Centre, #01-65
Hours: 6am – 3pm (or until sold out)
Closed on Mondays