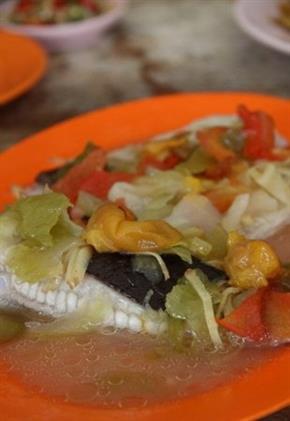 Teochew Treats At Yoong Kee, Penang
By CK Lam - Tuesday, Apr 17, 2012
Penang's culture is heavily orientated to the British influence during the colonial times, and this clearly shows in the architecture and cuisines. However, the Chinese culture remains strong and unwavering, with Yoong Kee Eating House standing proud against the test of time. Having been operating for slightly more than half a decade, this place is definitely a strong testament to the rich cuisine greatly appreciated by the people.
Its premises have remained constant throughout the times; it is right in the heart of Bukit Mertajam and placed in the bustling Jalan Pasar. Dishing out simple yet robust Teochew food, Yoong Kee is among the oldest Teochew restaurant in the northern region of Malaysia. Remaining authentic and untouched by modernization, the restaurant is simply like a shed with tables and chairs, and it does get hot during the day!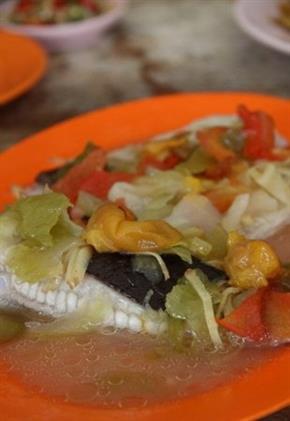 The signature dish that has been wooing the crowd for all these years at Yoong Kee is their Teochew Style Steamed Stingray. Pieces of stingray are steamed in a sourish and salty gravy, with ingredients of salted plums, salted vegetable, chili padi, ginger and tomatoes. The appetising gravy complemented the fish to perfection. Alternatively customers can opt for the white pomfret as well.
Other dishes that stand out include the Curry Spare Ribs, which had pieces of pork ribs cooked in a curry powder flavored by plenty of spices. At the opposite spectrum, Yoong Kee also prepares delicious sweet and sour pork ribs, or more commonly known to locals as Pai Kut Ong. The pork is deep fried on the outside, while the meat remained tender and soft. Both proved to be an excellent complement to the white rice.
There is also their other signature dish; stir fried chives with Teochew tofu in soy sauce. The tofu is deep fried with the outer rim slightly crispy and soft inside. It comes with a generous amount of squid and prawns.
On the whole, this historical eatery serves Teochew dishes at reasonable prices. With accordance to their tradition, all diners enjoy free cold desserts as well! Yoong Kee has been famed for serving black Chinese jelly known as Kuai Leng Koe.
Just a quick visual tour around the place will show the historical value that has been well maintained at Yoong Kee Eating House. For starters, the signboard at the top of the shop has remained unchanged since the very first day of operation, and the telephone number inscribed alongside shows only 3 digits! On top of that, the kitchen maintains the old school look with the old fashioned concrete stove. Their cooks were seen walking around wearing the Chinese clogs, making the click-clack sound!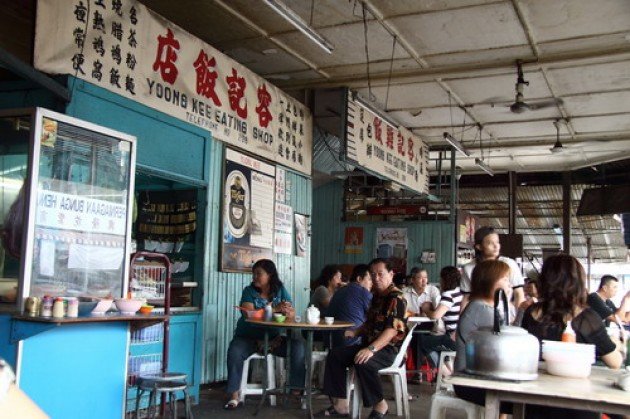 Opened for both lunch and dinner, Yoong Kee receives a steady stream of customers throughout the day. During peak hours, the restaurant is commonly full and many customers are seen standing around waiting for a place since tables are limited. However, for excellent Teochew food in a historical place, it is definitely worth the wait.
Yoong Kee Eating Shop
207, Cheok Sah Square, Jalan Pasar, 14000 Bukit Mertajam
Tel : +60 04 5302296
Opens 11am – 3pm and 6pm – 10pm