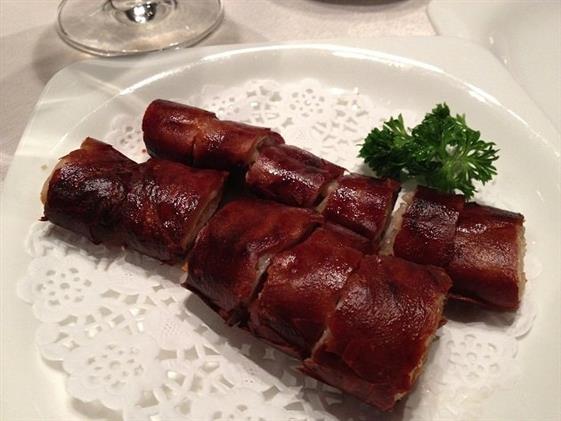 Textural Eating
By Sylvia Tan - Tuesday, Jul 31, 2012
WOULD you eat pig's ears, trotters, tail, duck's webs, chicken feet, fish-heads or fish eyes?
No? Too exotic?
Well then, do you eat gluey oxtail, fiddly fish fins or chicken wings or even beef brisket with all its sinews broken down into melting tenderness?
If you said yes to any one of the above, you are a sophisticated eater, someone who looks not only for taste, but also texture, when eating.
Bored with just lean meat, you get excited when you encounter slippery gelatinous stuff in a mouthful, when you can suck the sweet hell out of bony fins, when you will take time to pick the bits of flesh and skin from a chicken claw, or when there is chewy cartilage amidst flesh to crunch on!
While the Chinese are famed for their love for texture in their foods, they are not the only ones. The favourite bar snack for the Thais is deep-fried chicken knuckles, apart from their chicken feet salad!
The British also do a potted terrine out of pig's ear, which famed British chef Fergus Henderson, popular for nose-to-tail eating at his restaurant, St John's in London, produced during his recent visit here. The Scots meanwhile make haggis, a sausage made from sheep's lungs, heart liver, what else… all stuffed into the animal's stomach!
In Singapore, we are spoilt for choice in the array of textural eating available, aside from the usual fish head curry places. And so if I get tired of plain old meat, one thing I would hanker for is Chui Hway Lim's jellied pig's ear terrine.
The restaurant housed in the clan association building at Keng Lee Road is famed for its old-fashioned Teochew eats.
Here their pressed pig's ear, braised in a soya sauce marinade and jelled into a terrine, is something that every table orders. It is a classic Teochew dish, much acclaimed here even by the oldsters, which means something!
For a more down-home but no less interesting eating experience, I head to Ting Heng Seafood at Tiong Poh Road in Tiong Bahru. Aside from its other specialties, this one stands out: oh, so tender pig's intestines stir-fried with lots of black pepper: rich and peppery in taste, best eaten with lots of rice!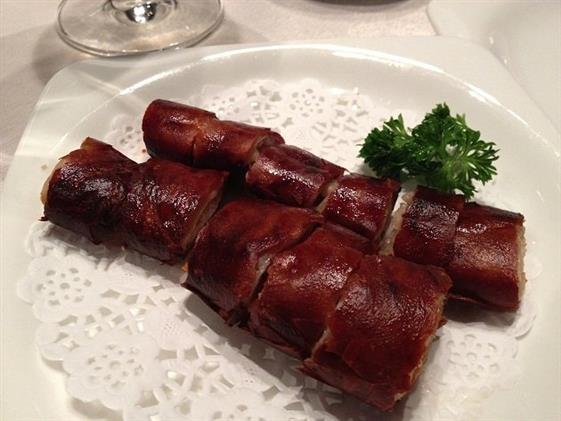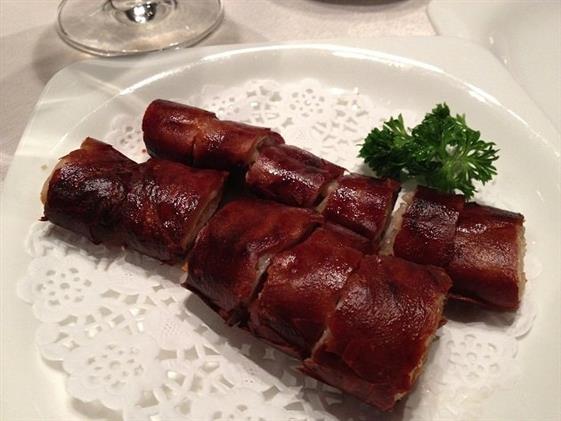 Or else order its gelatinous pork neck, marbled with tendon, then braised till tender in soya sauce and sliced thin, excellent to start the meal off.
But if I really want a feast of textures, I head off to the Imperial Treasure outlet at the Crowne Plaza Hotel at Changi Airport's Terminal Three along Airport Boulevard. Despite its far-flung location, the crowds have cottoned on and the tables are packed with families all dining on classic Cantonese fare.
While Chinese restaurants round the island will offer you soy-ed duck's webs and wings as a cold starter (try Jade Palace's at Forum Galleria in Orchard Road), here you will get a feast of larger braised goose webs, topped over rice noodles or kway teow, rich with chewy cartilage. That will keep you busy for a while!
Even the old standard of steamed fish can be something unusual: While there is the more common sea bass and soon hock to be steamed, here turbot is also on offer.
And foodies know that turbot, a European fish, is not only sweet, but also full of textural bits. Best of all, it boasts of expansive wings, which any fish eater knows is the best part of the fish to eat, aside from the stomach and head, of course!
Then there is their deep-fried pig's intestines, which despite the description, is more sublime than earthy eating.
Crunchy on the outside, that gives way to a more chewy experience after the first bite! And if you're worried about the smell, those intestinal tubes have been rubbed well with fragrant five-spice powder, making it a tasty and textural, but thankfully not an odoriferous, experience!