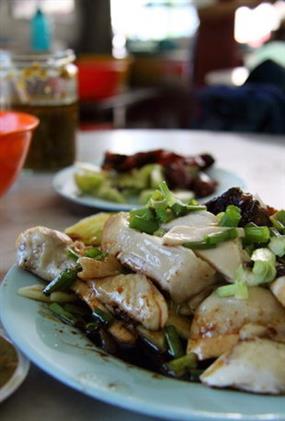 Thai Style Hainanese Chicken Rice in Penang
By CK Lam - Monday, Sep 03, 2012
Chicken rice can be found in most hawker stalls and food courts in Penang as the chicken rice is a popular and favorite food for many. There is one exceptional stall along Penang Road that sells Hainan Chicken Rice – Thai style. I was first introduced to Lam Hong Hainan Chicken Rice by a friend. Located in Hock Seong Choon coffee shop, this Thai style Hainan chicken rice was established 40 over years ago. The stall specialises in white and roast chicken.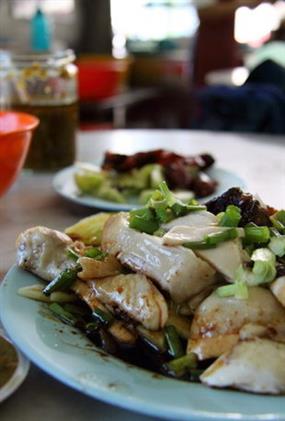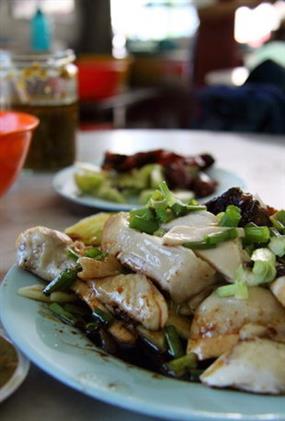 My plate with a selection of both white and roasted, was served with sliced cucumber and garnished with chopped spring onions with a drizzle of black soy sauce mixture and oil. The dish is served with a ladle of clear chicken soup.
The difference in this chicken rice lies in how its rice is flavoured. Herbs and spices are boiled together with the rice adding a refreshing flavour to it. It tasted good, flavoursome enough even eaten on its own. We like it.
Another item worth mentioning is the condiment, chili sauce. Slightly brownish green, the chili sauce is made up of coarsely chopped ginger, garlic, green chilies, vinegar and brown beans (tau cheo). The tangy, salty and spicy chili sauce has a Thai Teochew slant and goes perfectly with the chicken.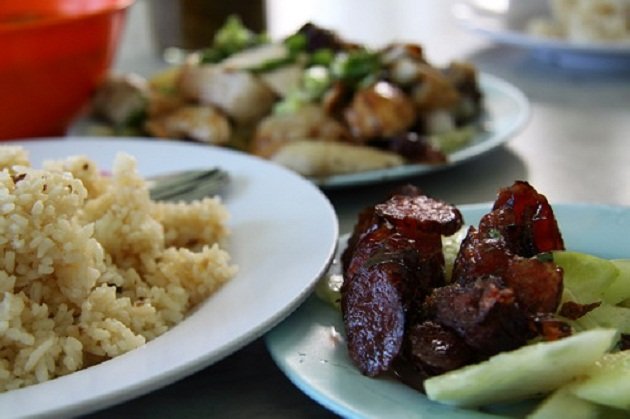 Lam Hong Hainan Chicken Rice is also very famous for its side dish of Lap Cheong (red Chinese sausage). I always have my chicken rice served with the Lap Cheong which is fragrant with hints of Chinese wine and a right texture, firmly soft, smooth and has enough bite.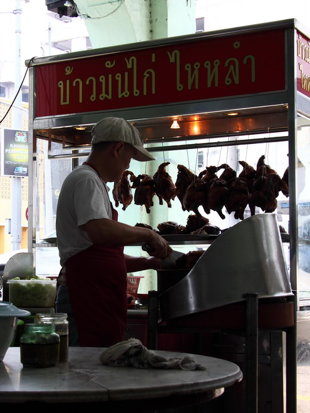 Do head over to this place if you feel like having flavourful chicken rice, appetising chili sauce and Chinese sausages. Overall, between the two types of chicken meat, I usually prefer the white one which is tendered compared to the roast meat. Still this is a good alternative if you want to have a different version of chicken rice. Prices are reasonable, with a single serving of chicken drumstick and rice costing RM6.
The coffee shop is almost always full especially with the lunch crowd. There are two different seatings, with tiny booth seats lining the wall and a middle row of round tables. It is easy to track down this place. Its frontage faces the well known KOMTAR Tower, with its side on Lorong Bertam which leads out to Macalister Lane.
Lam Hong Hainan Chicken Rice
Hock Seong Choon Coffee Shop Penang Road
Business Hour: Lunch till early evening Close on Sundays.