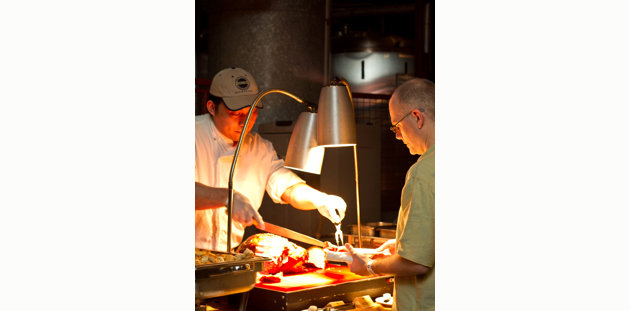 Thanksgiving: what and where
By Tris Marlis - Tuesday, Nov 20, 2012
This year's American Thanksgiving is on Thursday, 22nd November. It is a holiday invented and warmly celebrated by Americans. So why celebrate Thanksgiving in Singapore? Why not? Thanksgiving is a day to give thanks, reunion with family and friends, eat turkey and watch football for some. It's like Chinese New Year Eve reunion dinner but with an all American fare. Roasted Turkey is so common on the dining table such that Thanksgiving is also known as "Turkey Day". Any reason to bond and appreciate family and friends is a good reason to celebrate.
The American Thanksgiving holiday began as a feast of thanksgiving in the early days of the American colonies almost 400 years ago. In the autumn of 1621, the colonies harvested their first crops of corn, barley, beans and pumpkins. They were so thankful, a feast was planned. In the following years, Thanksgiving Day is a celebration of autumn harvest. In 1863, Abraham Lincoln declared that the fourth Thursday of every November is a national day for Thanksgiving. Today Thanksgiving is a day to give thanks for a good harvest, rejoice together after much hard work in life.
Here are a couple restaurants that offer Thanksgiving buffet. Join the feast and have a taste of this American tradition.
Town Restaurant, The Fullerton Hotel
Date: 22 Nov 2012 Time: 6.30pm- 10.30pm Price: Adult $68 Child $35 Menu included Roasted Turkey with Pumpkin Bread Stuffing with Cranberry Gravy, Prime Ribs with Yorkshire Pudding, Pumpkin filled Ravioli with Cheese Sauce, Pumpkin Pie and many more.
Brewerkz Riverside Point
Date: 22 Nov 2012 Time: From 6.00pm onwards Price: Adult
$55 Child $12 Menu included Roasted Turkey Breast, Roasted Ham with Honey Lemon sauce, Bacon Braised Green Beans, Pecan Pie and many more.