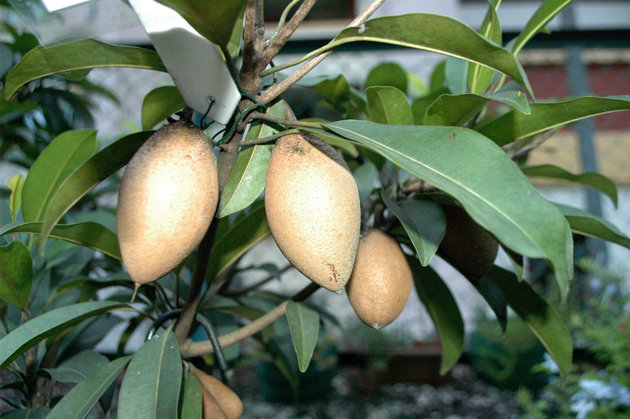 The 10 treasures hidden in our community gardens
By Joanne Yeo - Tuesday, Sep 25, 2012
Tongkat Ali, Kacip Fatimah, Buah Long Long etc.. Are these names familiar, strange or weird sounding to you? No, they are not names of your friendly Pakcik or Makcik in the neighbourhood. Neither is Buah Long Long the name of some fruity loan shark.
These are actually some of the many plants and herbs that are growing in the real life 'farmville' style gardens right in our neighbourhood. We visited a few of the more than 300 community gardens located islandwide in Singapore and list some of the more interesting discoveries and their uses.
1. Fig tree (Found at Jurong Central Zone 'G' RC Garden)
The fig tree can be seen growing outside the fenced-up Jurong community garden. Planted several years ago, the tree has finally bore fruits – plentifully. Mdm Kamisah, the principal gardener of Jurong East Ave 1 Garden says "drinking Fig tea is a good for people with hypertension, according to the internet." It can also be eaten fresh, dried or made into jams, she adds.
2. Buah Long Long/ Ke Dong Dong (Found at Tampines Starlight Harmony Garden & Jurong Central Zone 'G' RC Garden)
Known as Buah Long Long to the Chinese and Ke dong dong to the Malays, the fruits grow in bunches like grapes. Mdm Habibah, a gardener with Starlight Harmony Garden says this sour fruit can be eaten raw or dipped in a sauce mixture of kicap and chilli (much like how jambu fruit is eaten). At some hawker centre drink stalls, buah long long is blended into juice mixed with sour plums.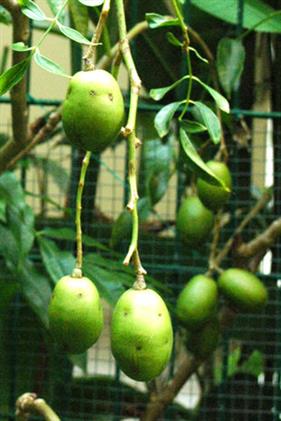 3. Pometia Pinnata (Found at Jurong Central Zone 'G' RC Garden)
This is a pretty uncommon fruit that not many people are familiar with. The fruit is sweet with a familiar taste that seems like a cross between lychee and longan. The seeds originated from Papau New Guinea and were donated by one of the residents and were planted four to five years back. It is now fruiting and hence the best time to visit the garden to have a look – or taste if you are in luck or plead with the caretakers to offer you some.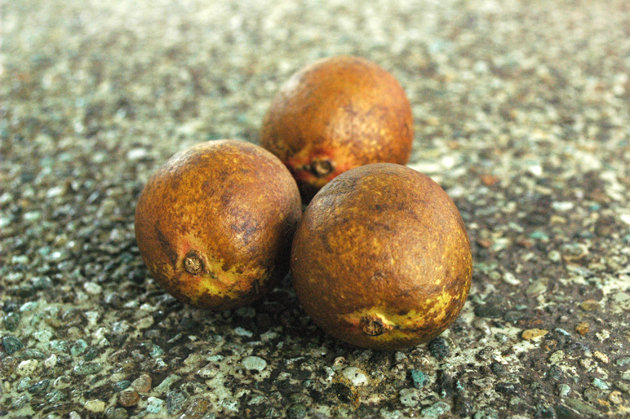 4. Bush Long Bean (Found at Jurong Central Zone 'G' RC Garden) 
Mdm Kamisah says that unlike the usual climbing varieties, the long bean grown at the garden is the bush (non-climbing) type that grows in clumps on the ground. From seed to fruiting, it takes around three months to see the result of the harvest (see picture). Long beans are commonly cooked by stir-frying with or without sambal.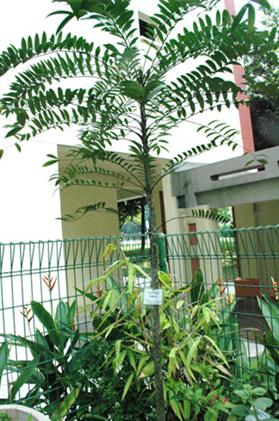 5. Tongkat Ali/ Long Jack (Found at Tampines Starlight Harmony Garden)
Tongkat Ali also known as Long Jack, is a commonly known natural plant that is used by men to increase sexual performance and libido. Mdm Habibah chuckles and says that the plant is good for providing 'stamina' for men. She adds on that although the roots is the part that gives maximal effect, the gardeners only use the leaves to make tea so that the tree can still be displayed in the garden. Surprisingly, not many know of its presence. Perhaps this is why the trees are still perfectly intact and in good condition.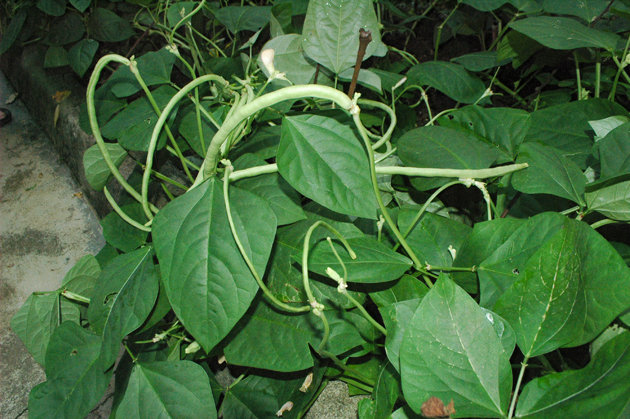 6. Kacip Fatimah (Found at Tampines Starlight Harmony Garden)
Like how Tongkat Ali is being used by men to increase libido, Kacip Fatimah is said to be the herb for the ladies. Mdm Habibah blushes and says the plant is one of the many ingredients used to make jamu to "tighten the private part", for womenfolk to drink after labour. But these days, they come in convenient pill form for the modern women.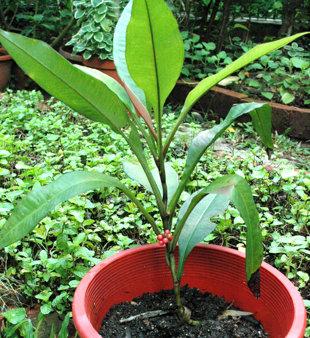 7. Passion fruit (Found at Tampines Starlight Garden & Jurong Central Zone 'G' RC Garden)
It took Starlight gardeners three years (after using the stem cutting technique) before witnessing its first fruiting, albeit still unripe and greenish (at press time). When ripe, the fruits are round and dark purple. Like grapes, they grow as vines with the support of a constructed overhead structure.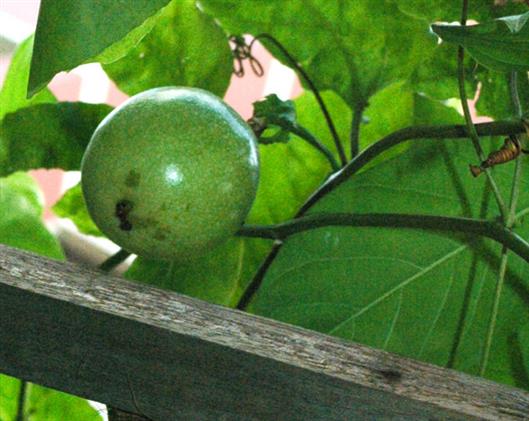 8. Stevia (Found at Jurong Central Zone 'G' RC Garden)
Stevia, also known as sweet leaf, is used as a sugar substitute and a natural sweetener – great for weight watchers and some claim that it may be useful for diabetics. As the name suggests, the leaf on its own, has a taste of natural sweetness and lightly minty flavour. Mdm Kamisah uses the leaves in combination with figs to make fig tea while other gardeners mix the leaves in hot water to drink.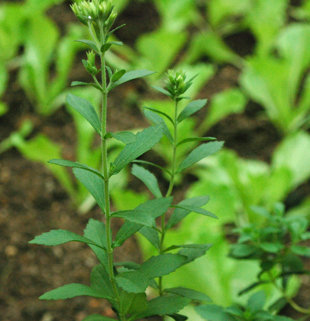 9. Chiku (Found at Jurong Central Zone 'G' RC Garden)
Slightly elongated with a smaller girth than the usual Chiku, the ones grown at the Jurong Garden is a different variety originating from Thailand, according to Mdm Kamisah. Besides that, she says this variety is also "sweeter". Originally obtained from a nursery as a grafted plant, it took more than 8 months before it started fruiting.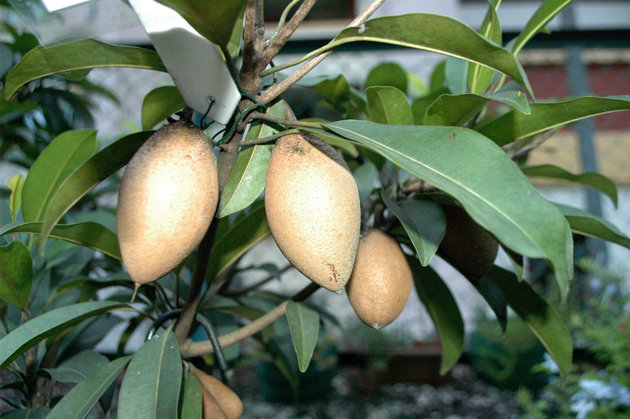 10. Cissus quadrangularis/ Devil's backbone/ Perandai (Found at Woodlands Zone 2 Unity Garden)
This unusual looking vine plant has branches that are quadrangular-sectioned and separated by nodes throughout its entire length. In Indian food culture, this is stir-fried or made into curry or chutney, an Indian condiment. In ayurvedic medicine, it is used for healing of bone fractures, says Mdm Lalitha, one of the main gardeners at Unity Garden.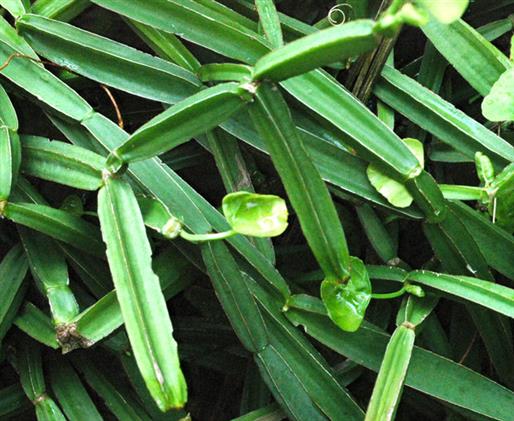 To make chutney, Mdm Lalitha grinds the plant together with tamarind, chilies, cumin seeds, ghee, salt and onion. She says the condiment "is very tasty (when) eaten with rice".
Tampines Starlight Garden Between Blk 718 and 720, Tampines St 72 Jurong Central Zone 'G' RC Garden Beside Blk337, Jurong East Ave 1 Woodlands Zone 2 Unity Garden Between 4 low-rising buildings (Blk 817, 819, 837 and 838), Woodlands St 82
The Community in Bloom (CIB) programme is a collaboration between the National Parks Board, Town Councils, Housing Development Board and many other organisations in 2005 to instill a gardening culture amongst Singaporeans through the creation of community gardens.