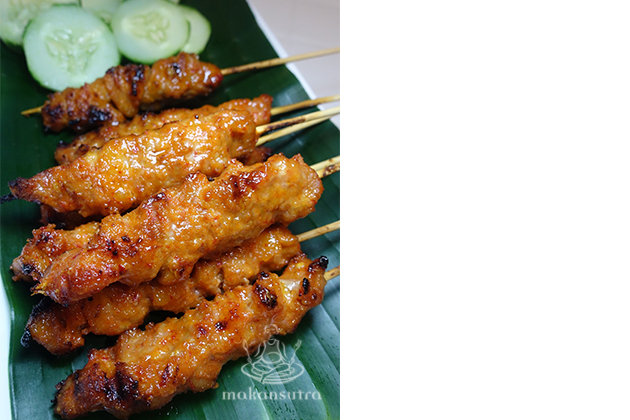 The Ampang Kitchen: The Satay Liar
By KF Seetoh - Friday, Nov 17, 2017
The thing about our beloved hawker food, is that we are all eating "LCD" stuff- or lowest common denominator. Bit by bit, we'll begin to lose dishes as a younger generation gets lost or mired in fads, trends and popular hipster fare. Many are clueless on what's not dangled in front of them. You begin to see more of the usual fish ball noodles, nasi lemak, chicken rice, porridge, prawn noodle etc…not even the surface of what we used to once have back in the day. I blame commercial reality. But in the wake of the popular home-cook chef's table culture, things may change. Many home based cooks like 71 year old retiree Raymond Leong (chartered accountant) and his son David (who shelved his arts and criminology degree) are offering vanishing, well executed and lost dishes from their one-table home meals. Local regulations allow them to offer the occasional one-table meal from their home-kitchen to supplement their income or as meaningful part time work.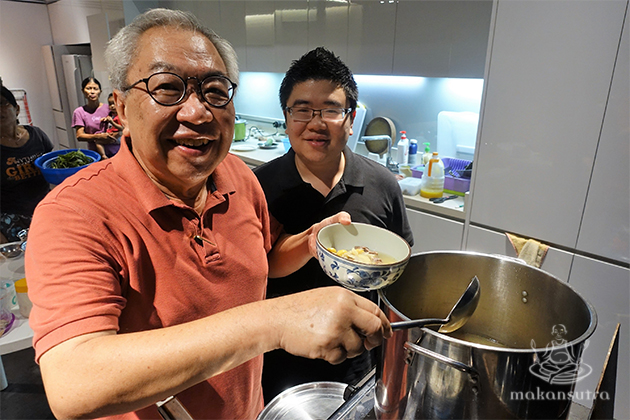 Raymond retired in 2000, when his former company was listed and he immediately went back to his childhood love- his Cantonese love for Peranakan food. He fell for Itek Sio at 16 and over the decades paid his dues experimenting in the kitchen. He even went to Penang and studied under a sifu and "learnt 74 dishes in 12 days fo RM10,000" in 2004. He went on to set up a few restaurants but operations and commercial intents was not his forte. So, 3 years back, he persuaded son David to take on his kitchen and earlier this year, began to offer meals in their white washed sprawling home, named The Ampang Kitchen. I had their upper tier 9 course dinner recently and I have to gush about some things today.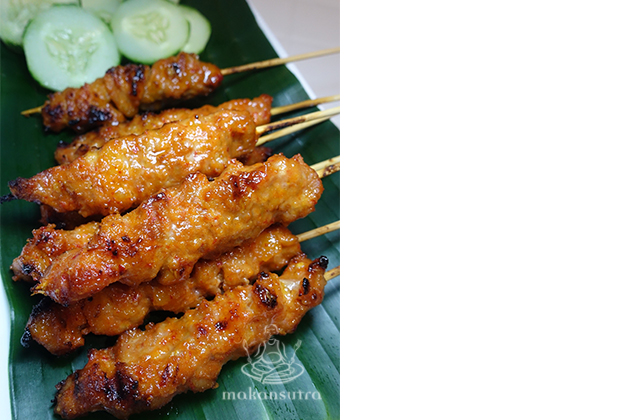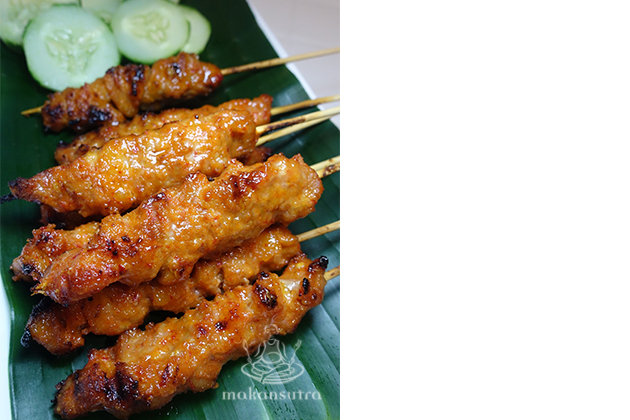 The starter of Satay Bohong (Satay Lie) was already a highlight. This is a thinking lazy-man's satay originally from Penang. No sauce is used but instead is buried in the marinate. Raymond uses belly pork and hid bits of fats and cartilage in the soft and roasty skewer- wicked, I say!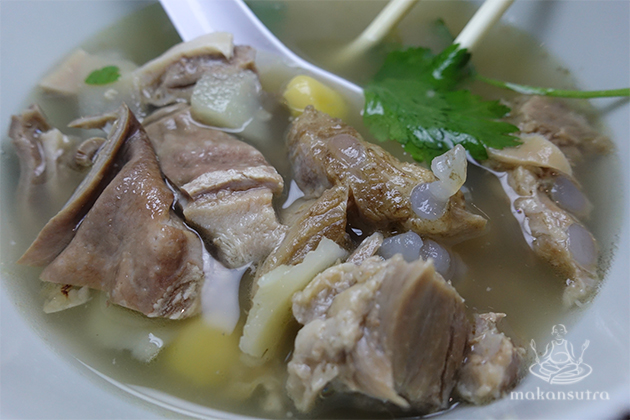 I forgot about this when the Ter Tor of pig stomach soup came a calling. You can tell they boiled the bones, pepper and dried seafood for hours to get the flavour and he placed shards of water chestnuts and gingko nuts with the soft pork ribs and pig stomach. I needed seconds.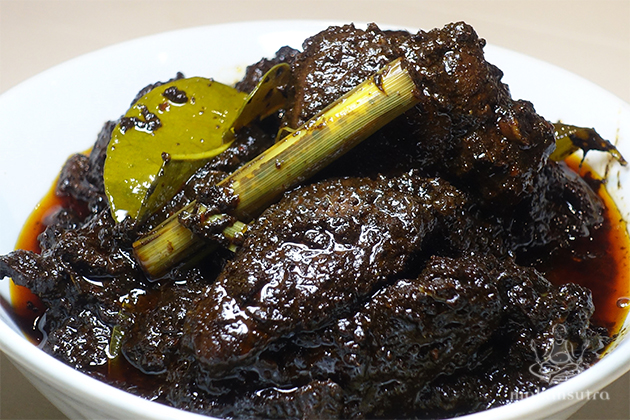 Of course he offered Ayam Buah Keluak– done sambal style sans the shells and it was a bowl of black pasty, smooth, rich and spicy mount of iconic goodness. He does not skimp on the nuts.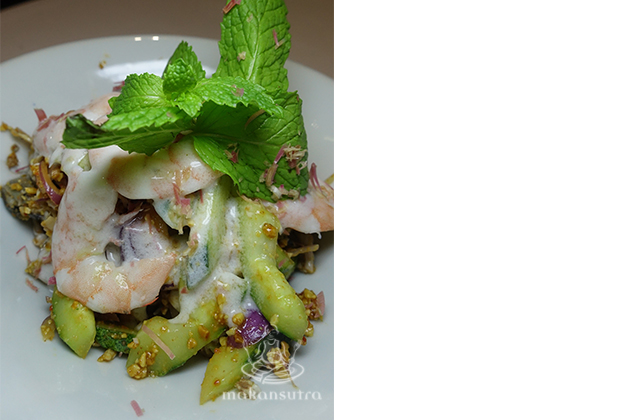 The Kerabu Prawn Salad with mango or banana flower was an epiphany. This rarely found in Singapore salad from Penang was so prettily plated and topped with mint leaves. The sweetish sourness was cleverly calmed by a splash of coconut milk. His Penang style Tau Yew Bak is the way to sin, properly. The belly pork slices came black, soft and boldly marinated in his "expensive Penang tau yew" or caramel black soy sauce.
Meals at The Ampang Kitchen starts at $60 for lunch and $100 for dinner (9 course) for a minimum of ten people and you can have take-outs from his kitchen too. Advance bookings needed.
The Ampang Kitchen
39, Jalan Ampang
Tel: +6596187107
Email: raymod@kitchensmart.com.sg
Check their full menu at facebook page : The Ampang Kitchen.