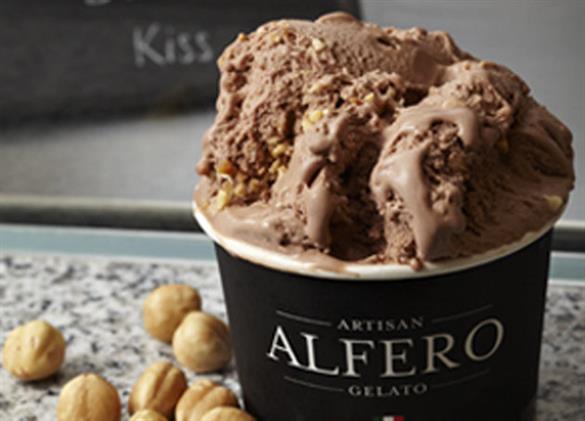 The Artisanal Gelato in the Heartland
By The Feiloh - Tuesday, Jul 23, 2013
Tucked away in sleepy MacPherson Lane is a café that serves authentic Italian ice cream or gelato, made by an Italian chef, Marco Alfero. Sure, he has outlets in Upper Bukit Timah and downtown in Marina Square but his outlet and kitchen in MacPherson Lane is where all the magic happens.
The finance manager turned gelato entrepreneur uses his kitchen-cum-laboratory to give his gelato a local twist such as by introducing durian (a mix of D24 and mao san wang varieties) and mango. However, it's his authentic Italian flavours of bacio (chocolate and hazelnut) and pistachio that really piqued our taste buds.
He proudly said: "In order to obtain the most intense flavours, I import the best hazelnuts from the Piedmont region in northern Italy, pistachios from Sicily in the south of the country, and chocolate from France."
He continued: "I even blind taste-tested 10 brands of milk here before settling on a one that has the creamiest flavour." As it would happen, the supplier was located across MacPherson Road from his kitchen and that made delivery of fresh milk easy.
Unlike other gelato or ice cream outlets that display their offerings in all their multi-hued glory behind glass, Marco's products are kept in a "pozzetto" cabinet that keeps his dozen flavours protected in light and air-proof stainless steel containers to maintain their flavour and quality.
Just ask for a sample, or two, or even the full dozen little spoonfuls of the different flavours until you make up your mind. And here's our tip: alternating between the nutty and fruity varieties is a good way of making sure your tongue doesn't get fatigued.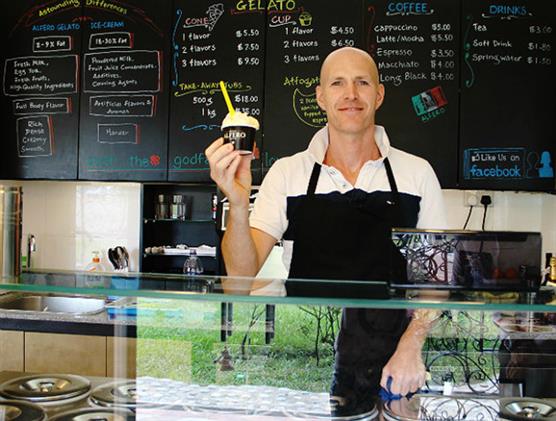 On the texture of gelato, Marco explained: "Gelato has less fat than ice cream that doesn't interfere with the taste of the flavour in the ingredients. Gelato also has less air and is not as hard as it is stored and served at a warmer temperature that allows their full flavours to come through."
The flavours currently on his menu include tiramisu, passion fruit, lemon, strawberry milk, pear, chocolate and mango. You can also choose to drown his milky gelato in espresso coffee for the classic Italian dessert affogato.
To cater to his customers' requests, Marco is always experimenting with new flavours. "I am currently tinkering with a malted milk flavour. A customer even suggested that I offer a cempedak gelato. I think can give that a try – once I figure out what kind of fruit that is," he laughed.
It is this ability to rapidly adapt to local tastes that sets him apart from other gelato purveyors here. Unlike franchise holders selling gelato, Marco knows how to tweak a recipe while retaining the rich texture of this type of ice cream; his skills and knowledge had been earned through a course at the Gelato University of Carpigiani in Italy.
For example, Marco said that one cannot reduce the amount of sugar, generally considered to be sucrose or table sugar, without affecting the texture of the ice cream. Companies that reduce table sugar usually have to substitute another type of sugar in order to maintain the texture that is characteristic of gelato.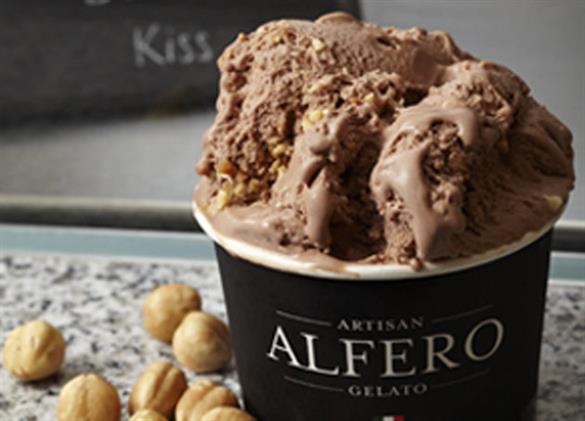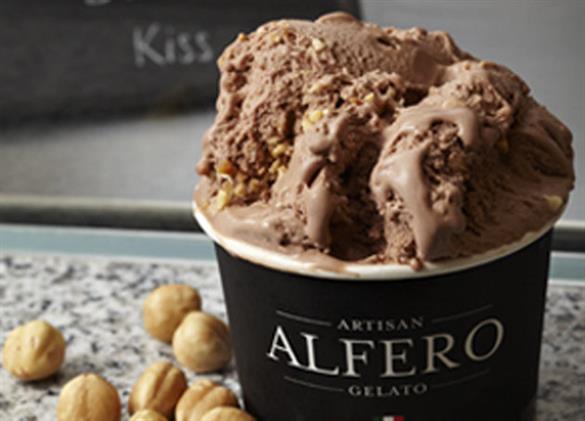 As with other makers, Marco pasteurises his mixture, heating them briefly to kill off nasty germs. But unlike most, he allows the mixture to "age" overnight at 4 degrees Celsius to allow the flavours to meld and mellow before freezing. He thinks that this important step is something that sets his gelato apart from his competitors'.
So far, the 40-year old proud father of a seven-week old baby boy and husband to a Singaporean wife is happy to be churning out gelato for his loyal fans and the few hotels that recognise quality when they taste it.
He said: "My gelato is different. It is made fresh with quality ingredients by an authentic Italian chef. More importantly, my gelato is made with care and pride that result in a superior product that you can taste."
Alfero Artisan Gelato 81 MacPherson Lane, #01-37, Singapore 360081 Tel: +65 6848 4269 Hours: 12pm – 9pm (Closed on Mondays)