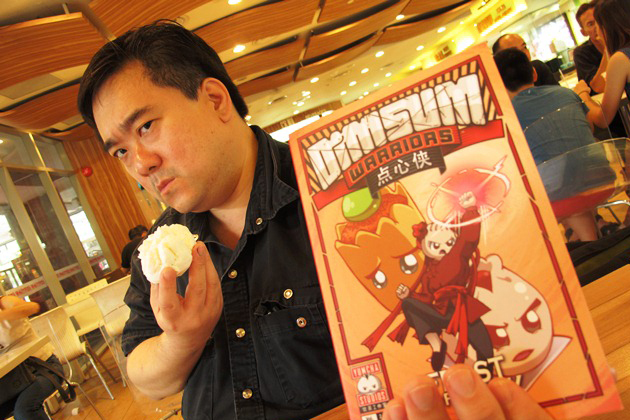 The Bad-Ass Dim Sum Warriors
By KF Seetoh - Friday, Nov 29, 2013
They up and left Singapore about 15 years ago for the seasoned bright lights of New York because "the creative space was stifling in Singapore." But you cannot call Colin Goh and his wife Yen Yen, an escapist or a coward, or one of those terms naysayers confer on Singaporeans based overseas. He is a big defender of all things truly Singapore. For starters, he is still seen as a champion of the authentic "pidgin" Singapore patio…Singlish. And after over a decade, he still speaks like he came off a haggling with a wet market fishmonger at Clementi. He runs the funnyman website talkingcock.com and with no prior experience, produced a show about Singapore Dreaming – a full length indie movie about his take on Singaporean-ism.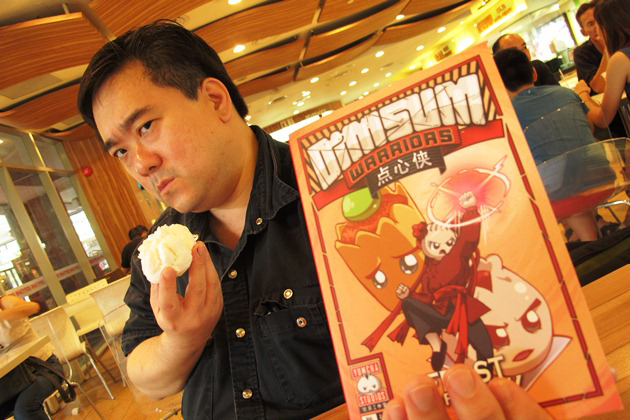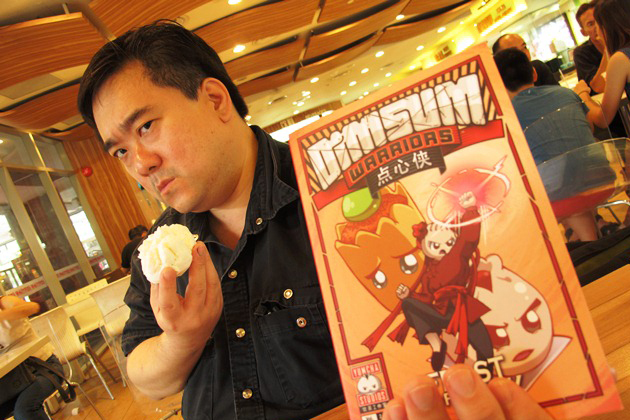 He was back recently for the Singapore Writers Festival for his works, especially his new project, Dim Sum Warriors, a manga series about a bunch of dim sum dishes turned kung-fu warrior characters. And it's a series created with both humour and heart in mind. "Like many Singaporeans, we love eating dim sum and watching kung-fu movies", Colin tells me, "so why not a manga series that combines both our loves", recalling how his wife Yen Yen, is also a big part of that decision process. Their Dim Sum Warriors, which is available on paperback and as a free mobile app, is raved about even by Fast Company citing it one of the "10 coolest original comics of 2012", and influential writers like Chris Claremon declaring it's "sodding brilliant". One reason why is the satirical humour where characters like Quickynoodles and punning terms like "you win some, you dum sum", take you from sword fighting segments to wise sage sayings. They feature bad-ass and "not in a good way" cool-looking villains from the Fried Kung Academy and nemesis Baked Kung Sisterhood "hot tempered but warm hearted", like a hot pao with a warm bean filling. The other reason for its popularity is the noble "bilingualism" approach. You can toggle on the app for both audio and visual renditions of the manga's dialogue. It is disguised as a language learner, bridging the Chinese and Western language divide.
Even the fight styles designed for each character "is not anyhow hantum slapdash slapstick wan", Colin says, over a red bean pao and kopi. They sought the advice of an American based Shaolin monk from Henan, China, thus steamed dim sum was about qigong, fried items are violent while baked dim sum are associated with the Wing Chun methods and females, as the creator was a woman.
So what's his affinity and story with food here, and, if he still has any "die die will not miss" makan in Singapore. "I took my then girlfriend Yen Yen out on our first date to some fancy schmancy spot in Chijmes…big plates small portions and chi chi service. It went south and hopeless and she nearly dumped me" then Colin reveals the redeemer, "Next makeup date was at the Lorong 33 Geylang claypot rice place and in between wiping grease off her mouth from the rice and the stewed lotus duck, plus shooing cats off our feet, she said – So lidat, I have to marry you liao." That, is still one of their favourite claypot rice spots here. I don't know if Geylang is also an inspiration for their manga storylines, what with all the violence and crimes and characters that can pass off as a disciple of the Fried Kung Academy, spoiling for action in front of the numerous temples and mosques in the area. Their other fave makan haunt is the coffeeshop along Lorong 29, where they swear (no pun intended) by Kwong's Satay (pork belly version with pineapple dip) and Swee Guan Fried Hokkien Prawn Mee. Go figure the coincidence.
And what's ahead in the horizon of wishes in the Dim Sum Warrior fortune cookies, "movies, games, toys, merchandise, and more apps…for now." But, sigh, no dim sum chain with sexy villainous cooks and wait staff. Dim Sum Warriors retails at many bookshops and is a free app online.